Within a week of Android 2.3 (Gingerbread) launch, apparently, Google is focusing on complete revamp of the Android experience in order to gear up against the upcoming market competition from MeeGo. As an effect, Google has announced its launch plan of completely revamped Android Market. Android mobile users will experience the much improved merchandising of application, streamlined process of browser-to-purchase, and straightforward distribution of applications for developers.
The new Android market will be applicable to users who are using Android 1.6 version or higher. The new Android market is focused on improving discoverability and merchandising of applications. People will witness the whole new carousel on latest version of Android market. This will help people to view the recommended and promoted applications and immediately go to download page for the application they want. Realizing the extensive growth of Live Wallpaper and Widgets, company has decided to add two more categories to help users to have easy access to such frequently downloaded applications. Applications that support Widgets and Wallpapers will be automatically added to new categories.
Company is also tracking the growth and trend of many popular applications and games. It may results in various other categories specifically meant for them in the weeks ahead, as mentioned by Eric Chu. The new Android market is more customers centric and helps users to see the related app while viewing the description of any application. This will surely help users to have access to the best & most prominent application to their needs.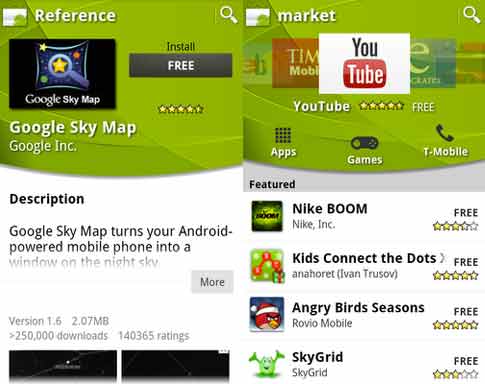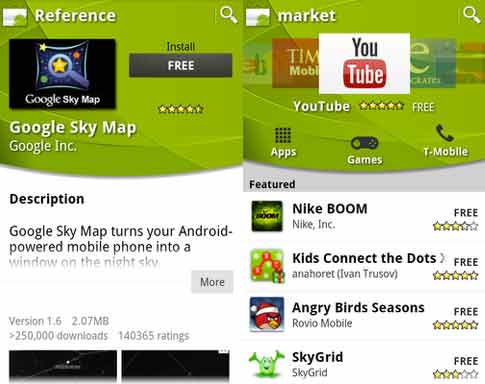 In order to provide much more comprehensive and rich buying experience, new android market will provide all the information related to application on the single page ending multi tap options. Potential buyers can view all details as well newly introduced rating system to have up-level satisfaction towards app before they process to buy.
However, to provide little upper hand to developers, company has introduced support for device targeting based on screen sizes and densities, as well as on GL texture compression formats. Developers will also be benefited with the new 15 minutes time limit to cancel the application purchase and apply for refund by users.
Google feels that all such changes will transform the whole experience of Android in further positive direction. However, analysts take such move as pre launch launch announcement of upcoming MeeGo OS. Google is expected to face tough competition from under development MeeGo Operating System for mobile, netbooks, desktops. MeeGo is currently getting developed jointly by Intel, Nokia and Linux and is expected to available in market in second quarter of next year.
Interestingly, MeeGo community has set the similar hardware benchmark for mobile handsets to run new MeeGo OS. Due to which, transition will not be a challenge for unsatisfied Android mobile users or netbooks / desktops users on Chrome OS. However, it's going to be a big challenge for Google to retain their customers and keep MeeGo away.