It seems that social media is strongly marking its presence with the serious business networking business model. As a result, one of the leading business networking website LinkedIn has launched the "share" button similar to Facebook's Share and Twitter's Tweet button for various publishers across the globe.
The newly launched LinkedIn share button will allow the publishers to share any of the news or information with their friends & network just by single click. All the publishers just need to add this button to their website for every content.
LinkedIn share button is available in three flavors: vertical share button with count, horizontal share button with count and small share button without count. Publishers can choose the code of any button just by visiting LinkedIn Publisher Area. Publishers need to choose any of option, based on their need, and paste that code in their respective HTML file.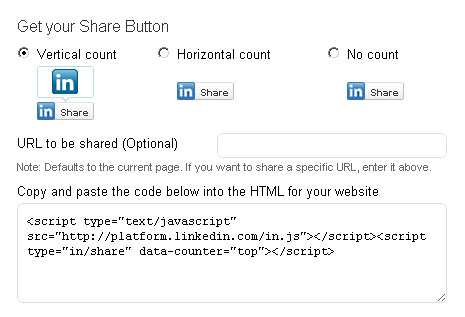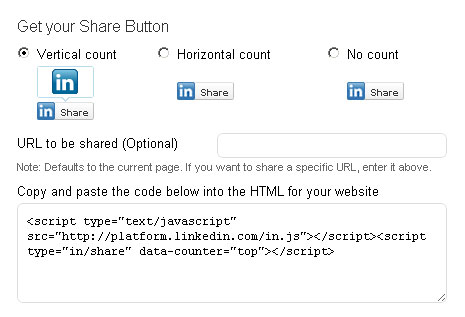 Undoubtedly this is another big impact of social media on business segment. Back in early this year, LinkedIn had integrated cross platform update facility with twitter where people can write & update on LinkedIn with auto update to Twitter and vise versa. This had created the significant impact to many business users of LinkedIn who started using LinkedIn to broadcast short messages and updates just like Twitter. Now with the launch of this new share button, just like Facebook, LinkedIn is trying to publicize the information as much as possible using such tools.
In the light of growing competition where all big cats are constantly working on new ideas and launches, its important for mid size business' like LinkedIn to adopt such viral tools early and effectively. However, it's bit delay for LinkedIn tp launch such tool and it would be interesting to see how far publishers omit some part of their content or other tools to accommodate the new arrival.