Uber Technologies, Inc. (NYSE: UBER) has just unveiled its financial results for the quarter ending June 30, 2023, and the numbers are nothing short of impressive! The second quarter of 2023 proved to be a remarkable period for the ride-hailing giant, with significant growth in various key areas. Interestingly, Uber's global revenue reached an all-time high of $9.23 billion in Q2 2023, with an impressive 14.3% YoY growth.
Another record-breaking milestone for Uber was the positive income from operations, which amounted to a remarkable $326 million in Q2 2023. This remarkable achievement marks a significant turnaround from the losses experienced in the previous quarters, which were -$713 million in Q2 2022 and -$262 million in Q1 2023.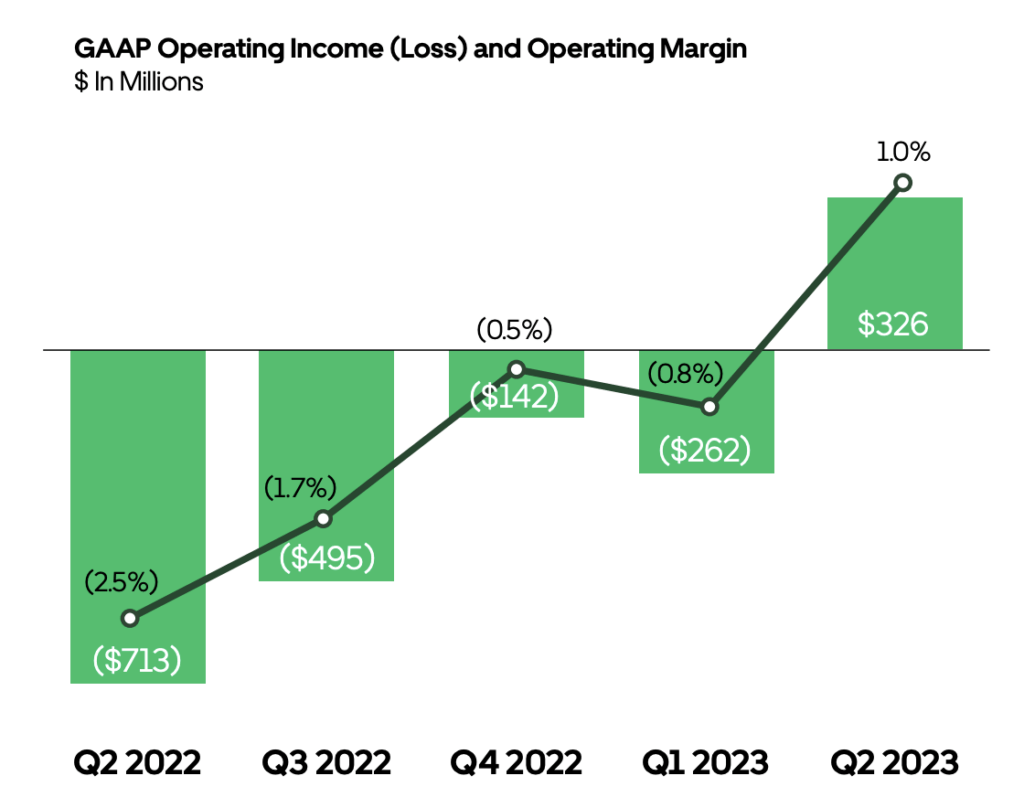 Delving further, Uber is rewriting the script of financial success. Another noteworthy success is the net income attributable to Uber Technologies, Inc., amounting to $394 million. This remarkable figure represents a striking improvement from the staggering loss of -$2.601 billion a year ago and the -$157 million in the previous quarter.
Uber's journey to profitability has been a rollercoaster ride of challenges and triumphs. The company celebrated its first-ever profitable quarter in Q4 2021, generating $892 million. However, the road to profitability had its bumps. In Q1 2022, Uber reported a staggering loss of -$5.93 billion, a setback that continued until Q3 2022. In Q4 2022, Uber returned to profitability, generating $595 million.
Now Q2 2023 marks the third time in Uber's history when it has achieved profitability, according to its SEC filings. The positive net income also benefited from a $386 million pre-tax benefit, primarily driven by net unrealized gains related to the revaluation of the company's equity investments. This consistent pattern of loss and profit reflects the dynamic nature of the ride-hailing industry and Uber's ability to adapt and innovate in response to market challenges.
Despite its impressive growth and profitability, Uber has managed its operating expenses with precision, recording a mere 1.34% year-over-year increase to $8.904 billion in Q2 2023. Even more impressively, the company achieved a -1.99% decline in operating expenses compared to the previous quarter's $9.09 billion. This cost management strategy underscores Uber's commitment to sustainable growth and financial prudence.
"The unique power of the Uber platform and the team's relentless focus on profitable growth was on full display in Q2, with record profitability and over $1 billion of quarterly free cash flow," said Nelson Chai, CFO.
Now, let's take a closer look at Uber's performance and delve into key metrics such as the number of trips, gross bookings, monthly active platform consumers, and more. By delving into these details, we can gain a better understanding of how Uber is faring in its operations and market presence.
Uber Rides: Main Highlights
Uber's Monthly Active Platform Consumers (MAPCs) reached an all-time high of 137 million in Q2 2023. The 12% YoY and 5% QoQ growth in MAPCs was fueled by the continuous improvement in consumer engagement, particularly in the Mobility offerings.
The number of trips on the Uber platform also hit an all-time high in Q2 2023, totalling 2.28 billion. On average, this translates to approximately 25 million trips per day. The company reported an impressive 21.9% YoY and 7.4% QoQ growth in the number of trips during the quarter.
Uber's monthly trips per MAPC grew 9% YoY to 5.6 during the June quarter.
The hard work of Uber's drivers and couriers paid off, as their aggregate earnings during Q2 2023 grew 9.8% YoY, to an impressive $15.1 billion, including tips.
"These results also translated into strong driver and courier engagement, with 6 million drivers and couriers earning a record $15.1 billion during the quarter," said Dara Khosrowshahi, CEO.
Uber Gross Bookings vs Revenue
Uber's "Gross Bookings" is a crucial metric that provides valuable insights into the scale and scope of Uber's current platform, directly influencing the company's overall revenue. Gross Bookings encompass the total dollar value, including taxes, tolls, and fees, related to Mobility rides, Delivery orders (without any adjustment for consumer discounts and refunds), Driver and Merchant earnings, Driver incentives, and Freight Revenue. It is important to note that tips earned by Drivers are not included in Gross Bookings.
In Q2 2023, Uber reported a notable growth of 15.6% YoY and 6.98% QoQ in its gross bookings, amounting to $33.601 billion.
Of this total, approximately 49.78% were attributed to Mobility gross bookings, amounting to $16.73 billion in Q2 2023. This segment recorded an impressive 25.2% YoY and 11.7% QoQ growth in gross bookings, indicating robust demand for Uber's ride-hailing services. In terms of revenue, Uber's Mobility segment generated $4.89 billion in revenue, representing 53% of the total global revenue in Q2 2023. The company reported a strong 37.7% YoY and 13% QoQ growth in Mobility revenue.
The Delivery segment contributed 46.4% of Uber's total gross bookings, amounting to an impressive $15.595 billion during the second quarter. This segment displayed a commendable 12.4% YoY and 3.8% QoQ increase in gross bookings, signifying a continuous rise in demand for Uber's food delivery services. In terms of revenue, the Delivery segment accounted for 33.1% of Uber's global revenue in Q2 2023, generating a substantial $3.057 billion.
However, Uber's Freight segment revenue has consistently been declining. In Q2 2023, the company reported a massive 30.5% YoY and 8.7% QoQ drop in its Freight revenue, which amounted to just $1.28 billion in Q2 2023, driven by lower revenue per load and volume, both a consequence of the challenging freight market cycle.
The expansion of Uber's Mobility and Delivery segments and the continuous growth of its Monthly Active Platform Consumers indicate a growing user base and increasing demand for its services. However, as the market dynamics shift, Uber must stay agile and innovative to meet the ever-changing consumer demands.
As the ride-hailing industry continues to evolve, will Uber maintain its upward trajectory and sustain profitability?