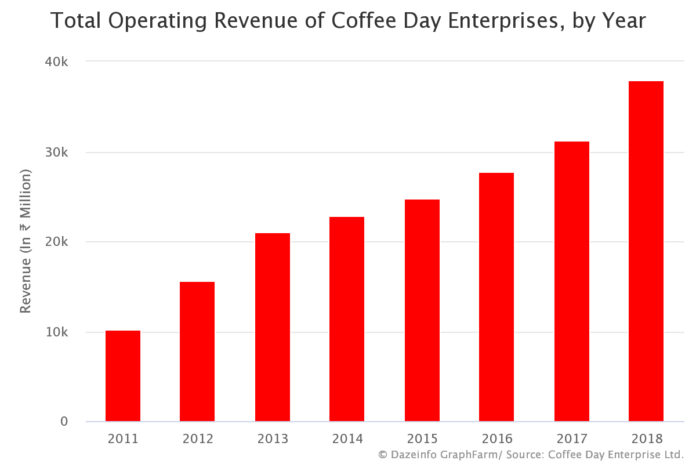 The above graph represents the total operating revenue of Coffee Day Enterprises by year. In the fiscal year ended 31 March 2018, the company recorded an impressive 21.4% year-over-year increase in its consolidated operating revenue, beginning in Rs 37,879.75 million. Interestingly, a majority of that came from the sales of food, beverages and other items.
| | |
| --- | --- |
| Region | Worldwide |
| Source | Coffee Day Annual Reports |
| Last Updated | 07 August 2019 |
| Graph ID | 418 |
| Note | Fiscal Year – from April 1 to March 31 |
The company's revenue from operations include the sales of Products (coffee beans, food, beverages and other items, merchandise items and traded goods), sales of services, income from financial services and other operating revenue.
It was fiscal 2010-11 when the annual operating revenue of Coffee Day Enterprises crossed Rs 10 billion mark for the first time. The company generated Rs 10,244.04 million ($10.24 billion) in revenue from its operations, on a consolidated basis. In just 2 years, the Coffee giant doubled its annual revenue from operations. The total consolidated revenue from operations in FY 2012-13 increased to Rs 20,995.6 million, with nearly 34% YoY increase.
In fiscal 2016-17, Coffee day Enterprises Ltd. achieved another milestone as the consolidated revenue from its operations clocked Rs 31,196.42 million. That's a notable 12% YoY increase.
About Coffee Day Enterprises Limited: Additional Information
Coffee Day Enterprises Limited (NSE:COFFEEDAY) was originally formed on February 1, 2008, as a partnership firm under the name Coffeeday Holding Co. Later on June 20, 2008, it converted from a partnership firm to a private limited company, named as Coffee Day Holdings Company Private Limited. The management, however, decided to change the name of the company once again to Coffee Day Resorts Private Limited on January 25, 2010. But that was not the end; On August 06, 2014 the company was renamed one more time as Coffee Day Enterprises Private Limited.
Later, on January 21, 2015, the name of the company was changed to Coffee Day Enterprises Limited. The company raised Rs 1,150 crore through initial public offerings (IPO) launched in October 2015. The IPO got over-subscribed 1.81 times at price band of Rs 316-328 a share.
Coffee Day Enterprises Limited operates the coffee business through its subsidiary – Coffee Day Global Limited (Incorporated in 1993) – and its subsidiaries.
The company is well known for its flagship brand name 'Cafe Coffee Day' (CCD). The first Café Coffee Day (CCD) outlet opened on July 11, 1996, at Brigade Road in Bengaluru, India. Today, CCD is the largest retail café chain in India, with 1,722 café outlets in 245 cities across the country.
---
The above graph is a part of Dazeinfo GraphFarm – the most trusted source of hundreds of thousands of market graphs. Our team of researchers mines millions of data points every month to bring the most updated and validated set of data points representing the comprehensive view in a graphical format. From mobile to e-commerce, from Retail to healthcare, from startups to SMEs we have carefully designed thousands of graphs for those who value and understand the importance of data visualisation.