"Your system is infected by a virus. Dial our toll-free support service immediately for help" – Such fake pop-up alert can drive a sane person down the all-worked-up lane, although some may choose to ignore it.
Often these alerts look like coming from Microsoft Corp (NASDAQ: MSFT) or Apple or Symantec. Apart from fake pop-ups, these red-caped anti-virus services come via phone calls. It may come as a shock, but one out of five respondents actually revert back on these numbers, while nearly 6 per cent of the respondents even go out of their way to fix non-existent issues, in essence, by paying money!
In consonance with a recent report, about 63 people have already been nabbed in the last two months in India's capital city Delhi for being involved in tech scams.
Nripendra Kashyap, a representative of Microsoft India, earlier filed a complaint and based on that, a case was recorded in the CCC (Cyber Crime Cell) of India. In that case, Delhi police raided 10 fake tech-support centres and arrested 24 people, in the month of October, for impersonating Microsoft's tech support service experts and has allegedly duped customers.
Last month in November, Delhi police had again raided about 16 such call centres, who were found to have links to these tech-scams and arrested about 3 dozen people.
Now, this might even come as a blow, but Law enforcement authorities under Microsoft have linked many of the tech-scam hotspots to be in India's capital, New Delhi.
According to Software giant Microsoft, more than 11,000 calls per month regarding fake security warnings and loss of sums to fraudulent acts were reported.
"This is an organised crime," Courtney Gregoire, Assistant General Counsel in Microsoft's Digital Crimes Unit.
However, Microsoft had paved way for revamped efforts in order to combat those tech support scammers towards mid of this year and has only gotten stronger.
Modus Operandi of the "Scareware":
"The modus operandi was to send a pop-up on people's systems using a fake Microsoft logo," Ajay Pal Sharma.
Ajay Pal Sharma, the senior superintendent of police claims that most of the users who were duped were American or Canadian.
This scareware screams that your computer is at risk or at times, you receive a phone call from a tech support staff who claims to be there for help. But here's the catch – Responding to these warnings compromises your security, delivers your personal information and authentication to scammers. They keep extorting your money in the pretext of helping you out on non-existent and bogus security services.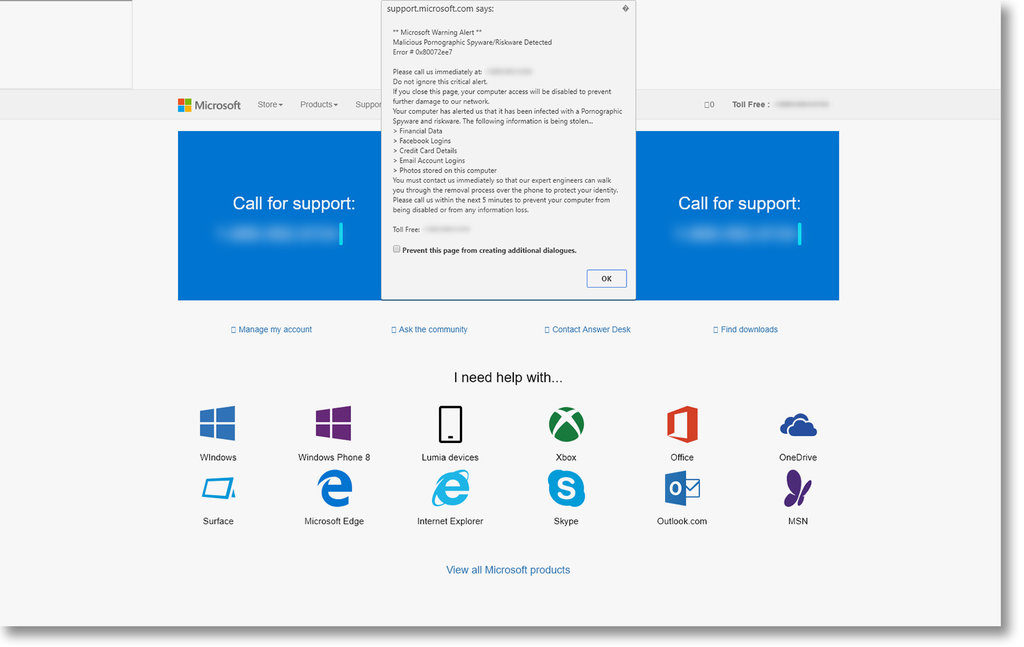 In case of calls, the fraud, masquerading as Microsoft employee, would inform that the system has been hacked and a slate of services can revive their system but that needs money too! A package of services is arrayed along, that range from $99 to $1000.
The sudden raid in the capital of India has been prompted by Microsoft's legal complaints that were made earlier this year. Apparently, Microsoft has been eagle-eyed about customer complaints and had collected them through its "Report a technical support scam" portal.
How Aware Are People Regarding Tech Scams?
A new Microsoft survey report that covered about 16 countries, focused on tech support scams and their impact on consumers, have said that the number of people susceptible to scareware and such scams has relatively gone down. And the percentage of respondents being affected by such extortion have also been decreasing.
However, that doesn't mean that the danger has faded away!
People are still losing money and along with that, precious time. Three out of five consumers fell prey to scams in the last one year. And as stated earlier, one out of five were tricked into extortion of money, which leads to a loss of both bucks as well as mental peace.
To help protect consumers from such online scams, Windows has included security features and updates with free real-time protection. But that's one out of tons to do! The next significant thing a user can do is – if you're ever unsure about any support service calls from Microsoft, hang up the phone and contact Microsoft at support.microsoft.com.