Of the countries that are most targeted for mobile ad fraud, Japan is the most susceptible, irrespective of whether on an Android and iOS-enabled device.
According to ClicksMob's The State of Mobile Ad Fraud, 2016 report, which is released recently, the three countries that are most targeted by mobile ad fraudsters, for both Android and iOS, are Japan, Singapore, and the United States. Japan led the lists, with 12% of total detected fraudulent activity reported on Android, and 11% of the total detected fraudulent activity for iOS devices. The data that was compiled based on the country of download shows that aside from Japan, Singapore, and the U.S., Malaysia and the United Kingdom were also highly susceptible to Android device-related frauds, while for iOS devices, it was Saudi Arabia and Australia.
"The State of Mobile Ad Fraud" report for 2016 by ClicksMob highlights the following other trends in mobile ad frauds-
Weekends (Friday, Saturday and Sunday) were the most targeted days for fraudulent advertising, with Friday being the day with the most hits, at 18% of total attempts. In comparison, Mondays and Tuesdays drew in between 12% to 14% per day of total ad fraud attempts that occurred on a weekly basis.
Gaming apps are the most targeted, followed by Lifestyle, Shopping, Travel, and Sports. Gaming accounted for 39% of the attempted fraudulent traffic, while the runner-up Lifestyle accounted for 18% of all detected fraud attempts.
Overall, trends suggest that fraudsters prefer leisure apps, given that Gaming apps and Lifestyle together made up close to 60% of the attempted fraudulent activity.
Mobile ad frauds haven't made a significant enough impact in India, but the nation's rapidly growing smartphone base indicate that it's just a matter of time before we start seeing a lot more mobile ad frauds in India as well.
As per current findings in the report, India was found to be at moderate levels in terms of mobile-related ad fraud risk, specifically for Android. This is understandable, given that Android heavily dominates India's smartphone user base. For the second quarter of 2016, Android reportedly captured 97% share of the Indian smartphone market, while in contrast, Apple's iOS share of the market in India fell further down to a meager 2% for the same period.
As per the ClicksMob report, Japan's mobile app users are high value, which is what makes them most likely to be targeted by fraudsters. However, high value and high payout aside, there does also appear to be a unique device-related trend that is making certain geographies more susceptible to mobile frauds than others. Take, for example, the case of Saudi Arabia, which has not only a high-value customer base but also a significant number of iOS users.
Findings in ClicksMob's report indicate that iOS devices are 50% more likely to be hit by fraudulent ad traffic than Android. The higher risk was accredited to the higher payouts that iOS provided over Android. This is, however, contrary to the conventional wisdom that Android's open source operating system made it more vulnerable to being wrongly exploited.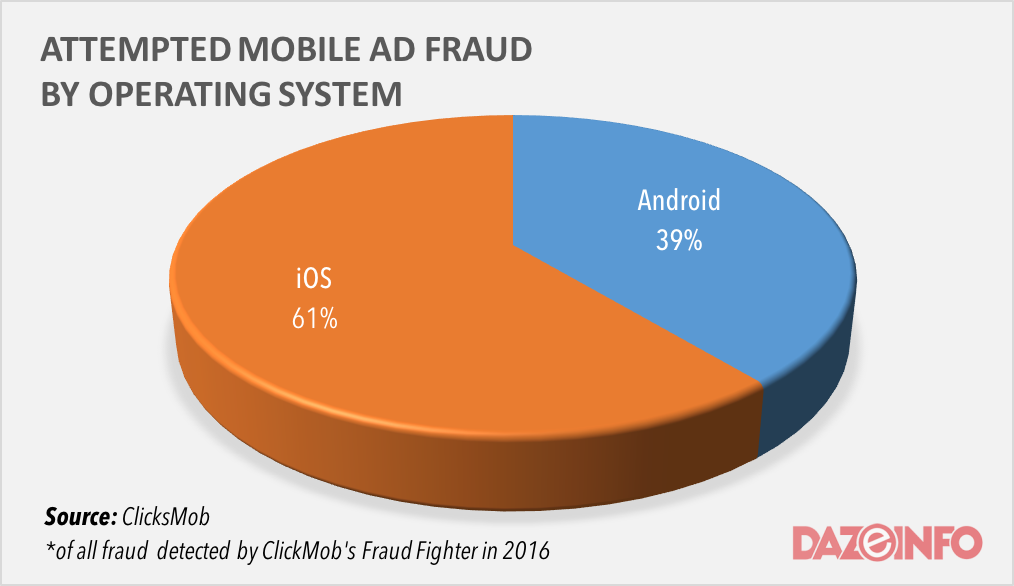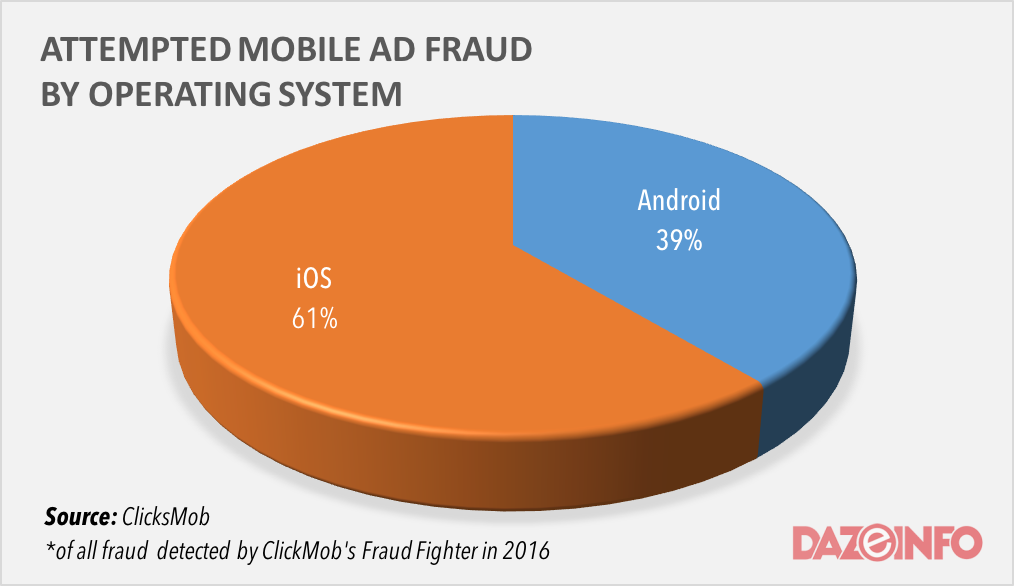 Meanwhile, China is witnessing a unique mobile ad fraud problem, setting it aside from the rest of the globe. Going by findings of AdMaster, a leading Chinese Marketing insights firm, China is regularly witnessing fraud rates of close to 40%, negatively affecting US$27 billion digital advertising industry significantly.
The Global Ad Fraud Scenario
Ad fraud has now been likened to the drug trade, in terms of size and scale of crimes. A report by the World Federation of Advertisers (WFA), claims that ad fraud has turned into a major source of income for organized crime, and comes second only to the global drug trade. For every $3 spent on digital ads and online advertisements, digital ad frauds reportedly take $1. For the year 2016 alone, online advertisers were estimated to have lost about $7.2 billion because of ad frauds.
It is shocking to note that over 56% of the overall online traffic is accounted for not by humans, but by bots. It is even more alarming that 25% of the publishers over digital spaces have absolutely no way of detecting whether or not their traffic is originated by humans. While a majority of loss associated with ad frauds is still happening over desktops, the growth of smartphones is bringing along with it the associated risks, of which ad fraud is a major one.
The rapid shift to more digital formats in advertising, while highly beneficial and profitable for brands and marketers, also comes as a gainful arena for fraudsters. Online advertisers have reportedly lost about US$7.2 billion to fraudulent viewing and automated computer programs that mimic human behavior. The WFA has issued guidelines assisting marketers and brands to reduce their risk and exposure to ad frauds. These guidelines identify people, technology, education and communication, standards, and governance, that are areas to focus on more and make necessary changes, to reduce ad fraud risks, for brands in particular.