The eCommerce space is being increasingly occupied by new businesses, services, and platforms. While setting up of a new online store does not take more than few days, you need to put extra efforts to deal with the competition to keep that store alive and kicking.
An article published on 99Bazaars.com reveals many eCommerce founders left the business halfway as they simply could not cope up with the hard work and the competition. The Internet simply swarms with surprising stats about eCommerce industry that will make your rethink your business strategy. Here, we present to you some important surprising facts and stats about eCommerce to help you achieve their business goals.
But before we proceed further and discuss these stats, it's important to understand that with an ever-increasing number of eCommerce sites out there, it's no longer enough that you have an online presence. And to win the rat-race, you've got to invest in a high-quality, effective web design to hold the attention of your target audience and hold it long enough until they've paid for your product or service. But getting such creative website is too costly a proposition. This is where crowdsourcing provides an optimal solution for eCommerce businesses.
Now, let's explore the 5 e-commerce facts & stats that will make you rethink about your e-commerce strategy.
Explore the Potential of Search Engine Optimization
An analysis of the traffic sources of the e-commerce stores at Kissmetric reveals that 30.5% of their overall traffic comes from organic searches on Google, Yahoo, Bing and other popular search engines. This means that there is still relevance of SEO for online stores and it makes sense to pay close attention to it.
But a problem for such online stores is that they are faced with a tough competition when it comes to using long-tail keywords. Owing to such tough competition, SEO activities may not yield desired results from such keywords.
Takeaway – These stats should prompt you to make a long-term SEO strategy and devise a rewarding content marketing strategy to achieve desired results on search engines. In addition, your e-store's official website must be such that it helps in optimization of the site on search engines.
Explore YouTube, CPC and Mobile To Generate Traffic
If eCommerce stores want to know which are the social sites and means where they can spend more time and money to generate traffic, then the analysis has come with interesting stats. It says that CPC and YouTube are the two main marketing channels responsible for more traffic to the eCommerce stores. Use of mobile is now well-established fact that an increasing number of online shoppers are using mobile. This means that your eCommerce store should be optimized for mobile traffic.
Scoop.it reveals that around 70% online shoppers use Tablets and 47% of them use smartphones for their online shopping. And a post published on Radware.com explains that 43% of consumers tend to migrate to a competitor's site if faced with the negative mobile shopping experience.
Takeaway – You should take a good look at the cost of your CPC campaign and if it is too costly, then you should prefer spending your time and money on using video for marketing. In addition, it makes sense to invest in high-quality responsive web design is flexible and compatible with all devices. For instance, creative responsive web design by Designhill or other crowdsourcing platforms allow you to have one single flexible web design interface compatible with all your devices irrespective of your device type and screen size.
Focus More on Returning Visitors
Marketing Donut reveals that returning visitors spend double the time on eCommerce stores as compared to new visitors. New visitors spend an average of 2 minutes 31 seconds as compared with 5 minutes 31 seconds by the returning visitors. In terms of the page visited, the analysis by Marketing Donut explains that while new visitors view an average of 3.88 pages per visit, while returning visitors visit 5.55 pages on an average. So, it is clear that returning visitors tend to spend more time and view more pages per visit than new visitors.
Takeaway – In your marketing campaign, you should focus more on returning visitors and ensure that they are engaged in your business.
Experience More Traffic During Weekdays
Kissmetrics reveals that less traffic comes to eCommerce stores during weekends as against weekdays. This is an interesting fact and it should prompt you to change your marketing strategy. Below is a graph that clearly shows how weekends experience lesser traffic as compared to weekdays.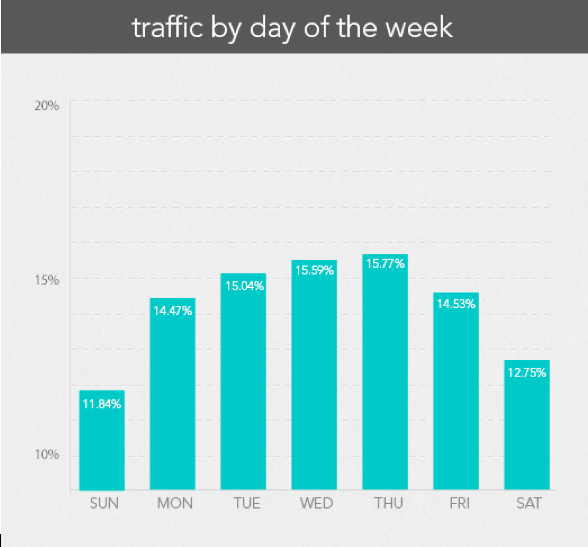 Takeaway – Ecommerce stores should aim at weekdays when putting more time and money on targeting the customers bring the traffic.
Play by Facebook, YouTube and Twitter Rule
The effectiveness of social media for eCommerce is now well known. But not all social sites are equally effective and important for eCommerce businesses. An article by Feedteck.com reveals that Facebook, YouTube, and Twitter are amongst the most popular social media sites that bring more traffic to eCommerce stores as against other social networks.
UPS Pulse of Online Shopper 2015 reveals that 84% online shoppers take help from at least one social media site and read peer reviews before purchasing online. Therefore, it makes sense to carefully optimize your Facebook, Twitter and YouTube page design with all necessary elements in order to boost traffic to your site.
Here is the graph that shows the time spent on different social sites.
Takeaway – Ecommerce stores should focus on creating a strong presence on Twitter and Facebook. Experiment with content for YouTube. In addition, getting a creative social media page design is important for eCommerce businesses. Contests on social media page or other crowdsourcing platforms, for one, offer countless opportunities for that.