Employers do not realize that allowing employees to engage on the social media is actually beneficial to the business rather than being harmful. While many employers are fearful of their reputation would be damaged by employees, researchers talks the other way.
In a global research conducted by Weber Shandwick and KRC Research "Employees Rising: Seizing the Opportunity in Employee Activism", many employees are happy to make their engagement visible, defend their employers from criticism and act as active advocates.
Some interesting eye-opener statistics of the research are:
For many employees, the division between work and personal lives barely exists which is an opportunity for an employer to embrace social media as an employee enabler.
"In today's environment where there is an alarming lack of trust in all institutions, Employees are increasingly the key prism for brand credibility and trust. Engaging them can provide companies the best way to humanize and unify their enterprise voice — a strategic imperative in today's environment." Says Micho Spring, Chair, Global Corporate Practice, Weber Shandwick
The study also finds out that employees can be categorised into multiple buckets based on their approach, enthusiasm, activeness and more. Only 1 out of five employees (21%) is hyper-connected and hyper-social in an organisation. These are the people who perform the best for the organisation by taking the maximum number of positive decisions. They keep the distance with other people who are surrounded with negative energy. The study tag them with ProActivists.
The Linkedin Perspective
LinkedIn in its research said 61% of members who follow a company are interested in being the brand evangelists and are more likely to share information. It says 58% of employees are proud of their company and glad to tell about it whereas 53% would recommend their company to others as a good place to work. According to LinkedIn, the top 5 reasons why employees become brand ambassadors are
Company brand experience sets them apart
They trust the senior leadership
Work gives them a feeling of accomplishment
Company is responsible for the surrounding environmental
They feel valued as an employee
So how to convert employees into talent brand ambassadors?
Focus on Employee engagement: Highly engaged employees become brand ambassadors easily
Educating Employees: Teach employees the reason why the company is a great place to work and what value proposition it holds for new employees
Encourage "Share and Tell": Encourage employee engagement via social media participation and by building communities
Measure and Monitor initiatives: Identify key drivers that create brand ambassadors and implement them in your social media programs.
Building a brand via employees is to also attract newer employees to join. In another research from Linkedin: Talent Trends Report of 2014, it was identified that new employees look for a better reputation of the company while joining. The research said that 56% of the new employees prefer joining a company which has a reputation for being a great workplace.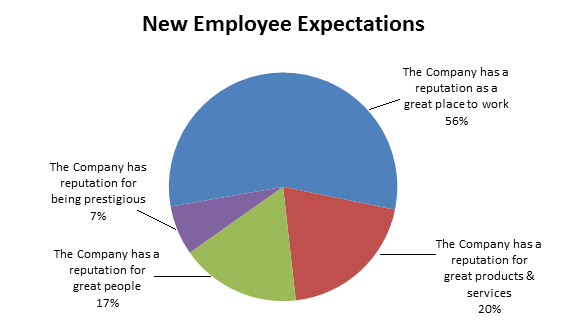 Takeaways
It is important that employers recruit and keep those set of employees who can spread the right information on behalf of them. Social Media has its own risk, but the opportunities it brings for a business to improve their brand and reputation value are enormous. The business should assess their brand reputation from time to time and manage them at various levels.