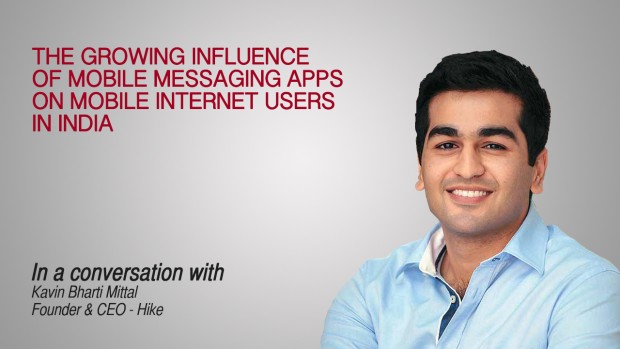 Just last week, we had learnt that mobile messaging app leader WhatsApp achieved the milestone of 70 million active users in India – a country that has a little over than 250 million mobile internet users and has emerged as the most promising market for mobile and internet ventures. While many global giants, including WeChat and Line are keeping a close eye on their userbase growth in the country, homegrown Hike messaging app is trying to capture the largest chunk of the local mobile messaging market, after crossing over 35 million active users mark recently.
Kavin Bharti Mittal, Founder and CEO – Hike Messaging app, feels that India mobile messaging market is at a very nascent stage and as more than billion people in India are yet to come on the Internet, the industry poses as a big opportunity vis-a-vis challenge.
Quite recently, we managed to get a time on Kevin's calendar for an exclusive video interview and asked few tough questions about Hike's growth, challenges, competition and his take on the growth of mobile messaging in India. While the complete video interview is embedded, here are few excerpts of the interview:
Kavin: The number of unique people using internet recurring basis and even lower that. And for our best case, there are less than 100 million unique mobile internet user in the country. A lot of whom are still experimenting with internet. So, it's definitely a challenge, but market is going very fast. Also, we are growing with the market. In India, it is very early, and I think our first idea is how to cover first 100 million people, and then go from there. So that's the path we are on right now.
Dazeinfo: That's interesting, I recently read on your interview which said your goal is to reach 100 million users pretty soon in next 2 year if I am not mistaken.
Kavin: yes, I think within 18 months.
Dazeinfo: Considering that WhatsApp, which is your best competitor right now, already has 50 million users in India, and that projection says there are going to be only about 150 million people using messaging platform. How do you think that achieving that target would be much easy?
Kavin: so we see messaging something that could do much more than text and photos. We believe that messaging could be the highway to the internet in a mobile-first country. We must realize there are billion people who would come on the internet for the first time in their life. Demand for content is a huge but there is a fundamental lack of understanding what the internet means, and we believe messaging will help to solve that. So that's how audience and we want to go beyond sending messages and build that gateway to highway to the internet for most people from our country. And I think broadly speaking, let's say 5 to 10 years from now, a lot of Indian will come online and the question is can hike build enough innovative features that solve the problem in the market for different part of population. We have already seen diversity in the application. We have people that do some stuff in south that is completely opposite what people will be doing in the north, and that's very interesting. So, tackling those challenges will help us to get 100 million mark within 18 months.
Dazeinfo: Would you give a brief on what is that difference you have seen in between utility of the north versus south, as I think you are talking about India.
Kavin: Simple example is stickers. The kind of stickers work in south, and their frequency of velocity of sticker sharing is very different from north. And, that's a very thin example. Different content works in the different part of the country. The content consumption pattern is different and so on so forth. We will see a lot more this happen as we build out hike as we go out deeper in this market going forward.
Dazeinfo: When we talk about content it's no more just text, it is no more just images, there is video there is sound etc., all this is being shared. For a free messaging platform, that's a lot of data to be shared and lot of disk space to share, if I may put it that way. How do you manage to incur or bear the cost keeping the messaging product free?
Kavin: The goal as we have is, in any Internet company starts with a several problems, the main mission is to how to bring it online. And if you look at the world or you look at the other company with 100 million plus users, eventually when you have that scale you buy time to figure out how to monetize. Now the business model is not new. You look to the east; a lot happening there and if you go to west there is lot happening too. And, big question is can we build a great product, which is localized to India first with a very strong network, and then look at monetizing the user base. Now, we are doing hundreds of terabyte of data that's growing very rapidly too. And that shows us the capacity of users to consume data and content. We just hope that keeps going up and up.
Dazeinfo: That brings you to another challenge. The regulators are at this point of time say we don't have fair playing role. Already you are eaten up our SMS now you are also eating our calls tariff. Is not that going to be deterrent to grow to a new level?
Kavin: I have spoken about this multiple times. So, I honestly believe that every couple of decades you have a technological shift, a revolution happens, that disrupts the old older business model We are seeing that in messaging quite early and in multiple parts of world with the internet. The question is, what 's the result of this disruption. And I believe that's not bad because of Hike, because of Facebook, Youtube people are buying data. As a result of which, you have Telco's that have double digit percentage top line revenue from data. That will grow. The total addressable market of people  consuming data versus SMS is much larger. The ARPU (Average Revenue Per User) on data pack is much larger too. Look at a year or two years, the data growth will be monstrous, I mean very large. I think there will more than overcome any possible cannibalization that happens is on SMS. So it's win-win. It's Important that we look ahead a couple of years and see that coming out. In short term, we are seeing people struggling to come out. That will change. It happened in the US and china and now it's going to happen in India.