Microsoft Windows XP has been the most successful OS ever, completing 13 years of the run. But, Microsoft ended support for Windows XP in April 2014, expecting multi-folds growth in sales. However, Windows 8, the next-to successor of Windows XP, failed to replicate the success of its predecessor. The dismal performance of Windows 7 and Windows 8, and declining cost of gadgets and electronics good have paved way for other operating systems. According to Gartner, sales of Chromebook are expected to reach 5.2 million in 2014, a 79% increase from 2013. Chromebooks are mobile computing devices that run on Google Chrome OS and use cloud storage as primary devices for storage.
"Competition in the Chromebook market is intensifying as more vendors launch Chromebooks, with eight models in the market in 2014. Now that the PC market is no longer growing strongly, vendors are searching for new business opportunities. They launched Chromebooks to revive interest in sub-$300 portable PCs once the netbook bubble had burst," said Isabelle Durand, principal analyst at Gartner.
Chromebook Sales to Triple By 2017
The demand for Chromebooks is intensifying, especially in the education sector, primarily in North America. Out of the 2.9 million units of Chromebook sold in 2013, 82% were sold in North America alone. The sales of Chromebook is expected to reach 14.4 million units by 2017. According to NPD, Chromebooks accounted for 21% of all notebook sales in 2013 in the US. Interestingly, through a period of January to November 2013, the sales of majority of devices like Desktops and Laptops declined while that of Chromebooks increased multi-fold times in US.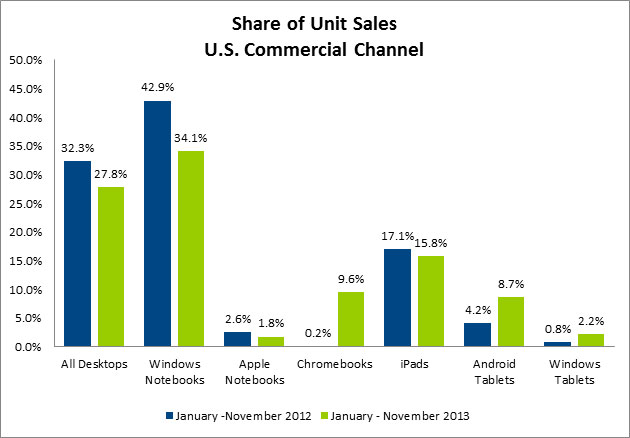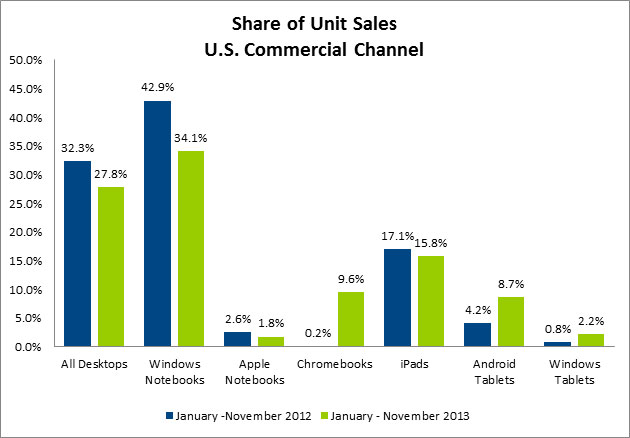 Gartner reported that 2.9 million units of Chromebooks were sold globally during 2013 and according to the NPD Group, 1.76 million units of Chromebooks were sold during the 11 months ended November in 2013 in the US alone. The above numbers clearly portray the level of technological advancement in the country. Americans are among the early adopters of any device or technology.
Samsung Accounts for Two-Third of Chromebook Sales
In 2013, Samsung Electronics Co Ltd. (KRX:005930) sold 1.7 million units of Chromebooks thereby capturing two-third of the market, followed by Acer which captured almost one-fourth of the market. Samsung and Acer got the early bird benefits in the Chromebook market. Samsung has always stayed a consumer-focused company, having a fleet of electronics products and giving the customers whatever they desire in terms of value-for money. Lenovo and HP, though a late entrants in the chromebook market, managed to grab a share of 6.7% in 2013 by 194,000 units of Chromebook.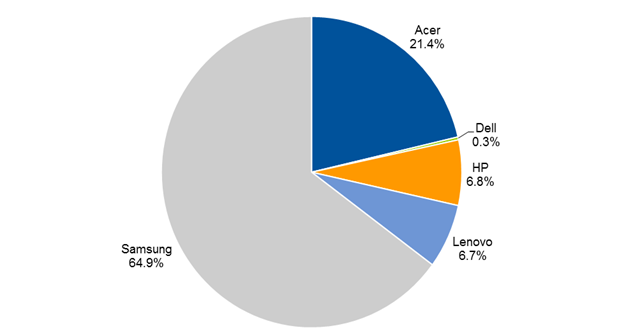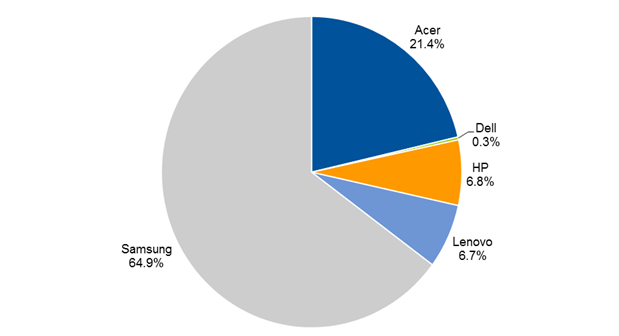 Chromebook is a relatively new product in the otherwise declining PC, laptop market. However, the success of Chromebook is primarily pegged to developed markets. Chromebooks are mostly used for cloud storage. The concept of cloud computing and cloud storage has still not caught up in the developing nations where high-speed internet is a novelty due to its cost and other technical factors. Chromebooks are useful mainly in the education sector and enterprises which have shifted their work to cloud storage.  Apart from the cloud storage, the vendors need to address memory access and storage on hard-drives to focus on today's market.