While the penetration of Internet is all time high now, companies are showing great confidence in setting up their e-presence or e-store. However, majority of them are yet to realize the true impact and benefits of web analytics as more than half of them are not confident about value-worth of deploying dedicated resource to analyze their web data. 56% of companies either have no one or only one person dedicated to work on their web statistics, according to Online Measurement and Strategy Report 2013.
In spite of the fact that Web Analytics is one of the most crucial aspect for the company while defining marketing strategy, future roadmap, projections, most of the companies are unwilling to make a dedicated investment or even any significant share of their marketing budget on relative resources. 26% of companies, participated in the study, said they don't have any dedicated employee doing analysis of their web data. However, the maximum number of companies (30%) accepted they have deployed atleast 1 dedicated manpower to do the same job in their organization.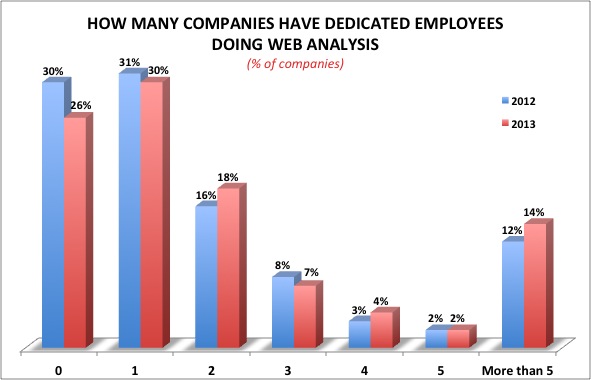 However, the scenario is also not as ugly as it looks from the first instance. There are 14% of companies that have more than 5 employees in their organization working dedicated to analyze company's web statistics and data. Unfortunately, the report doesn't contain total number of employees working in such organizations. Besides, the number of companies who haven't allocated dedicated resource to work on web analytics have come down 4% compare to 2012. Similarly around 18% companies have deployed 2 dedicated resources to work on web analytics, 2% up compare to last year.
The survey report also check the arrangements if companies are outsourcing the job of web analysis completely or partly resulting in no in-house resource deployment. Interestingly, numbers of companies, who believe in outsourcing such job, have become lesser in 2013 compare to last year. Around 61% of companies now use zero days of outsourced analysis, compare to 51% in 2012. This clearly indicated that though the growth and adoption of web analytics is modest, companies are willing to leverage upon Big data now and by the end of this year, there would be more number of companies standing on the findings originated from 'Big Data'.