Samsung Electronics Co. Ltd (005930) is committed to set a new benchmark every time by introducing new technologies to the market & consumers. Samsung Smart TV has been in India since a year now and the rave has been on for about the same time. 3D Cinema, HD quality videos, apps, have all been luring home users to upgrade their television to take advantage of the convenience promised by these state-of-the-art features. Catching pace with the social trend, the Smart TVs from Samsung have integrated Facebook, Twitter and other social properties as a part of their offerings. By definition a Smart TV was intended to be used with on-demand streaming media and to justify that the Samsung Smart TV has integration of YouTube, Spotify, Vimeo and the likes to make the home users' experience live content as it is uploaded.
The New Super Force:
New LED TVs that have been released under the Smart TV flagship are Series 5500 and 4500, Series 8, 7, 6, the F8000 and F7500 with quad-core processors and the Samsung 85S9 Ultra High Definition.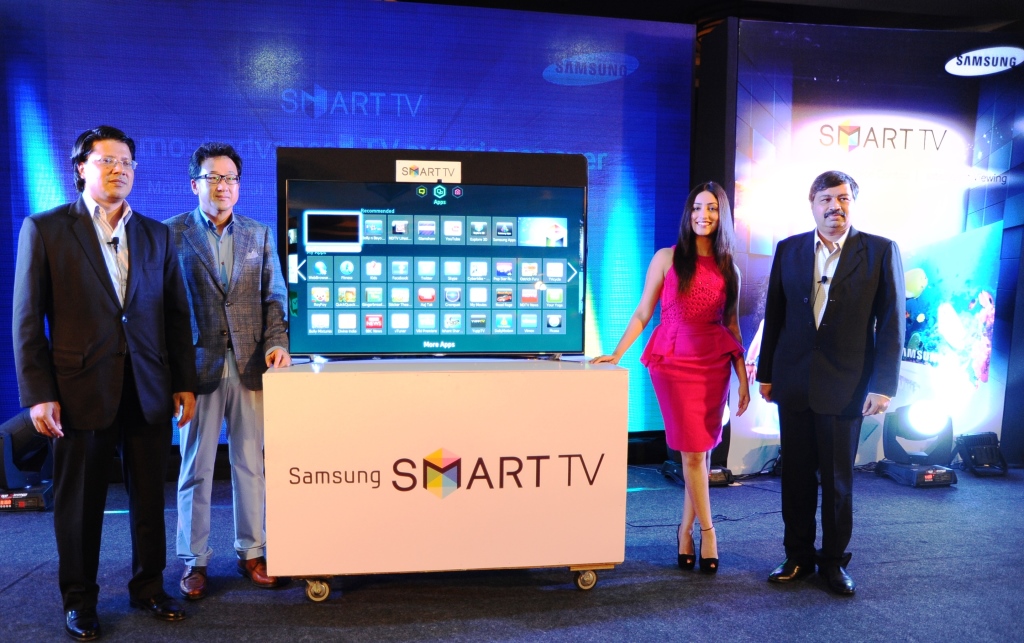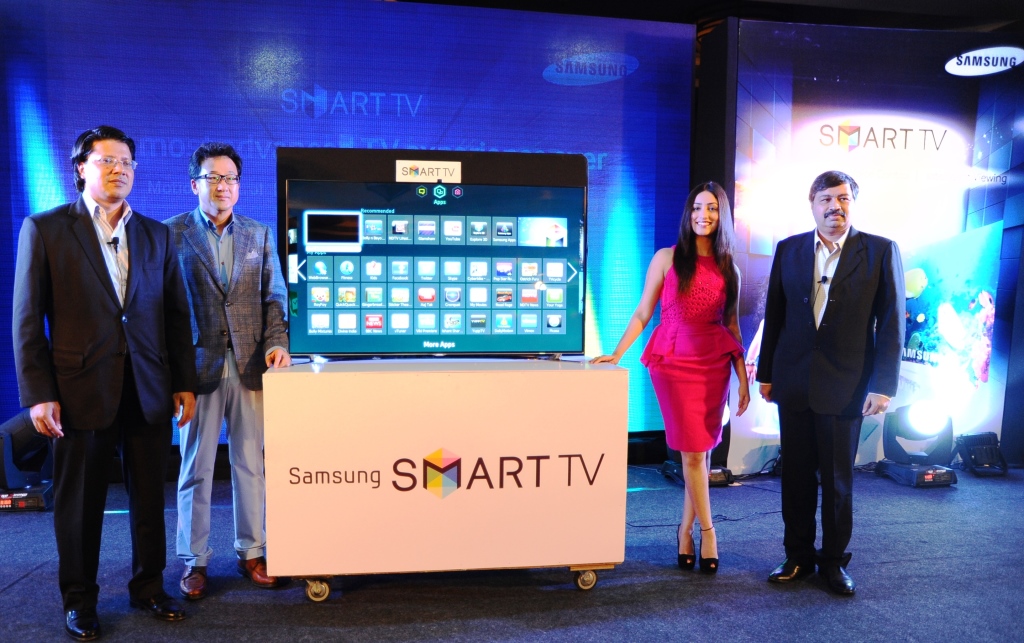 Samsung's Smart New Monster:
Samsung has recently launched the Samsung 85S9, the 85 inch suspension frame mounted sleek "Smart TV" that integrates Motion control through its 5MP camera setup, Face Recognition to login to the devices and even Voice Recognition to execute voice commands. The big bold display is mesmerizing no doubt; however, are the channels ready to cater to this resolution?
Resolution Fix:
With just about 21 channels going HD today, catering to lower resolutions than 1920 x 1080 pixels (Full HD), pixel density of streamed content seems imperative. It would take much more from the channels to supersede that and to take benefit of the 85S9's Ultra HD resolution of 3840 x 2160 pixels. And for the benefit of its consumers Samsung is all ready with their proprietary up-scaling engine helping enlarge the content four times maintaining the details.
OS Dependency Removed:
Samsung operates on multiple OSes; Bada on their phones, Android on their Tabs and now a flavor of Linux on their Smart TVs. When asked about how the consistency of the shared content was maintained across platforms and form factors, Sandeep Tiwari, Head Marketing – Consumer Electronics & Home Appliances at Samsung India – said "With over 1000 apps and the trend of cross device sharing and mirror imaging (same content shown on multiple devices) soon being a convenient norm, we have Samsung AllShareTM that acts as a common platform and lets you control Samsung home appliances, Samsung TVs and Samsung computing devices right from your handheld or mobile phone."
Future-Proofing:
When all this sounds rosy and a consumer buys the "Smart TV" to realize a year later that his lakhs of investment is not new anymore and is less compatible with the latest hardware or software requirements (like it happens on Android Phones), it is not a great feeling. "The Samsung Evolution Kit comes handy in this case", says Atul Jain, Senior VP & Business Head (Consumer Electronics) at Samsung Electronics, "When an upgrade is required all the consumer has to do is buy the Evolution Kit worth about INR 20,000, which comes built-in with the Hardware upgrades, Software updates and increase in Memory capabilities as required."
S K Kim, , adds "ConnectShare Transfer enables USB devices to be directly connected to the Smart TVs and does not need a computer to read the contents. This and the quad-core processor reduce additional dependency on computing devices and helps toggling between apps, online services and on-air TV."
Now this raises an interesting question "Has the definition of TV changed or is this TV at all?" Common sense tells us that every device is moving towards being a platform of a different form factor. Mobile Phones need apps to be more productive, handheld PCs depend on apps to extend their utility; even browsers today need plugins to ease your daily tasks. Then why should the largest form factor of media consumption be left out. And when there can be cameras with 3G and projectors on pens, there is no limit to push the limits of daily devices.