The explosive growth of mobile market has helped many other services – pegged to mobile – to record massive attention, appreciation and growth. While mobile users are aggressively jumping towards internet-connected Smart devices, the adoption of mobile apps is all time high. In Q1, 2013, nearly 13.4 billion downloads took place resulting in $2.2 billion as revenue, according to the latest report from Canalys. The report covered 50 countries with four major App stores – Apple App Store, Google Play, the Windows Phone store and Blackberry World.
The number of App downloads in Q1 2013 grew by 11% worldwide compare to last calendar quarter of 2012. However, mobile app revenue via paid-for apps, in-app purchases and subscriptions market recorded slightly modest 9% growth in the first quarter than Q4 2012.
Apple Inc (AAPL) Wins In Mobile App Revenue
Due to strong hold in Tablet and in matured-Smartphone market, Apple Inc (AAPL) App Store enjoyed the biggest pie of revenue share among all four Stores. Apple grabbed 74% of each dollar users spent on App store worldwide.
However, Google Inc (GOOG) leapfrogged Apple in terms of total number of downloads by recording 51% of total downloads of all four App Stores globally.
Windows And BlackBerry Can't Be Ignored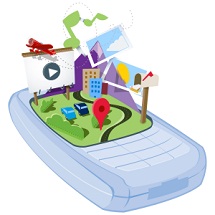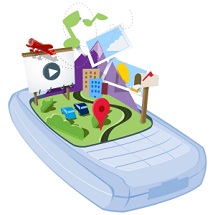 Though Mobile App Industry is predominantly led by two heavyweights Apple and Google, Windows and BlackBerry can't be ignored due to promising futuristic projection. While Blackberry 10 now has more than 100,000 apps – an impressive growth from 70,000 at the time of launch few months back – Windows Phone Store has got more than 200,000 apps in its kitty.
In spite of such figures both above App Stores are far much behind than Google and Apple. While Apple surpassed 1 Million approved apps in November last year, Google Play reported to be just behind with 700,000 apps with a million downloads record each month.
Apple iOS – Leader In App Revenue in 2013
In 2013, Mobile app revenue is projected to stand close to $25 billion. While Tablets would contribute around 32% of this, rest would come from Smartphone Apps. Interestingly, 65% of the total App revenue would be generated by iOS devices.
In spite of such impressive numbers, Mobile Apps contribute only 4% of e-Commerce revenue for e-Store; all due to not-so-matured mobile payment gateway system and not-so-secure wireless network tagged as 'unsafe' for online financial transactions.
Social And Entertainment Apps To Drive Revenue Stream
It's interesting to know that in mobile app space, social networking apps, like Facebook and Twitter, are the most engaged app types, followed by Entertainment and Media apps. With the higher penetration of mobile internet, social media users are heading towards mobile devices, resulting in more hours spend on social sites via apps. As of December 2012, Social networking apps ranked first in terms of app session Y/Y growth with 387%, followed by media & entertainment, shopping and productivity apps with 268%, 247% and 237% respectively.