In spite of explosive smartphone growth across the globe, and especially in US, mobile display advertisement players Google Inc (GOOG) and Apple Inc (AAPL) are losing the ground to Facebook Inc (FB). According to a latest report from IDC, mobile publishers like Facebook and Twitter have been improving their mobile advertisement market share since last 12 months in the United States. All thanks to mobile-focused approach of Facebook, Twitter and other US publishers that have helped them to grab 52% of mobile display advertisement spending of 2012 – up by 30% from 39% of mobile display ad spending market share in 2011.
Total mobile ad spending in US stood to $.5 billion in 2012, 88% up compare to $2.4 billion in 2011. The growth has marked a positive sign over mobile advertisement market in US despite of the fact that annual growth is down from 125% in 2011. Though the sharp decline in growth is projected to continue in 2013 too, the overall mobile ad spending is expected to stand nearly $7 billion in US alone.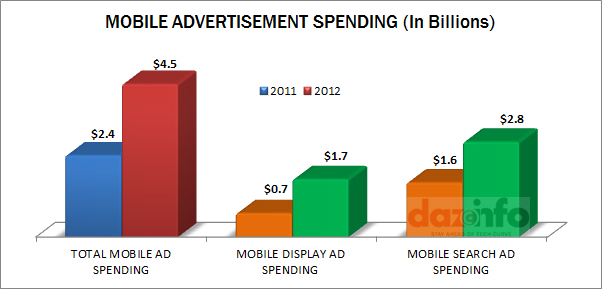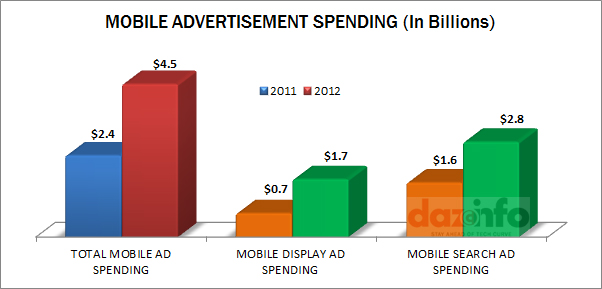 Out of overall mobile advertisement spending in 2012, mobile display ads contributed close to $1.7 billion, up by 290% from $0.7 billion in 2011.
On the other hand, among all mobile ad networks Google maintained its dominant position by recording $243 million as revenue. However, the biggest shift came in the form of Millenium Media which leapfrogged Apple by recording $151 million against $125 million by Apple.
Among all mobile publishers Facebook stood at number one position with $234 million mobile display advertisement sales followed by Pandora and Twitter with $229 million and $117 million respectively.
Mobile search advertisement maintained its attraction among marketers and recorded $2.8 billion as sale in 2012 which is nearly 74% higher compare to the performance a year back. Google still dominates with $2.1 billion sales – a gross market share of 79%.