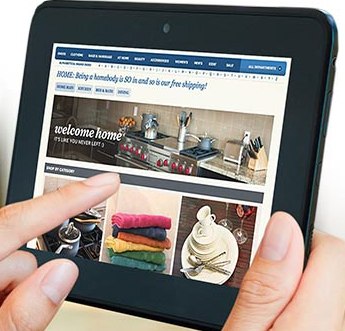 On last Thursday, Amazon sparked out an intense competition in Tablet space when it announced new Kindle Fire HD having LTE capabilities. The Kindle Fire HD will be available in two screen sizes—7-inch and 8.9-inch. Earlier, there were numbers of speculation related to the launch of 10-inch Kindle Fire Tablet, but now, it has been confirmed that no any 10-inch Tablet is coming this year. The company has introduced 8.9-inch screen size Tablets– the size comes between its original Kindle Fire and Apple's iPad.
8.9-inch Kindle Fire HD:
Of course, Amazon has experimented with the screen of its original Kindle Fire and I think, 8.9-inch screen Tablet could be a better option for those users who are considering 7-inch screen size is little smaller while 10-inch is little-bit bigger.  But, online retailer has improvised screen resolution of the device to 1920 x 1200 pixels, much higher than the resolutions (1024 x 600) of its original Kindle Fire. I think, the resolution is quite suitable for the 8.9-inch Tablet, even better than screen resolution of Google Nexus 7 Tablet.
The device will come in three versions—16 GB, 32 GB and 64 GB–and all of them will have 4 G capabilities. As I have mentioned that Amazon could enhance the processor speed; Kindle Fire HD will have dual core OMAP processor clocked at 1.5 GHz compare to 1 GHz clock speed of original Kindle Fire Tablet. It's true that Nexus 7 Tab has quad core processor, but the processor speed of Amazon's Kindle Fire HD is no way vulnerable than the Google's 7-inch Tablet. Kindle Fire HD is also equipped with dual stereo speakers.
Kindle Fire HD Tablet has dual band chip and Amazon has claimed that the tablet is 54% faster than the Nexus 7 and 41% faster than new iPad in terms of Wi-Fi accessibility. Kindle Fire HD is being powered by Anadroid 4.0 OS. The online retailer has also added front facing camera in the device, however,  Google is also expected to implement front facing camera (1.2 MP) in its upcoming Tablet.
The main important thing is that the Wi-Fi version of  the Tablet has been priced for $299, while 4G LTE version will have a price tag of $499—however, it's said that Amazon will not sell these Tablets in India.
Kindle Fire HD 7- Inch Version:
Amazon is also going to launch 7-inch Tablet but it will have some better features compare to the original Kindle Fire. The screen size of Amazon's 7-inch Tablet will have almost same screen resolution (1280 x 800) as Google Nexus 7 Tablet has. The new 7-inch Kindle Fire Tablet will have dual-core processor clocked at 1.2 GHz . The HD version of 7-inch Tablet will also have a front facing camera and Bluetooth as well. The 7-inch Kindle Fire Tablet will be available in two different versions–16 GB and 32 GB. The new 7-inch non-HD Tablet will cost $159, while an HD version will be priced at $199. However, it has not been yet officially declared whether the device will be available in India or not.
How Amazon's New Tablet Could Be A Threat For  iPad And Nexus 7 Tab?
It's well-known that Amazon is one of the leading players in terms of content and services ecosystem— that make Kindle Fire  very special. The company has claimed to offer more than 22 million movies, songs, TV shows, magazines, apps and books on the device. Moreover, it has also implemented new immersion reading feature—that combines audible audio and traditional eBooks. Amazon has currently wide and deep digital content ecosystem, which is enough to challenge Apple. And I think, Amazon's content ecosystem will definitely entice a significant number of users towards its own platform.