Quad core processors are now going to leapfrog in the global mobile segment. NVIDIA began the revolution after launching its Tegra 3—a system on a chip (SoC)—in Q4 of the last year. Now, Samsung Galaxy SIII model is in the market with Exynos 4412 quad-core processor. The company has launched the processor in market not due to, it's the requirement of the device but for contending NVIDIA's Tegra 3 SoC.
Do mobile devices really need to have Quad-core processor?
I think, dual core in the mobile devices is sufficient for users requirements. Until a year back, manufacturers argued that single-core processor was sufficient for mobile devices, and that time, users were quite satisfied with their device performance. Later, the prevalence of high resolution videos and games forced manufactures to adopt dual core, but this time, manufacturers are more emphasizing on Quad core.
In support of this context, one of the world's best selling Smartphone "iPhone 4S" runs on dual core processors and users are quite comfort with the performance of their device. At present, most of the Android powered Smartphones have 1 GB RAM, but iPhone 4S has just 512 MB of RAM—which is outstandingly performing with this sort of RAM.
Indeed, RAM is not responsible for making users' device faster but enables users to do more at the same time. It eases multitasking, means one can perform numbers of tasks at the time. There is a big question, how many applications users really need to perform at single time? Still, I think, dual core is sufficient for multi-tasking on mobile device.
Why Quad-Core Processor?   
Now, mobile device manufacturers are more concentrating on the extra memory in device and they are trying to provide true desktop experiences to users what they are waiting for.
Logically, if your device has single core and you are assigning 1GHz workload to your device, undoubtedly, one core of the device will have to saddle extra pull to accomplish the task. Obviously, it will consume more power and besides, the performance of the device also declined. But, in the case of quad-core, works are distributed among four cores which reduces the overburden. That's why, Quad-core processors are viable to reduce power consumption compare to single and dual-core along with the device performance. In simple words, Quad-core is impressive for multi-tasking due to performance enhance ability and less power consumption.
Now, the demand of high resolution screens are increasing. Users are streaming more HD videos on their devices, in addition to these, the demand of high graphics games are also increasing with the galloping pace worldwide. Users are always concerned with the battery wake-up life and the performance of their device. In this aspects, a Dual-core processor suffers somehow to fulfill users' all sorts of demand.
Benchmarking of Quad-core Processor:
An image (below) demonstrates how Quad-core is dominating over Dual-core: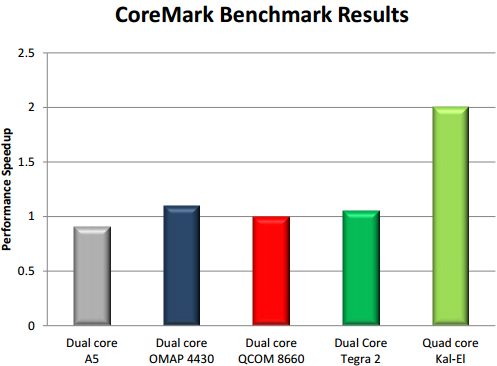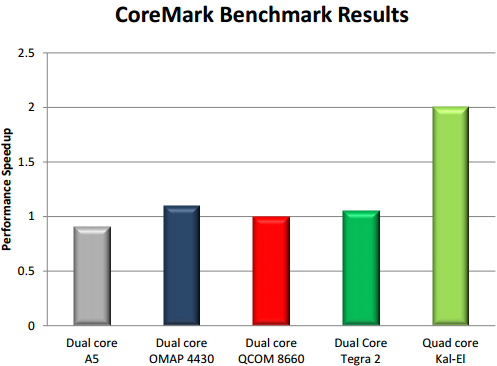 It's pretty clear from the above graph that how performance of other dual core processor stuck off in multitasking perspectives.
Benefits of Quad-Core:
Indeed, some applications such as video\ audio editing and encoding requires larger amount of row processing. In addition to these, in some applications including compression of videos and audio files, online streaming of audio and videos and handling of large database files, the performance of mobile device declines and sometimes users feel nonchalant. These limitations of dual-core are providing a room to Quad-core processor.
Previously, I have described how quad-core processor is efficient to handle multitasking. In general, the main advantages of the processor are that it reduces power consumption and increases performance of the device. It's quite clear from the above bench-marking graph that the "performance speed up" of quad-core is two times greater than dual-core processor.
In terms of Gaming, quad-core processor could fuel more user experience. Game developers could assign game data such as process graphic, audio, physical of game and artificial gaming intelligence to respective four mini processing stations. In this way, user can enjoy real game experiences on their mobile device with implementation of quad-core processor.
Conclusion:   
In the present scenario, software ecosystem demands mobile devices should be leveraged with quad-core processors. At present, mobile operating system such as Android 4.0 comprises numbers of features which requires quad core for proper functioning.
Image credit: NVIDIA