Sony's latest mobile game console PlayStation Portable Vita still have to make its grounds in the gaming industry as not much games are available yet for its platform. Sony is striving hard to make its innovative and portable game console to be worth buying by bringing addictive game titles which are available exclusively for Sony's consoles. But now the PSP Vita is gaining its roots as lot of exciting game titles like Gravity Rush,Uncharted Golden Abyss,Resistance are breaking into the  Sony PSP Vita platform. So here is the list of top 4 solid and exciting game titles coming early this year.
1.  Uncharted : Golden Abyss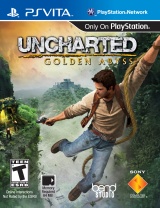 Uncharted Golden Abyss,the multi-million selling game franchise on PS3,is now landing on the PSP Vita platform also. The game has now become one of the most awaited game title for Sony PSP Vita and will also affect the popularity and sales of Vita for sure. The upcoming Uncharted Golden Abyss features the action-adventure genre where gamers have to explore the behemoth landscapes, ancient temples etc. to unfold the mysterious truth behind a cunning plot. The game developed By Sony Bend Studio,just like its previous versions released for Sony Playstation 3 platform, is designed to deliver mind-boggling cinematic graphics, high detailed and textured environment,amazing visual effects with highly involving storyline. The game will be available in Europe on February 22,2012 and is already released in Japan and North America.
 "Uncover the dark secret behind the massacre of a Spanish expedition to Central America some 400 years ago. Caught between the rivalry of old friend, Jason Dante, and Marisa Chase, the granddaughter of an archaeologist who mysteriously vanished, you're going to have to traverse ancient ruins and treacherous jungle terrain in a bid to find out the truth. Do you think you have what it takes to venture deep into the Golden Abyss on PS Vita? Then here is your chance to prove it".
httpv://www.youtube.com/watch?v=8ce9p1kF1yE
2.  ModNations Racers : Road Trip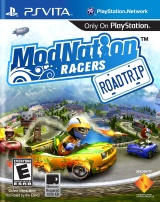 ModNation Racers : Road Trip is one-of-its-kind kart racing game that utilizes the gamer's own imagination in creating their unique world of karts by personalizing the entire game. ModNation Racers allows gamers to create and play their own character, their unique karts and the racing maps too in just a blink of an eye. Acclaimed as one of the potential competitor to Mario kart Racing, ModNation Racers delivers a revamped kart racing experience to the players while utilizing the enhanced sensors like accelerometer,gyroscope etc and the gamer's own imagination too. The game also allows players to share their creativity to the PlayStation community through Playstation Network Service (PSN). The PSP Vita version of the  game will be released on February 22,2012.
"Kart racing action built for the next generation! The power of the PS3™ system provides a kart racing game like no other. Feel the blistering speed with every boost and how karts handle differently in various track environments and surfaces"

"The only racing game to offer full Character, Kart and Track customization to create your own racing experience. Design your own mods, karts, and tracks using the same Creative Tools that developers used to make the game! "
httpv://www.youtube.com/watch?v=JENlPwgQB_U
3.  Ultimate Marvel Vs Capcom 3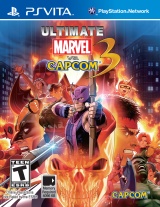 Ultimate Marvel Vs Capcom 3 features an arcade fighting game genre featuring comic art like graphics powered by Capcom's MT Framework. The game allows players to take hold of well acclaimed comic characters like Ryu, Wolverine,Iron Man etc. to jump into the exciting battle. Ultimate Marvel Vs Capcom 3 delivers the revamped arcade fighting experience showcased be its predecessor Marvel Vs Capcom 3. The game features brand new characters from the comic universe of Marvel and Capcom, and the enhanced characters catalogue of 48 characters in the game. The game delivers highly detailed graphics,amazing sound and stunning visual effects. The game features addictive gameplay via revamped fighting system accompanied by new game modes and power moves. Developers, Capcom will be releasing the PSP Vita version of the game on February 22,2012.
"The ULTIMATE heroes from Marvel and Capcom collide again in Ultimate Marvel vs. Capcom 3. Every epic character from the original blockbuster returns to the fray alongside 12 new fighters,

8 over-the-top new stages and enhanced gameplay. Ultimate Marvel Vs. Capcom 3 for PlayStation®Vita system is the full console experience packed with 50 legendary characters*, local and Wi-Fi multiplayer, touch panel controls, and exclusive new features. Unleash you ultimate anytime,anywhere "
httpv://www.youtube.com/watch?v=jCT7m4Cw-hA
4.   Gravity Rush
Gravity Rush is an action-adventure RPG game title from Japan Studio developers produced exclusively for Sony PSP Vita and will be available on March 31,2012. The game is directed by well-acclaimed Keiichiro Toyama,capable enough for utilizing players ability to control the characters movements and actions while maneuvering the gravitational effects. The story of the game unfolds in the fictitious world of Hekseville. Players will start the game as a girl named Kat, who doesn't know about her whereabouts and gets some mysterious power to control the gravity from a black cat. Players will be controlling the protagonist and her powers to unfold the mysterious plot of Gravity Rush.
"Gain a new perspective as you take on the role of Kat, a strong-willed girl seeking the means to protect her future in a world that's crumbling to pieces. Tilt and move the PlayStation Vita, taking gravity into your own hands to deliver devastating attacks, uncover the secrets to your past and explore a mysterious world"