Ok, so you are among the ones who are fascinated towards mobile gadgets but are unable to find a strong justification of owning all of them due to almost same functionality and advantages. This may help you -atleast till certain extent! A recent study in US has revealed that mobile gadgets, like Tablets, Smartphones and eReaders, are helping people to do multiple tasks at the same time.
A latest study, by Neilson, claims that people in US like to involve in multiple activities with the help of their mobile gadgets. Study, which has conducted over 12,000 connected device owners, reveals that Tablets and Smartphones are the most preferred devices for people to engage with while watching the TV.
Nearly 70% of Tablets users have accepted the fact of using Tablet while watching TV. Smartphone users are no different from Tablet owners. 68% of Smartphone owners have committed to use their mobile phones while watching TV. However, most of the users have different habitual attitude when they go for bed. 61% people prefer to use eReader on bed compare to just 35% while watching TV.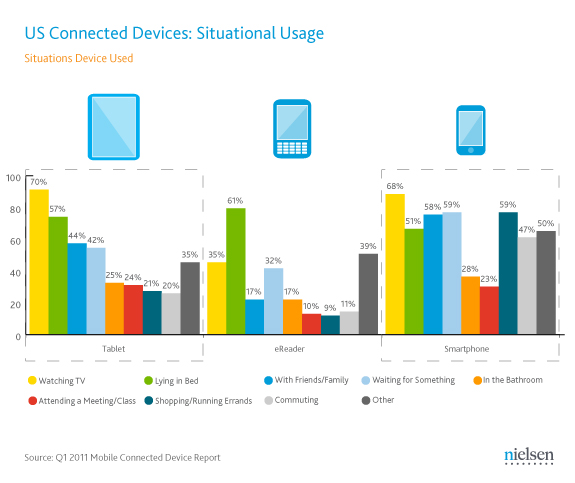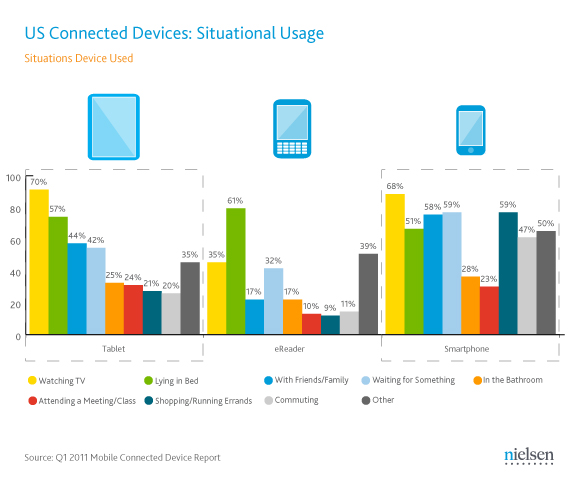 Interestingly, study also reveals the overall engagement duration while performing different activities. Most of the Tablet users remain committed to their device while watching TV. Around 30% of their overall Tablet usage duration in a day get consume while watching TV compare to 21% while on bed.
Similarly, eReaders use the device at maximum level while being on bed. eReader users spent 37% of their overall usage duration while they are on bed to sleep compare to 15% while watching TV.
Though, Smartphone usage is at best while watching TV and other activities, other aspects of the day, like being with friends, waiting for someone or attending any meeting, have also got sizable usage duration by Smartphone users.
Study has one clear but interesting indication. People don't like to engage with any actionable devices while their body is in non-functional mode. On bed – when body needs rest – people don't prefer Tablets or Smartphones which stipulate to perform various set of activities. However, usage of eReader at the same situation allows them for multi-task without actually being involved in any type of functional activities either physically or mentally.