Social Media is transforming the business – even for prostitutes. As per the latest report by Mr. Sudhir Venkatesh, A sociology professor from Columbia University, about 83 percent of prostitutes have Facebook pages and with such constant growth Facebook is going to be the leading on-line recruitment space for prostitutes by end of 2011. This major shift has been noticed due to Cragslist's abandonment of adultery services category some time back which has diverted the whole "prostitution" traffic from Craigslist to Facebook for prostitution only to find an effective alternate online business establishment.
Mr. Venkatesh found that only one out of every four prostitutes get regular clients from Facebook in 2008, while escort agencies provided about 31 percent. However, the professor had no data analyzing possible synergy between social media and the other sources of clientele — studying this area might uncover the possibility that Johns research these service providers online and then book appointments through other channels.
This "interesting" research also reveals that iPhone and BlackBerry are the most popular and handled device among 70% of total prostitutes. However, most of them prefer to carry two mobile phones with no personal contact phone book.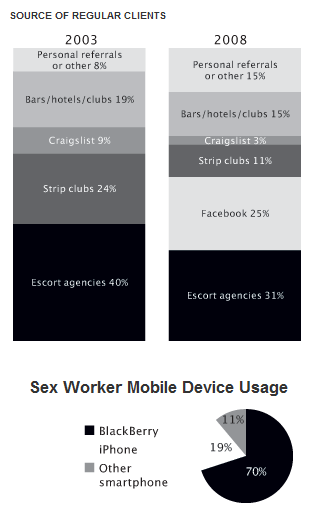 The professor's revelations about Facebook and prostitutes appears as a sidebar to a larger Wired report on New York City prostitutes, based on more than a decade of research. His studies began before the advent of social media, so he incorporated Facebook into the research after it was well under way.
Indeed this is an interesting research which exposes the level of acceptance of social media for "no-to-be-good" business models. However, with enormous growth of social media – which is also complimenting the on-going revolution in mobile industry – it will be interesting to see few more similar research which can unveil many more interesting adoption of social media business models.
We would like to ask from our esteemed readers what they think about such fascinated report. Do you really think that social media (especially Facebook Pages) are responsive enough for adultery content and activities or Facebook should follow Craigslist pathway and ban this to become much more responsive towards serious business and information sharing ?