Recently Google announced that company's much hyped and sole mobile handset NexusOne would be discontinued in order to shift all its focus towards Technology instead of struggling for Hardware and other related issues. With the final shipment in last few days, Google informed that the handset would be available for registered developers for  their research and testing activities.
The Nexus One  was Google's flagship smartphone manufactured by Taiwan's HTC Corporation. It became available on January 5, 2010 and uses the Android open source mobile operating system  features of the phone include the ability to transcribe voice to text,  noise canceling dual microphones,  and GPS guided turn-by-turn voice directions to drivers. The NexusOne was, via Google's website, at a price of $529 without a plan or contract, or a subsidized $179 when purchased with a T-Mobile  two year contract. Google announced in May 2010 that the online store would close, and the phone would be offered in retail stores. Subsequently, Google made an announcement recently that it will cease commercial distribution to end consumers, and the remaining units of the Phone will registered Android developers via its Android Market Publisher site. Naturally, these will be sold through a partner. Google wants to "ensure our developers have access to a phone with the latest Android OS."
It seems baffling that within a span of a month, two high profile companies, Microsoft and Google have pulled out their handset offerings. As Google did so with the NexusOne, earlier this month, Microsoft pulled the plug on it's much hyped "Kin" the social phones aimed at the youth market, which ran on a stripped-down version of their next-gen smartphone OS, the Windows Mobile 7. Of course, in terms of a  product run, the NexusOne fared much better than the Kin in term of the number of shipped Units and the fact it took Google 6 months to cease distribution after launch, a feat which took Microsoft just 3 weeks.
Why did this happen? Google wont come up with official reasons,  but it is not too hard to figure out, atleast from the viewpoint of a tech analyst. The NexusOne , which was actually the HTC passion, was a surprisingly capable smartphone, and was dubbed as a "superphone" by Google.  It boasted of a nextgen 3.7" AMOLED screen and was capable of a resolution of 480×800 pixels. The phone was powered by a beefy 1Ghz Qualcomm "Snapdragon" processor, which could tackle the most intensive multitasking sessions without breaking a sweat. The Phone also had a capacitive touchscreen which supported multi-touch gestures (a la iPhone), had a 5MP AF cam with Flash, GPS receiver,  Bluetooth 2.1 and Wi-fi. Storage capacity was provided by the Internal memory of 512Mb and the phone was supplemented by a MicroSD card which could be expanded to a whopping 64Gb. The current versions of the NexusOne is running Google's latest Android the Froyo (Ver 2.2)
Now it is important to acknowledge the fact that souped up specs always does not translate to stellar sales figures. Google as a Company, is known better for the Android Operating System in the mobile space, and not for actual handsets themselves. It should also be noted that when the iPhone was launched, it completely revolutionized the smartphone platform as we knew it, and it had the first mover advantage. The Smartphone category was primarily dominated by Microsoft , Symbian and Blackberry in the initial years of this decade, as they were primary business-driven and the hardware was prohibitively expensive for regular folks. As technology caught up with the Smartphone, and prices gradually came down, it began to see widespread acceptance amongst the masses in a connected,
social-networking-centric world. Soon after, the iPhone was launched in Jan, 2007 and there has been no looking back. The iPhone set the tone and the standard of the modern day smartphone, by essentially eliminating the buttons and the stylus (all touchscreen based phones prior to '07 had one) and substituting them with a capacitive touchscreen and a visually stunning and extremely intuitive UI. The stylus-centric smartphones of yore running Windows Mobile 6 and Symbian phones were sent packing, as casual users expected their devices to be like the iPhone. IN the meantime, Google acquired a little known Company called Android, who were building an open-source mobile operating system and launched the 1st version in Feb, 2009. Almost immediately well known smartphone manufacturers such as HTC, Samsung, LG and Sony Ericsson started working to port the OS to their platforms.  Coming back to the previous issue of 1st week sales, here are the figures for some of the Critically acclaimed smartphones which have been launched.

It is evident that Apple ruled and continues to rule the sales figure with their iPhone and iTunes and App Store Ecosystems. Also we must know that Apple offers their consumers a unified offering in terms of hardware and software. Google and Microsoft on the other hand, are essentially Software behemoths who deal only with the Smartphone operating system and they license their OS to 3rd party manufacturers.
Hence the 1st mainstream Android phone was the HTC G1 and over the years there have been a plethora of very capable Android handsets which have been able to hold their own against the ever improving iPhone juggernaut. In the recent years, one of such phones have been the Motorola Droid, which was a full fledged Android hanset with a very functional QWERTY keypad which appealed to businessmen and avid texters. HTC being one of Google's prime vendors, has also come up with the HTV Evo 4G which has been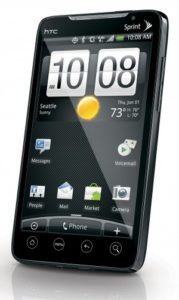 critically acclaimed as a gem of a smartphone. Motorola too has come up with a non-qwerty model of the Droid called DroidX. Samsung has been responsive in the Android space too, despite having it's own Bada Platform with the introduction of the acclaimed Samsung Galaxy S,
Hence it is easy to see that for Google, the focus is not building and branding their own handset. Google will remain committed to the Android platform, and build a Google Applications ecosystem not unlike Apple. It has tightly integrated it's famed web services and web based apps such as Search, Gmail, Maps, Google Apps etc and make it's money from advertising. The NexusOne was more of a one-off phone for Google to firmly establish it's footprint in the Smartphone space and to give Apple a dose of it's own medicine. You could refer to it as a Superphone "blueprint", whose specs will be emulated or exceeded by other manufacturers for their Android offerings. Maybe that's why Google is now offering the remaining copies of the NexusOne to developers.  Google has the overwhelming support of 3rd party developers and manufacturers, who want to compete with Apple in the touch based Smartphone category, without fragmenting the market by sticking to an open platform. The last thing Google would want to do is compete directly with it's own hardware partners, and that was the uncomfortable perception which surfaced when Google launched the NexusOne, seven months ago.
It might be only a matter of time before the number of Android applications far exceed Apple's offerings at the App store and become the dominant Smartphone OS platform of the decade. It will certainly be interesting to see Microsoft's reaction with Windows 7 Mobile scheduled to be introduced later this year. We at Dazeinfo would certainly be tracking their progress keenly.
Please let me know your views and future impact of this on Google in comment section.