Artificial Intelligence is a true testament to advancements in technology. AI is founded on the development of intelligent machines designed to do specific tasks by simulating human intelligence. AI is defined as the display of near-human intellect by machines. The design and implementation of artificial intelligence include the acquisition of new information as well as learning the rules and reasoning required to handle this data to reach viable deductions. Basically, AI can be broadly categorized into two, either strong AI or weak AI.
Strong AI, is a system intended to have general human cognitive abilities. This type of system can find workable solutions to various problems without the need for human intervention. On the other hand, a weak AI is implemented for specific tasks and is also known as a narrow AI. Great examples of weak AI systems may include your online free translator or a wide array of virtual assistants such as Siri. This narrow AI is designed by Apple to provide its users with a seamless experience when interacting with any of its devices.
Today, a lot of companies from all over the world have already embraced the use of artificial intelligence. With artificial intelligence's ability to simulate human reasoning and cognitive processes, it has brought about a paradigm shift in healthcare delivery. This new technological milestone has managed to revolutionize healthcare and improve medical practices in areas such as clinical research to the development of new medicines. Besides, the use of AI in healthcare centres has helped patients receive expert medical attention at reduced overhead costs.
It is estimated that AI driven healthcare market would reach $6.6 billion by 2021. The replacement of the human factor with AI has been the topic of concern, especially in healthcare mainly because doctors are likely to be replaced by intelligent machines. While it may seem far-fetched, the continued use of AI in medicine will improve service delivery to patients and help physicians and doctors make better and more calculated decisions, effectively minimizing risks. AI healthcare systems developed by Big Data Analytics have brought about new analytical techniques that can help unlock the immense potential of relevant clinical information.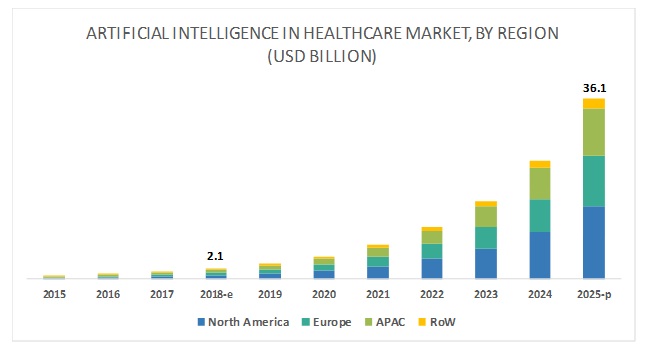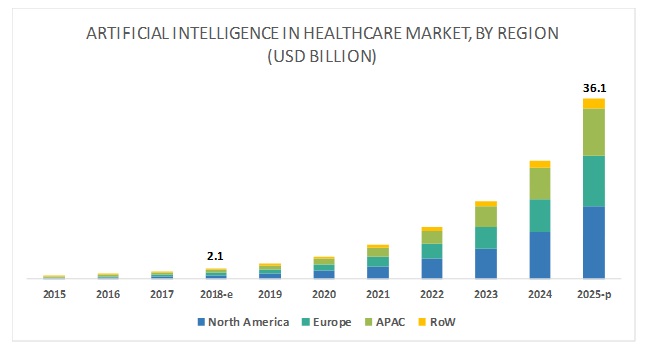 Another key aspect of AI is that it would make an invaluable healthcare asset because of its ability to learn and adapt to new challenges facilitated by the utilization of sophisticated learning algorithms. AI is equipped with adaptive technologies to help it get better based on received feedback. Also, since AI can analyze and deduce reasoning from large amounts of information, they can be used to predict probable health risks.
Undoubtedly, AI is a powerful tool, and it is likely to have a significant impact on medical practices in the years to come. Today entrepreneurs and investors are betting heavily on the success of AI use in healthcare mainly to impact aspects such as digitization of operational processes, improve the interaction of healthcare providers and consumers, and introduce new products and services based on AI technology to diagnose or offer medical advice to patients. Below is a list of some of the more common uses of AI in healthcare:
Image analysis
Assisted surgical operations
Virtual nursing assistants
Assistance with healthcare administration
Elimination of dosage errors
Detect fraud cases
Initial diagnosis
Cybersecurity
AI is set to revolutionise the Healthcare market. But at the same time, there are few challenges with it when it comes to implementation.
AI is effecting positive changes in healthcare, and as you can see, the use of AI can help healthcare facilities to maximize the use of already existing resources and optimize its service delivery; which will undoubtedly increase a facility's general productivity. However, as much as there is potential in the use of artificial intelligence in medicine, it has to stem from a deep understanding of the current hospital and clinical methods. Regardless of the evidence of the added benefits AI provides in healthcare practices, there are still a few challenges along the way; mainly the need for clinical validation.
Medical practitioners need to trust that this new technology to optimize its use, and even after the successful integration of AI, many will still be sceptical about using then until significant evidence is provided. This challenge is mirrored on the client-side too, the main reason being they might not entirely comprehend what AI is. Scalability is another primary concern as test systems may not be easily adaptable to large scale use. Also, the notion that the continued reliance on AI will lead to doctors losing their positions to intelligent machines does not help the situation.
Currently, AI is aimed at augmenting current workflows; i.e., the development of a hybrid system whereby humans and AI work together towards a common goal. Regardless, given the widespread use of AI in most other major industries, the use of intelligent machines is fast catching on. Soon you should expect significant changes based on how AI will have revolutionized healthcare operations.