Apple Inc. (NASDAQ:AAPL) has added yet another feather to its cap after iPhone 7 got awarded as the most popular smartphone in Q3 2017 by sales figure. Apple iPhone 6S, the device launched over 2 years ago, is still the most used smartphone in the world, according to the latest study by Scientiamobile.
The Mobile Overview Report (MOVR) study from Scientiamobile highlights that 7.53% of the world's total smartphone usage is recorded on iPhone 6S in Q3 2017, which is more than any other smartphone.
Following iPhone 6S, iPhone 6 and iPhone 7 was the other top two most used smartphones in Q3 0217. Samsung Galaxy S7 remained the 7th most used smartphones, while Galaxy S7 Edge secured the 10th position in the list of most used smartphones in Q3 2017.
The Most Used Smartphones in Asia, America, Europe
The study further depicts that Apple iPhone 6S is still the most used smartphone in most of the continents except South America and Africa. In South America, Apple iPhone 6S is rated as the fourth most used smartphone, behind Galaxy J5, iPhone 6 and Galaxy J7. In Africa, the three years ago launched iPhone 6 is still ruling the roost, followed by iPhone 6S.
The usage of iPhone 6S was recorded the greatest in Oceania and Noth America region with 13% and 10% respectively.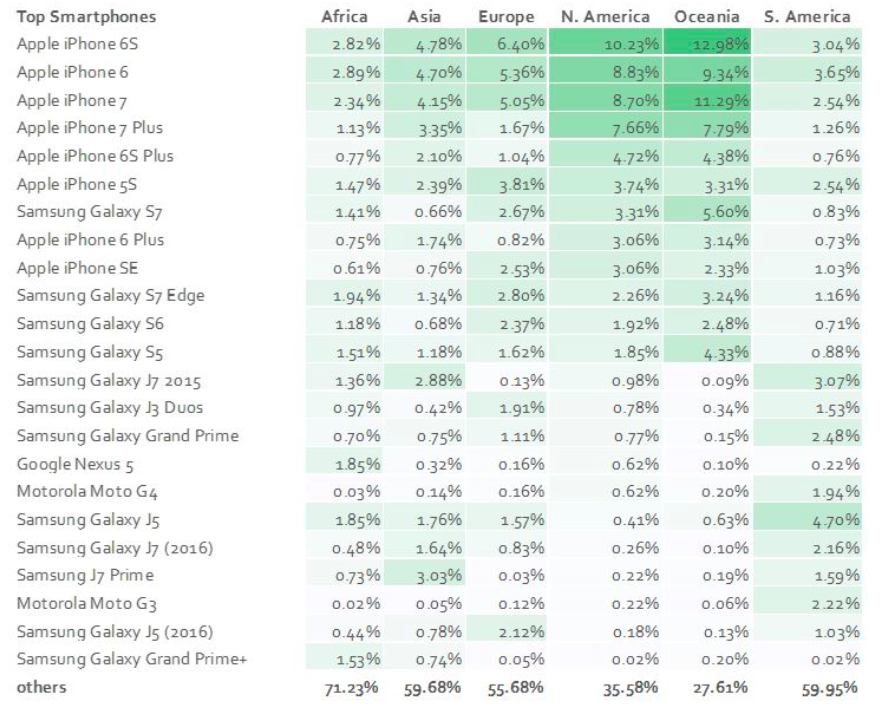 The findings are based on the representative data sample set of over 1 billion HTTP requests in Q3 2017.
The study also suggests that Apple iPhone 8 Plus is garnering more traction in the market than iPhone 8. At the end of October 2017, after 39 days of the launch of iPhone 8 series devices, the usage of iPhone 8 Plus clocked 0.64%, as compared to just 0.42% of iPhone 8.
iPhone Users Prefer Portrait Orientation
The MOVR study from Scientiamobile also highlights the portrait usage behaviour of smartphone users. Unlike Android users, iPhone users, irrespective of iPhone model, are consistent with portrait mode with over 94% of the time.
On the other hand, the consistency with portrait mode increases with the screen size among Android smartphone users. With 94%, consistency of portrait mode is highest with users having Android smartphone sporting display between 6 and 6.5 inches.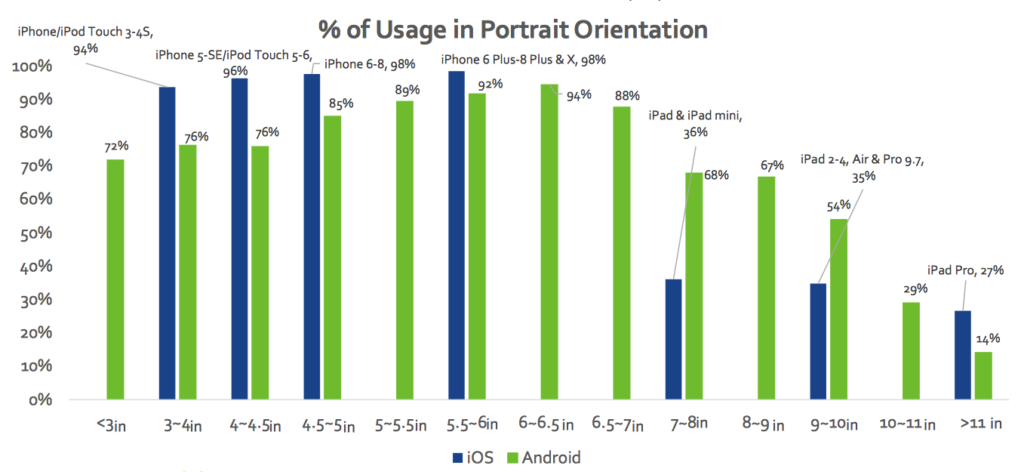 Interestingly, there is a huge difference in the usage of smartphones in portrait mode among all the continents. In Asia-Pacific smartphone users with device screen size between 5.5-inches and 6-inches are more consistent with the portrait mode. In Noth America, users with smartphones sporting display size between 4.5″ and 5″ are more consistent with the portrait mode. However, in Europe, South America and Africa smartphone users with devices sporting display between 5″ and 5.5″ are more consistent with portrait mode.