Passwords may soon be a thing of the past, going by Apple's latest acquisition of an Israeli-based startup that builds facial recognition technology.
Realface is a technology startup founded in 2014, that employs just about 10 people, and has been building facial recognition technology. Apple Inc. (NASDAQ:AAPL) reportedly paid "several million dollars" to buy this startup, putting Apple fans in a frenzy. Remember those rumours from the not so distant past regarding the soon-to-be-launched iPhone 8? Well, this latest acquisition only fuels those rumours even further. If our guesses are right, Apple may go ahead and replace passwords with selfies using this facial recognition technology.
Realface's facial recognition technology works by offering the user a smart biometric login feature. Using this feature, users would no longer need to feed in a password to access their mobile devices or PCs.
Facial recognition technology was so far typically deployed in security systems. However, ever since talk about Apple's next iPhone surfaced, there has been significant chatter about Apple venturing into facial recognition for its devices. CEO Tim Cook has, over the past year or so, also been dropping hints regarding Apple's investing significant time and money on radical new technology such as Augmented Reality and 3D sensing. With facial recognition technology now in its basket, this feature may indeed soon become a reality with the upcoming iPhone.
There have been mixed opinions with regard to how safe facial recognition technology is when given that hackers have in the past been able to unlock devices using photos from Facebook. If Apple does, in fact, dump passwords and incorporate a selfie-enabled unlocking feature on its phones, security is an issue that will surely be brought up. Will Apple be able to reinvent facial recognition technology for its devices using 3D sensing? We'll have to wait for an iPhone news update to find out.
Apple has quite evidently been on an Artificial Intelligence and Facial Recognition buying spree since late 2015. In fact, if you look at Apple's acquisitions of companies over the course of 2016, five out of the nine acquisitions made were in innovative new technologies, spanning Augmented Reality, Machine Learning, and Facial Recognition. Add the latest acquisition of Realface to that list, and you are left wondering if the rumours may be true after all.
The bigger question that needs answering at this point, however, is What do all these tech-acquisitions mean for Apple?
Apple has, for long, been considered one of the more innovative of the smartphone companies. A very recent report published by CyberMedia Research (CMR) cites technological innovations, cutting-edge design, and branding as the key factors that set the premium smartphone brands such as Apple, Samsung, and HTC apart from the competition. While Samsung fared higher in terms of brand recall at 97% of respondents, Apple was ranked as highly innovative (78%) with good design and looks (76%), and high dependability (72%).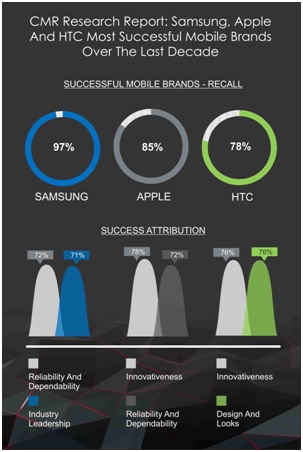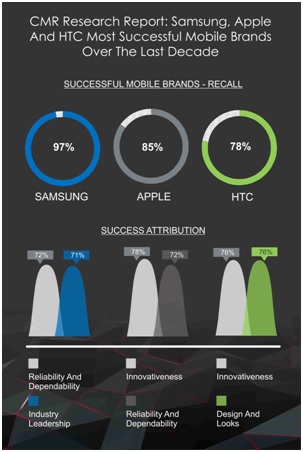 Apple's remaining innovative has a lot to do with not just in-house talent and an innovative culture, but with its ability to forecast technological growth for smartphones, and in making the right strategic decisions in this regard. While we are yet to find out how all these acquired innovative startups help paint Apple's big masterpiece, there is no doubt that the company is heading in the direction of massive technological innovation. Meanwhile, however, the wait is proving to be quite a tease.
The Future for Smartphone technology
It may not be an exact science to predicting what the future holds- not even the near future. But considering the trend that technological growth is taking, some of the more obvious tells of the future in smartphone technology are very hard to ignore.
The future in smartphone technology is supposedly going to be sexier and smarter than we could imagine. Here are some of the predictions that really stand out-
Bezel-free Display
One of the rumours associated with the upcoming iPhone is that the phone will be radically redesigned to have no bezel (border). iPhone aside, other smartphone brands such as LG and Xiaomi are considering border-less devices too. People want bigger screens, and the next step to making bigger screens, apart from a larger phone itself, is to go bezel-free.
Bots
This isn't upcoming technology. We've already got bots all over the place, be it personal assistants of interactive chat-bots. The future for smartphones, however, could be a sizeable investment in AI and AI-powered personal assistants. There is huge scope for AI and machine learning put together to create bots that could essentially run our lives for us.
Design
Customers never overlooked design. But what we are looking at, going by trends in the smartphone industry, is a much harder focus on the design aspect. With the new iPhone rumoured to have a stunning AMOLED display, and LG patenting its wrap-around screen design, there is no doubt at all that the design aspect is going to play a more prominent role for smartphones in the foreseeable future.