With the evolution of technology, we are getting surrounded by a number of smart gadgets, which are eventually taking over many of our jobs. Though these developments are only making people more deliverable and acquaintance, the interference of these gadgets and devices have reached to our home and personal life. And, with the addition of this new family member you can not only add another device to the fleet of your gadgets, but will also add a new member to your family; Meet JIBO – the world's very first robot specially designed and developed to make your busy life easier.
JIBO has got everything that could make you rethink about smart objects and how you would picture them in your home. This is probably the first ever masterpiece of Artificial Intelligence for home and personal lives. This 11 inches tall and 6 – 7 pound robot is ready to take all of your stress, starting from reminding about important tasks, helping with education, self-clicking images of special moments of your life and much more.
Powered with skills like intelligent hands-free assistance, emotionally connected photography, storytelling and messaging, JIBO could fit into every part of your life. It can see, hear, speak, learn and relate to things happening around it.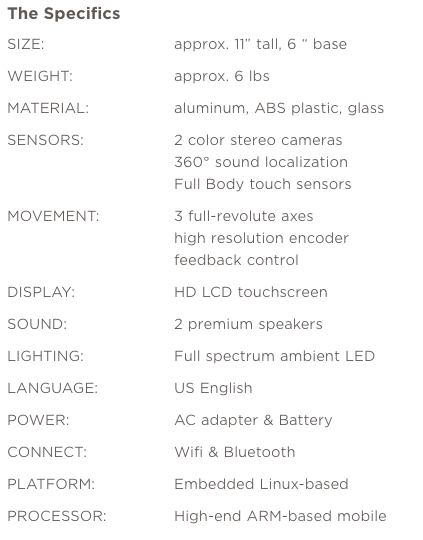 However, the product is still in the concept stage and the Cynthial Breazeal, Founder and CEO of the company, is looking forward to raise $2 million in total to get the JIBO into reality working to full capacity. Through the on-going crowd funding campaign on Indigogo, JIBO team has already raised close to $1.5 million and the product is now at the advanced stage of production and testing.
Here is the video that that Briefly demo JIBO and talks about the development progress, developer editions and personal edition of JIBO along with the future road of JIBO.
All said and done, the question still looms that, do we really need such an interference in our life, especially when a device doesn't need your approval before executing tasks. Yes, you may be thinking about AI, but then it would be interesting to watch how advance AI could become. Many of us may be thinking that will this be a robot people would actually like to keep at home? We don't know yet, but seeing people's response to its crowd funding campaign at Indigogo, we could say it has got a great chance to live upto the expectations.
Currently, under the pre-order, you can buy a JIBO robot for your house starting from $499 as only 100 units are up for grab. Below is the concept video of JIBO that tries to emulates few of the scenarios with JIBO at home. Enjoy !!!