RIM's market share has continuously been declining since last year, despite BlackBerry is still widely popular among users (especially teenagers) in parts of Europe including Spain, the U.K. and France. According to an annual report from carrier Orange, including Spain, the U.K. and France, the BlackBerry's penetration amongst teenagers in the U.K. and Spain is 2 and 3 times higher respectively than the overall "mobile media users",  people use mobile device for rich media and communications.
In Spain, 64% of teenagers of age group 11-17 year (those are having smartphone) are owning BlackBerry this time, while in the U.K., 46% of teenagers of same age group are currently owing BlackBerry smartphone. On the other side, the figure (BlackBerry among teenagers) is not fair in some other European countries such as France, where just 14% of teens (aging 11-17 years) own BlackBerry.
More importantly, the popularity of iPhones amongst teenagers (across these three countries) is quite low. The reason might be a high cost of Apple hardware that forces teenagers in these countries (survey) to keep themselves away from iPhones. With device breakdown on the basis of age group, BlackBerry is also leading amongst 16-24 year age group in France, Spain and the U.K. over Apple's iPhone.
By aggregating all the data of users those had smartphone in the selected countries, the telco found out a proportion of average devices' owners on the basis of their age group. The report reveals that 47% of 16-24 year age group users (respondents those have Smartphone) in these selected countries own BlackBerry, followed by 28%, 12% and about 12% of age group 25-34, 35-49 and 50-65 years respectively own BlackBerry in these countries.
But the proportion of users in the same groups for iPhone is little low compare to BlackBerry. 33% of users falling in the age group 16-24 years own iPhone in these selected countries, while 27%, 28% and 11% of users of age group 25-34, 35-49, and 50-65 respectively own iPhone.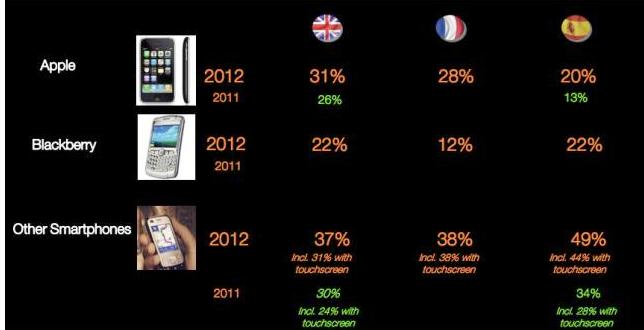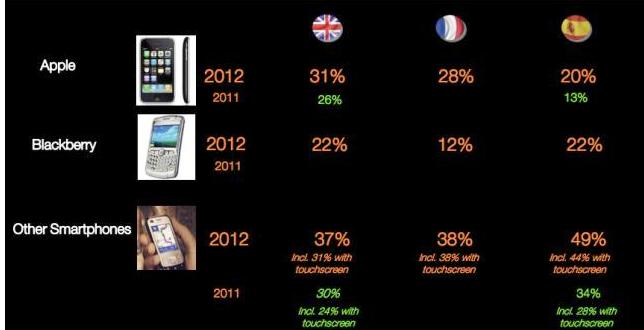 The report has also included Samsung and Nokia's Smartphones as well; 25% of youngsters (aging 16-24) in these selected countries own Samsung's Smartphone. The report reveals that 33%, 26% and more than 16% of users aging 35-49, 25-34 and 50-65 years respectively in these countries own Samsung' Smartphone. On the other hand, Nokia's Smartphones are being preferred by old agers; 21% of users aging 50-65 year old range own Nokia's Smartphone.
Irrespective of age group, 22% of "mobile media users" own BlackBerry in Spain and the U.K., while the figure is low in France, just 12%. In the context, the U.K. has 31% iPhone owners (up from 13% in 2011), while 20% and 28 % "mobile media users" in the Spain and France respectively own iPhones.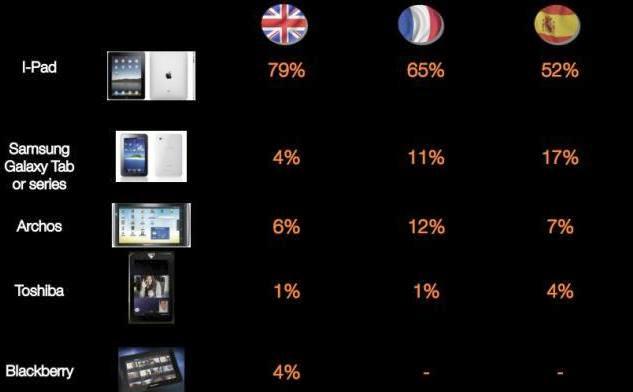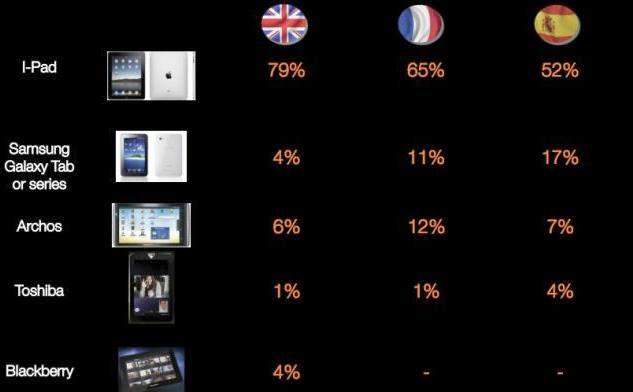 Furthermore, the report also reveals that iPad is unilaterally dominating over other Tablets in the surveyed countries. However, Android-powered device such as Samsung Galaxy Tab has also got a strong adoption across these countries. iPad is currently accounting for whooping 79% of the all Tablets in the U.K, followed by 52% in Spain.
In Tablet space, BlackBerry is quite behind of Apple in the U.K. However, the report has not mentioned any thing about BlackBerry Tablet market share in the Spain and France. It's pretty clear that why RIM is focusing on BB10 devices rather than its Tablet business. Interestingly, Android powered Samsung Galaxy Tab is gaining market share in the France and Spain steadily and it could be a big threat for Apple's iPad in forthcoming quarters.