Wireless connections are increasing with dizzying pace in India month-over-month. However, the Supreme Court of India has provided some more time to telecom vendors to continue its services till September 7 of this year across the country. A recent report from Medianama has revealed that there were 683 million active connections in India during March of this year. Idea cellular was at the top with a record of 105.34 million active users in March of this year, followed by Vodafone, added 1.02 million wireless connections and taking its base to 133.49 million active users during the same time period.
According to the report, S Tel and Etisalat are going to respite their networks later this year, that's why, these telecom vendors have not yet submitted their data to TRAI. The chart (below) has not included any stats from these carriers, however, it does not mean that no new users were added or debarred during March of this year.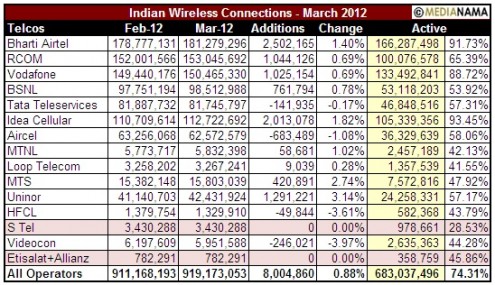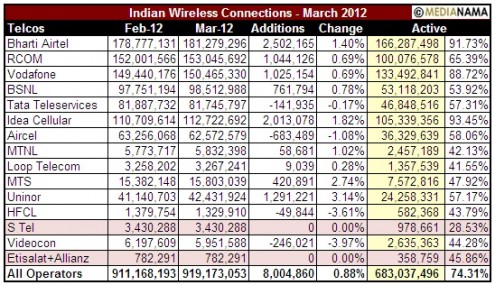 Bharti Airtel succeeded to sustain its position and come after Idea Cellular in number of new connections in March of this year. The telecom vendor has reported 2.50 million new connections in March of this year, taking base connections to 181.27 million with 166.28 million active users.
RCOM added 1.04 million connections in March this year, up 0.69% compare to a month before, with 100.07 million active connections. However, the month was not so impressive for some other players like Tata Teleservices, Aircel and Videocon, connections declined in March this year by o.17%, 1.08% and 3.97% respectively.
J&K led in active subscribers with 84.46%, followed by Assam, MP and Maharashtra with 82.40%, 81.46% and 79.26% respectively. In terms of active connections, Mumbai came at the bottom with just 64.11%, where wireless connection declined by 0.47% in March of this year.
In terms of number of connections, Tamil Nadu dominated with 77.602 million connections in March this year, followed by UP (East), Maharashtra and Andhra Pradesh with 75.07 million, 70.46 million and 66.82 million connections respectively. In March, Mumbai and Kerala were the only circles where number of connections declined.