Communication is the gift which connects people all the time. Be it telephonic, chatting or email, a large portion of popularity in most of the countries has enhanced their tie-ups with the sophisticated use of such medium. However, personal email communication has been one of the leading source among the professionals which is active inside and outside the office both. Web-based email, which for many years was on a continual growth curve, is now seeing declining usage across many geographies throughout the globe as consumers are offered a growing number vehicles to digitally communicate.
As per a report from clickZ.asia, globally, total minutes spent on web-based email (note this does not include PC web applications such as Outlook) was down 2 percent in November 2010 versus November 2009, with time spent in the Asia-Pacific region showing even more dramatic decline dropping 10 percent. Within the region, markets showed varying levels of engagement trends. The largest decline in time spent was seen in Malaysia (down 22 percent), India (down 19 percent) and South Korea (down 15 percent). Taiwan, Hong Kong and New Zealand on the other hand actually showed increases in overall minutes spent in the category.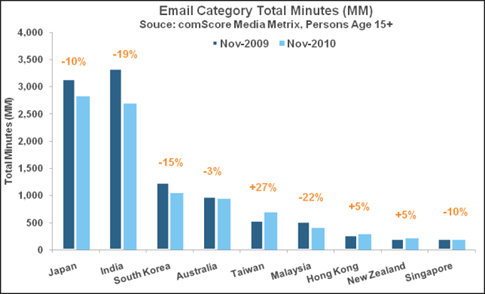 What or Who is Driving the Web-Based Email Exodus?
As per the many previous reports, it has been clearly indicated that young people who largely drive the traffic of web email and online trends. The young people also emerge as the top contributors in online community and strong users of email and online data. In last couple of years, the way social media has emerged as alternative platform, companies are incorporating more and more feature to retain the visitors. As a results, many virtual communication eco-system has been created by LinkedIn, twitter, Facebook and many regional such networking sites. This allows people to share atleats 60% of their general communication over such medium and literally the need to login on personal web based system got killed with the same ratio.
As social networking has reached a critical mass across most of Asia Pacific (52 percent reach), communicating via wall posts, messages, tweets etc. has often replaced the need for regular emailing in some peoples' digital lives. Time spent on social networking sites in November 2010 grew 44 percent worldwide to reach a total of 272 billion minutes, in Asia-Pacific total minutes spent social networking climbed 16 percent. Across the region, every market except mobile-obsessed Japan experienced double-digital growth in minutes spent social networking on the computer; Malaysia – the market that witnessed the greatest decline of time spent on web-based email – experienced the greatest increase in social networking minutes – up 114 percent!
Another theory on the decline of web-based email usage: people are turning to their mobile devices to email and communicate.
So what does this mean for marketers?
Email is still important, don't take this as the sign to stop all together using the email channel to reach your audience. Targeted, permission-based email will remain one of the best ways to reach your existing and potential customers.
Web-based email remains engaging. No one is going to give up his/her Gmail or Hotmail account without a fight. When they read their mails, they are still going to staring at that screen longer than the average web page so they will be exposed to the ad longer.
Targeting and Re-Targeting. Many web-based email providers give advertisers a lot of information about the users that can be used to target advertising. In addition, if you are doing a branding campaign where frequency is important, you will have greater confidence that your message is reaching the same audience. People are not going to change email addresses every month.