Smartphone market war is on so the market is bubbling. Sales of Android-based smartphones are surging, tearing chunks of market share out of Apple, RIM, and Windows Mobile's hides. According to a report released by Nielsen company, Android phones are pretty close to beat top 2 market leaders Apple & RIM ( BlackBerry ) in US market.
Smartphones running Google's Android operating system outsold those running Apple's iOS in the first half of 2010 by a margin of 27% to 23% of the US market. The news builds on data from NPD that showed the same result in the first quarter, when Android claimed 28% of smartphone sales to iPhone's 21%. Although Apple has recently celebrated the huge success of iPhone 4.0 across the globe, Android phones seems to be much more promising specially after the negative remarks and criticism by many iPhone users who struggled with signal strength issue.
According to Nielsen's figures, among new subscribers in the past six months, those picking up Android phones inched past iPhone buyers in the second quarter of this year, garnering a 27 per cent market share to the iPhone's 23 per cent.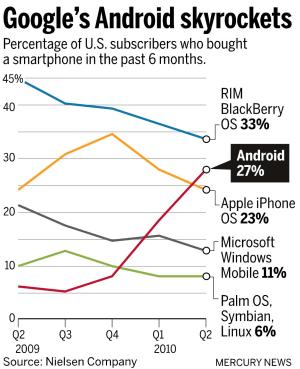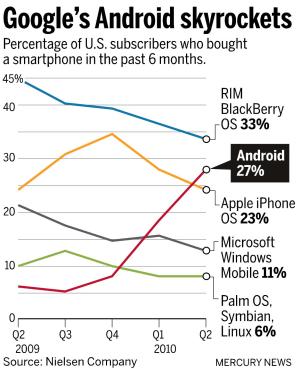 The setback is equally certain for Research in Motion (RIM), a Canadian company that makes the BlackBerry and that is widely expected to introduce a new mobile operating system today intended to better compete with the iPhone 4 and the newest Android handsets. Nearly as many current BlackBerry owners said they were likely to switch to an iPhone or an Android phone, Nielsen reported, as the number who plan to stay with a RIM device. Banned in UAE & Saudi Arabia, RIM is facing some touch time from ME market too.
"You don't have to be a great prophet to realize that Apple is going to have a very strong quarter, and there is no reason to believe that Android will suddenly implode," said Roger Entner, head of telecom research for Nielsen. "There is a good likelihood that BlackBerry is not going to be No. 1 in the third quarter" in U.S. smartphone sales.
With the rise of Android and increasing popularity of iPhone, RIM and Microsoft will really have to keep their foot in mouth who are expecting the launch of OS 6.0 and Windows Mobile 7 based phones later this year.