In a bold move to expand its presence and stay ahead of rivals like Uber, Ola is making an aggressive push into the electric bike taxi market in Bengaluru, India. The company is targeting e-bike riders with the promise of earnings up to Rs 70,000 per month, a significant sum in the Indian context.
To facilitate this expansion, Ola is also renting out electric scooters for a security deposit of Rs 5,000 for those looking to join as e-bike taxi riders. The company has been actively recruiting more e-bike taxi riders, seeking to attract them with lucrative offers and schemes.
Applicants are required to provide documents such as a PAN card, Aadhaar, bank details, and a valid driver's license. Many young individuals have lined up at the enrollment centre, eager to join as e-bike taxi riders.
Ola E-Bike Exciting Incentives
Ola resumed its e-bike taxi service in September 2023, exclusively operating Ola Electric's S1 scooters in Bengaluru with fixed rates for rides. The company is now striving to offer a more extensive and accessible service throughout the city. However, it's Ola's pricing strategy that truly stands out.
The rental charges for Ola electric steeds are engineered to motivate and reward riders based on their booking prowess. If you're just starting out and clock less than 10 bookings, you'll be charged Rs 300 per day. As your ride count climbs to 10-14, the rate drops to a mere Rs 100 a day. And for those high-achievers who reach 15-19 bookings, it's a jaw-dropping Rs 50 per day. But here's the kicker – if you're in the top tier with 20 or more bookings, there are zero rental charges. It's a turbocharged system that propels riders toward higher earnings while minimizing their expenses.
Beyond the rental charges, Ola adds an irresistible layer of excitement to the rider experience through its enticing earnings and incentives program. It's like an adrenaline boost for your wallet.
For those who've just dipped their toes into the e-bike taxi journey with less than 10 bookings, Ola keeps the incentives under wraps, a subtle reminder that they're still warming up. Once you cross the 10-14 booking threshold, the ride-railing major opens the treasure chest with an attractive Rs 800 incentive.
As you gain momentum and reach the 15-19 bookings, Ola increases the incentive to Rs 1,300 and Rs 1,800 for 20-24 bookings. For the high-achievers who cross the 25-29 bookings mark, Ola puts the pedal to the metal, granting a generous Rs 2,300 incentive.
For the ultimate trailblazers who conquer 30 or more bookings, Ola pulls out all the stops, providing an electrifying Rs 2,800 incentive.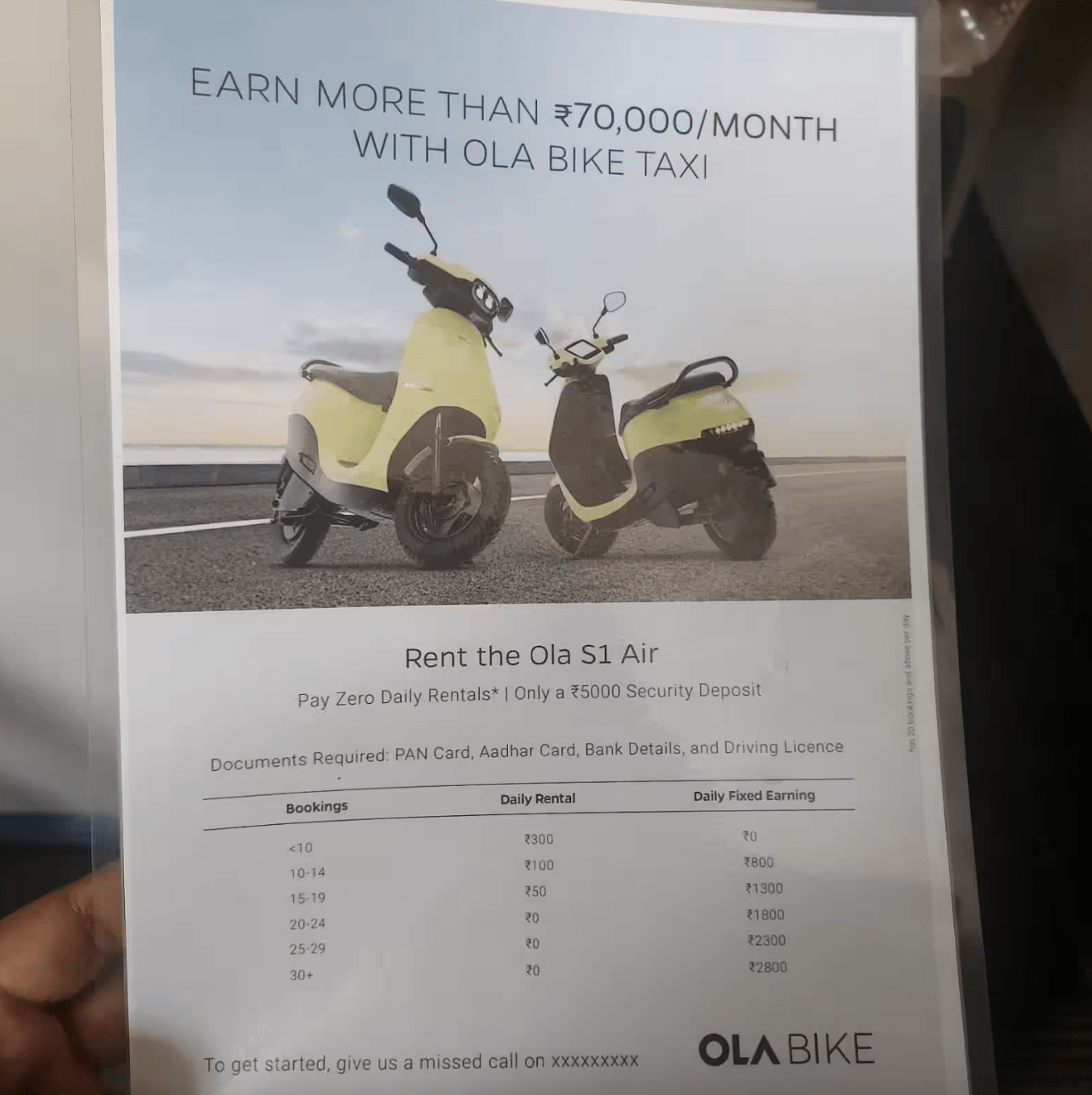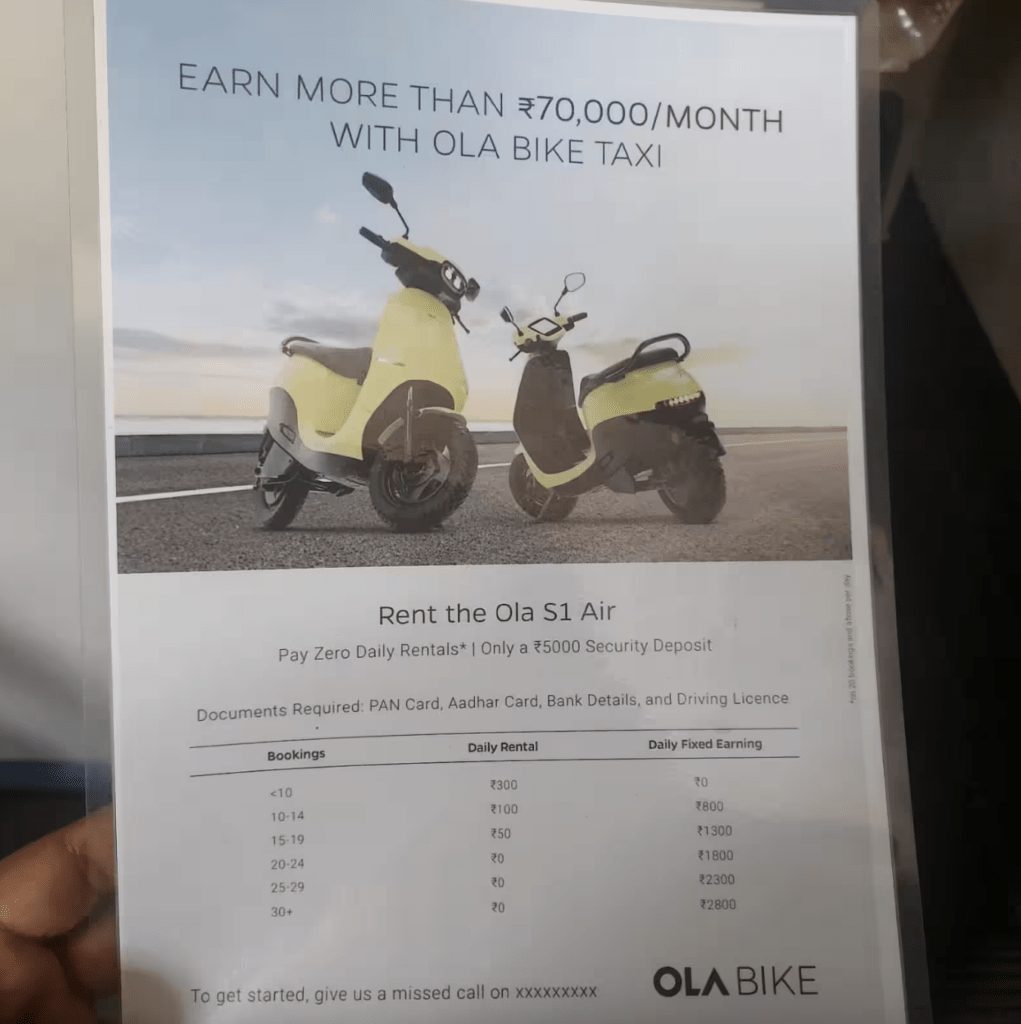 Ola's decision to expand its e-bike service in Bengaluru city comes amid the recent opposition from autorickshaw drivers, who have been affected by the increasing popularity of bike taxi services, and a broader national trend towards cleaner, greener modes of transportation.
Although Ola's ambitions are indeed commendable, it faces a few speed bumps. This is mainly due to the fact that the Karnataka transport department has yet to issue licenses for e-bike taxis. The Karnataka High Court has directed the state government not to take any coercive action against Ola, Uber, and Rapido's bike taxis until specific regulations are in place. However, Ola is not letting these challenges slow down its electrifying journey.
Ola's Advantage in the Race
Ola's competitors are also gearing up to launch electric bike taxi services, with Uber expected to join the race soon. There's increasing pressure on ride-hailing and delivery companies to transition to electric vehicles, and this shift is being supported by government policies in various states.
The electric bike market in India, which stood at $1,048 million in 2022, is projected to surge to $2,113 million by 2028, exhibiting an impressive growth rate of 12.4%, as reported by IMARC Group. This surge is attributed to factors such as rising demand for e-bikes, inflating petrol prices, and the expansion of EV charging infrastructure.
In this electrifying race to dominate the Indian e-bike taxi market, Ola holds a winning card – its electric vehicle manufacturing unit, Ola Electric. This subsidiary manufactures electric scooters and has ambitious plans for an electric car. As the transition to electric vehicles gaining momentum and competition intensifies in the Indian e-bike taxi market, Ola is uniquely positioned to lead the way.
As riders zip around Bengaluru on their eco-friendly e-bikes, it's clear that Ola's electric journey is steering the future of urban transportation onto a more sustainable and exciting path.