While the global outbreak of the coronavirus pandemic seemed extremely detrimental and disastrous for most industries, it has improved the overall scenario of the worldwide music streaming industry.
According to a new report by the global research firm CounterPoint Research, the race for subscriptions in the online music streaming market space is heating up with every passing quarter.
On Wednesday, the report revealed that in Q1 2020, the global online music streaming subscriptions increased a whopping 35% YoY, reaching to 394 million.
Spotify and Apple Music, the two dominant players in the industry, controlled more than half of the market.
Spotify grabbed the first spot by leading the chart accounting for 30% of the global music streaming market in terms of revenue and 33% in paid subscriptions. Followed closely, Apple Music secured the second spot with 25% and 21% share in terms of revenue and paid subscriptions, respectively.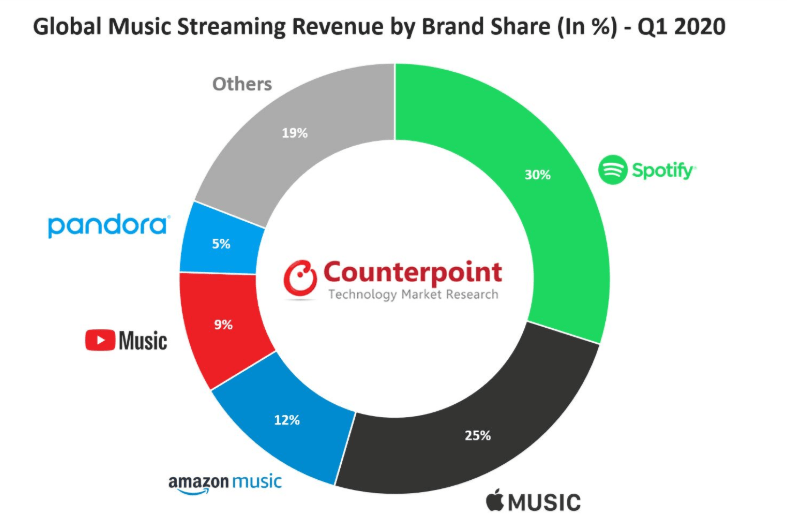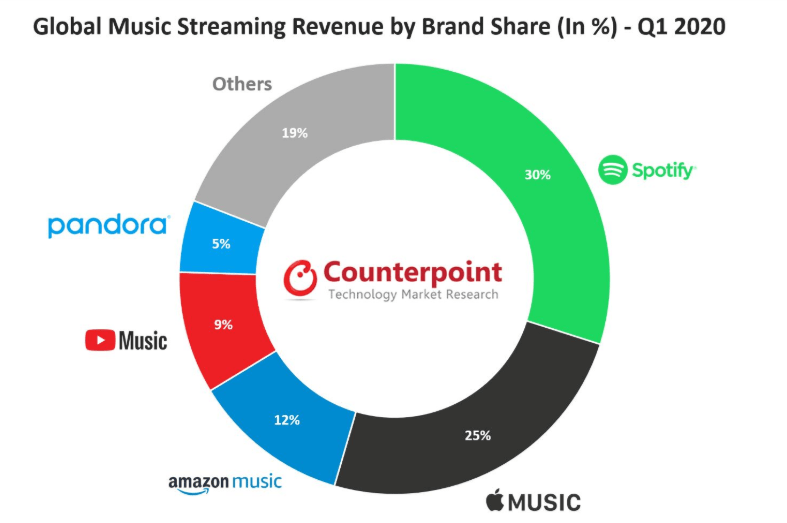 Clearly, just like iPhone, Apple is reaping the maximum benefit of owning premium customer base as each Apple Music user spends more money than Spotify.
But it was Amazon Music that made heads turned. Despite capturing the third place, Amazon Music attracted the eyeballs with its impressive 104% YoY growth in subscription count.
Abhilash Kumar, Research Analyst at Counterpoint Research, in a statement, said that Spotify's growth was mainly fueled by its strong performance in the Asia Pacific and Latin America regions. 
The Swedish music streaming service Spotify came up with many attractive promotional offers in emerging markets. For instance, in India, which is currently one of its key markets, it slashed its yearly plans from Rs 1,189 (US$16) to only Rs. 699 (US$9). By leveraging research, Spotify tapped into various new segments such as podcasts, playlists for pets and even ended up launching a new service in the form of a standalone app known as "Spotify Kids," which is targetted towards parents having small children.
Like Spotify, Apple Music pushed out an attractive promotional offer of free six months worth of subscription in the 52 new countries it expanded to. The company also kept adding new features to its platform continually. For instance, with the iOS 13.4.5 release, they enabled their users to share their music on Instagram and Facebook stories, which eventually resulted in increased social media engagements.
The astounding 104% YoY growth Of Amazon Music was mainly driven by its HD arm known as Amazon Music HD, which offers free lossless music streaming for 90 days.
Music Streaming Industry Growth: Driven By Paid Subscribers
While Apple, Spotify, and Amazon dominate the global music streaming market in the paid segment, the scenario changes when it comes to monthly active users (MAUs). Tencent Music, backed by the trio of QQ Music, Kugou and Kuwo, emerges as the winner with 657 million MAUs in China.
When putting together, the figures reveal some interesting insights; The reported 35% YoY growth in paid subscriptions is more than 20% YoY growth in monthly active users. It indicates that more number of users are actively upgrading themselves to become premium subscribers to enjoy the ad-free and uninterrupted experience. 
The report's findings are a testimony to the fact that the music streaming platforms, which are a part of the OTT industry, experienced a considerable uptick and boom, primarily due to the COVID-19 pandemic. As more and more people had to stay indoor to practice social distancing, they got ample time to explore the services they never paid attention to before.