Facebook Inc. (NASDAQ:FB) has once again regained its lost glory among employees as the company is back on the top position after 3 years in the list of Best Places to Work in 2017 under Tech category.
Glassdoor, world's leading job search and evaluation platform, recently released the list of Best Places to Work in 2017 in the US, based on Employees' Choice. Interestingly, 40% of the companies in this list belong to the Tech industry.
The Awards are based on anonymous reviews and feedback given by employees on Glassdoor. Each employee can include pros and cons of the company in their reviews. In addition, they are also asked to provide any advice to the management. The 2017 Awards, the ninth annual list, was compiled based on the 2.1 million company reviews submitted by employees on Glassdoor.
Tech companies in the US performed well, with 20 of the top 50 large companies in the overall list belonging to the tech industry. With Facebook and Google taking up the top spots, it is time to examine why tech companies are taking up the majority space on the list.
Finding employees with good tech talent is tough, according to CNET. As reported by the White House, there are still around half a million jobs open in the tech industry. This has catalysed a fierce competition among the tech companies to provide a good working environment for their employees. Therefore, it makes sense that employees have voted for the tech companies as some of the best places to work.
Best Places to Work In the US: Facebook is Back with a Bang
Facebook had secured the top spot on the list of Best Places to Work in 2011 and again in 2013. Since then, it has fluctuated between the top 5 positions, even dropping down to #13 in 2015.
However, this year, Facebook ranks #2 overall and #1 as the top tech company on this list. Beating Slack, Yammer and other workplace platforms, Facebook seems to be providing the best possible work environment to its employees.
Reviews by employees on Glassdoor include pros such as getting to work with smart people and having access to free food and other benefits. The cons include work-life balance being unstable and a fast-paced environment.
Key benefits of working in Facebook US also include maternity and paternity leaves, and health insurance. The company also provides free corporate housing for interns and company houses for its employees.
"16 weeks of paternity and cash benefits. What else you can ask for?", comments an employee from Menlo Park, California.
Google is at #4, Climbs Up 4 Spots From 2016
Since 2012, Google continued to appear among the top 10, even securing the #1 spot in 2015. However, Google slipped down to #8 in 2016, dethroned by Airbnb, but secured #2 position in the list of tech companies.
This year, Google notched the #4 position. According to Glassdoor, reviews posted by employees highlights benefits like a wonderful work environment, great support from management to maintain work-life balance and having smart people who can teach a lot. However, employees did post complaints like pressure to work for longer hours and the general politics of a large company.
Glassdoor also mentions that benefits like vacation and paid time off, free lunch and snacks as well as, the work from home option make Google a wonderful place to work at.
"The culture, transparency, and perks at Google are incomparable," reviews a current employee.
At #5, World Wide Technology Growing Fast:
World Wide Technology made its debut on the list in 2016 at the #12 position, #3 in tech, and has just improved itself this year.
With a rating of 4.4, WWT has benefits like health insurance, and maternity and paternity leaves. According to reviews, it offers an excellent work-life balance and core values. Growing too fast and employees being overlooked are some of the issues pointed out by the employees.
"WWT is extremely caring towards their employees as well as their customers," says a Supply Chain Coordinator in Edwardsville, IL. "Being a part of a company where you refer to co-workers as a team is a great representation of how much trust is there within the employees."
Fast Enterprises Remains in the Top 10 at #6:
Fast Enterprises had hit #2 in 2015 but has dwindled down to #6 this year. In the list of best tech companies to work in 2017, the company has secured #4 position, With a rating of 4.4, Fast Enterprises's reviews from its employees portray the company to be very caring towards its employees. Pros like paid overtime, 'Work Hard Play Hard', great benefits and good working environment have helped the company in making its mark on the list. Long hours and an absence of the ability to relocate seem the only two cons of working with Fast Enterprises.
"The people working at FAST are great to work with and enjoyable," reviews a current employee from Denver, CO.
LinkedIn drops down the list to #8:
Once at the top spot of #3 in 2014, LinkedIn is now at the #8 position. In the list of best tech companies 2017, LinkedIn has done well with #5 position.
According to employee reviews, the company provides free food, great culture and smart people to work with. However, the company lacks middle management strength and hyper growth. Benefits, as per Glassdoor, also include maternity and paternity leaves.
"They truly invest in the professional development of employees," reviews a product marketing manager from Mountain View, CA.
Tech Companies that Missed the Top Spots:
While it's great that tech companies have secured the top spots this year, there are a few companies that fell from high positions or have never made it to high positions.
Airbnb, voted #1 last year, lost 34 spots and landed at #35 this year. According to Glassdoor Community Expert, Scott Dobroski, this could be due to the increasing bureaucracy and decreasing transparency from the higher management levels. Further, its rating decreased from 4.6 last year to 4.2 this year.
Twitter which was at #2 in 2014 and at #26 in 2016, is off the list this year, possibly due to its financial woes and rumours of a sale flying around.
Apple never does well in these lists and has moved from #25 in 2016 to #36 this year. Microsoft, however, managed to make it to the list for the first time at #37, with a rating of 4.2.
Top 10 Best Places to Work 2017
On the whole, Bain & Company topped the list as the best company to work for in the US in 2017. The company has been consistently topping the list, grabbing #1 position in 2012 as well as in 2014. "Company culture is unparalleled. Work is interesting and focused on most important company problems," reviews a case team leader from Boston, MA.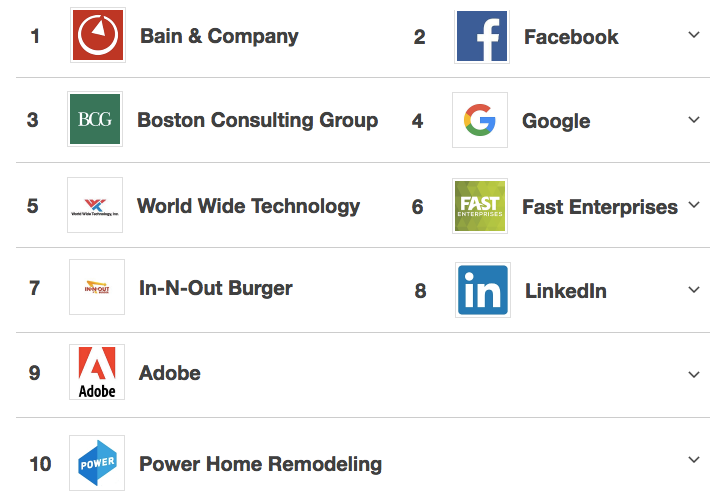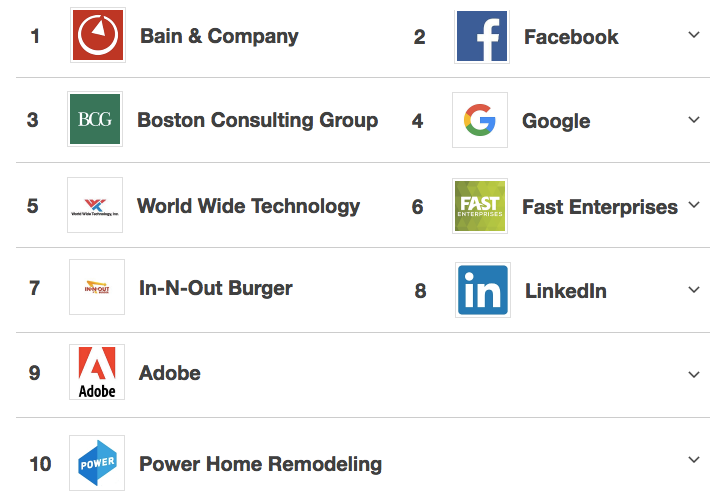 Companies from other fields like construction, business services and restaurants took the remaining spots on the list.
Boston Consulting Group at #3 beats Google at #4. "Great career progression, opportunity to learn, collaborative culture, very smart teams, great benefits," says an employee in Boston, MA.
In-N-Out Burger at #7 beat LinkedIn and Adobe. "Always busy, time flies, with hard work you move up quickly, everyone is so nice and friendly, great positive atmosphere," reviews an employee from Stockton, CA.
Power Home Remodeling also made it to the top 10 at #10. "Everyone in the office genuinely cares about each other and wants to see you be successful," says a marketing manager from Iselin, New Jersey.