The eCommerce industry in India has a huge potential for growth, but the market is showing signs of a slowdown. Earlier this year, eMarketer predicted that retail eCommerce sales in India would grow by more than 75.8% to reach $23.39 billion in 2016. eMarketer, however, has revised its previous estimate; now the total retail eCommerce sales are expected to increase 55.5% to reach $16.02 billion by the end of 2016. The growth rate has been cut down by a roughly 20% point from the previous estimate. However, mCommerce industry in India continues to grow and contribute largly to the retail eCommerce sales with 65.3% share reaching $10.46 billion in 2016.
Between 2016 and 2020, retail eCommerce sales in India is estimated to increase 3x, reaching $47.45 billion. While the YoY growth will slow down to 22% by 2020, the retail eCommerce industry in India is expected to account a sizable share of total retail sales.
Why Will the Growth and Sales Decline?
The fall in the expected growth figures came in as a result of recent demonetization in India banning large denominations of the currency. The initiative has led to cash crunch across the country, forcing the eCommerce players on temporarily banning and limiting the cash on delivery option (COD) up to INR. 1000. This has led to decrease in retail sales in India since a majority of the consumers prefer COD over other online payment methods in India.
A report published in April by Deloitte highlights that COD accounts for 45% of total payments in e-commerce industry in India. Interestingly the figure swells to 63% when people shop online from mobile. One of the reasons behind the high opt-in of COD is the low trust with new businesses especially when shoppers are purchasing online. There have been several incidents of consumers being duped by online sellers with fake or used products. There were also incidents when customers received irrelevant products against what they had actually ordered. Therefore, online shoppers find COD a safer option as they can not only ensure the product quality but also on-time delivery.
mCommerce Market India: Share and Sales Remain Positive
The exploded adoption of smartphones, mobile internet and apps have given wings to mCommerce Industry in India. As a result mCommerce industry in India is expected to capture 80% of the Indian eCommerce market by 2020, reaching a sales figure of $37.96 billion. mCommerce growth in India is the outcome of an increased adoption of smartphones and the internet. In a country with a population of 1.3 billion, there are 331 million smartphone users as of now. The number of mobile internet users in India stood at 371 million as of June 2016 and is expected to reach 500 million by 2017. These figures indicate that the riding on the back of mobile eCommerce industry in India has only scratched the surface and still has a huge growth potential.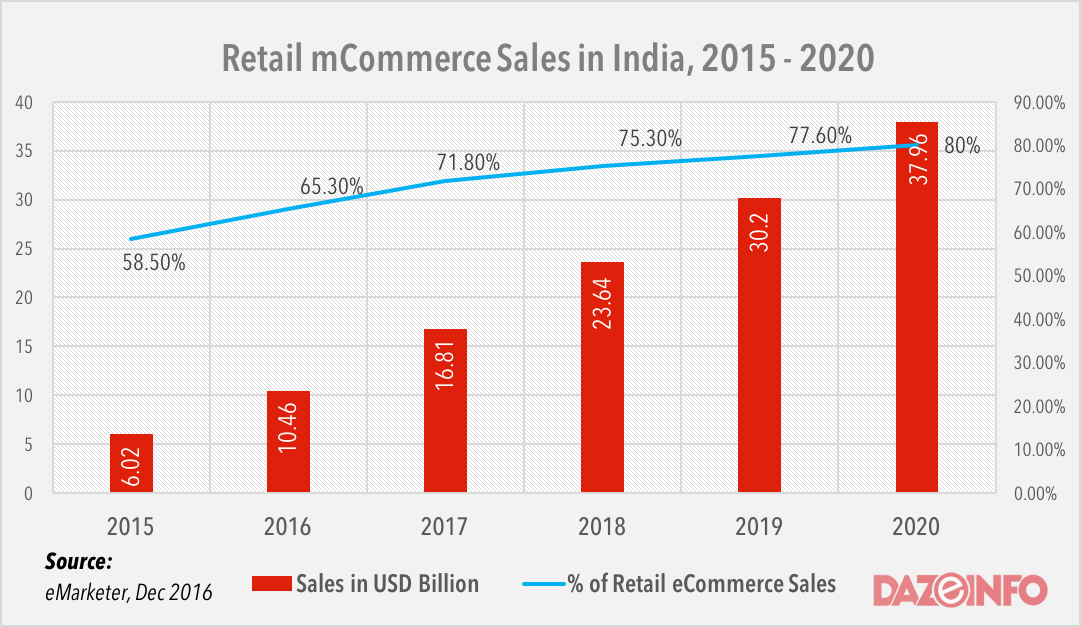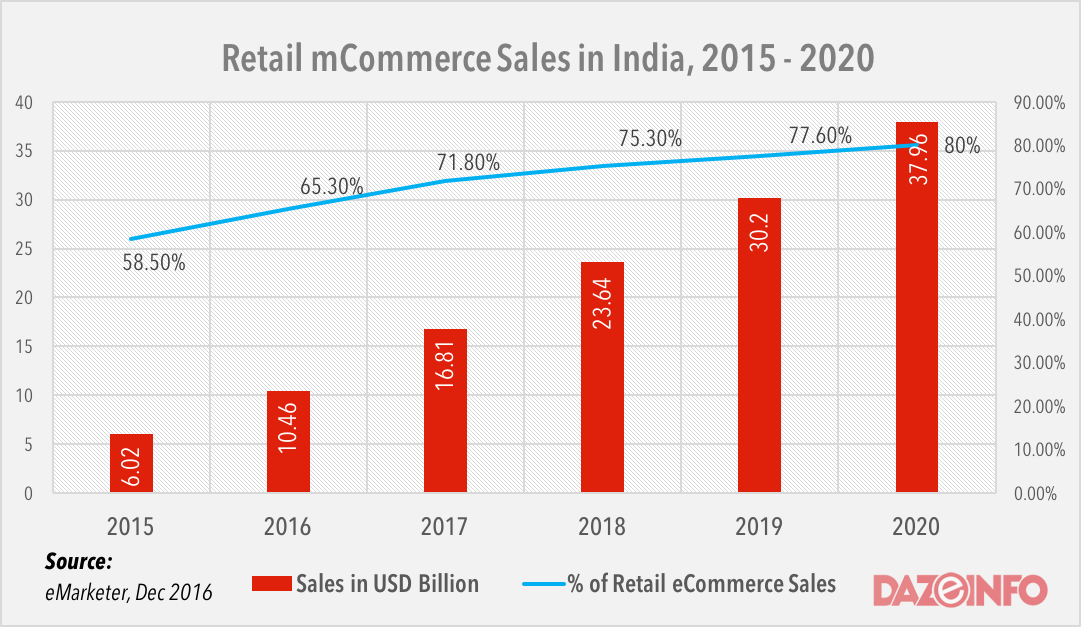 Who Will Drive the Growth of eCommerce Industry in India?
The most affected eCommerce player due to decreased sales and growth rate could be the poster boy of Indian eCommerce industry growth, Flipkart. 44% of the mobile phone users in India prefer Flipkart, followed by 32% users who prefer Amazon. Amidst the problems being faced by the company, the demonetization will weaken the company's sales performance. This will ultimately cause a dip in its valuation. Recently, the valuation of Flipkart has been slashed from $15.2 billion to $5.54 billion which is the fourth markdown in the last nine months for the company. This is the most critical phase for Flipkart, especially when it needed to post strong sales and growth rate to save its legacy in the Indian market. However, considering the current scenario, it is going to be very difficult to get out of this situation.
Amazon might have an edge over other players in the market during this period. It has deep pockets to sustain the decreasing sales, and support strong discounts and other costs. Amazon looks determined to capture a major chunk of the Indian eCommerce market with its investments and steady growth rate.
However, the negative effect on eCommerce due to demonetization will continue until the cash flow in the market stabilises. Meanwhile, digital wallet players like Paytm and FreeCharge are likely to see an instant boost. People are now turning to digital wallets to buy daily essentials. It will also fuel the growth of plastic money (credit/debit cards) usage since COD option has been banned. A lot of customers might start using the online payment option when COD is not available.