Mozilla's Web browser has made a remarkable launch of its latest version – Firefox 4.0 – with more than 7.8 million downloads at very first day. On constant challenge from Microsoft Internet Explorer 9.0 for last few months, Mozilla has blown away the competition by surpassing  2.3 million downloads which IE 9.0 had recorded on launch day.
Though, the Firefox 4.0 download numbers are not that impressive as Mozilla 3.0 launch day – 8 Million downloads – but these figures have been much appreciated as company has already discounted marketing efforts over the launch unlike Firefox 3.0. Interestingly, as per Firefox 4.0 Download stats, around 100 downloads are getting recorded with each passing second
However, these numbers don't tell us the nature of users at this time. It was recorded that in last couple of months many users have ditched Firefox only to join Google's latest bet in browser vertical – Chrome. Due to well designed UI, responsive features and fanatical fast speed Chrome has managed to strengthen its user base at the cost of IE and Firefox. Consequently, we are just predicting that most of the Chrome users may give a try to have hands-on experience with Firefox 4.0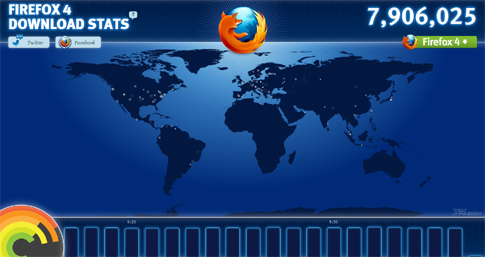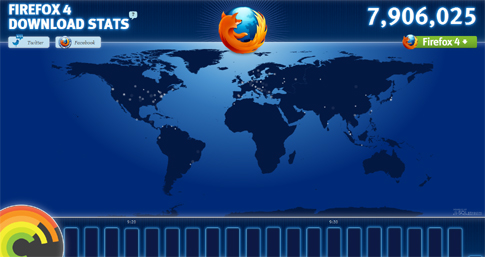 United Stats has contributed the maximum with more than 1.7 million downloads, followed by Germany. In India alone 211,683 users have downloaded the latest version of Firefox at very first day of launch.
The new Interface somewhat resembles the mix of Chrome and Internet Explorer 9.0. With more space for window and intelligently placed options provides and overwhelming experience of web surfing. It will be interesting to see how users react and provide feedback to Mozilla's new baby in browser family.