LIC (NSE: LICI), India's esteemed Life Insurance Corporation, has always been a titan in the country's financial landscape. However, in recent months, it has found itself in the spotlight for all the wrong reasons. In a surprising twist, LIC is under extreme pressure, with its valuation plummeting by a staggering ₹2 trillion since its highly anticipated IPO (initial public offering) in May 2022.
To put things into perspective, LIC IPO, touted as the biggest ever in India, was nothing short of a colossal event in the country's financial history. With an issue price of ₹949, LIC's market capitalization skyrocketed to an astounding ₹6,00,242 crore (₹6 trillion) on May 17, 2022. However, when the company finally made its grand debut on both the BSE and the NSE, it disappointed investors, who were expecting it to replicate the listing-gain performance of Nykaa and Zomato on the day of listing.
LIC listed its shares at a discount of 8.11% at ₹872 per share on the NSE, and at a discount of 8.62% at ₹867.20 apiece on the BSE. As a result, the company's valuation dropped approximately ₹42,500 crore to ₹5,57,675 crore (₹5.6 trillion) on the first day of listing itself. It was like watching a once-mighty titan stumble and falter in the face of adversity.
Between May 17, 2022, and 2023, spanning a period of 12 months, the stock price of LIC fell 39.9% YoY to a mere ₹570.
Fast forward to today, May 29, 2023, the LIC share price is trading at a mere ₹604.9, marking a drastic plunge of 36.3% from their initial issue price. This downturn has led to a substantial drop in LIC's market capitalization, currently at ₹3.83 trillion. It's as if LIC, the titan of the insurance world, has stumbled into a dark and treacherous abyss in just one year.
With a wealth erosion exceeding ₹2 trillion, LIC emerged as the foremost wealth destroyer, surpassing the combined wealth destruction of the top four companies – Nykaa, Paytm, Zomato, and PolicyBazar – which conducted their IPOs in 2022.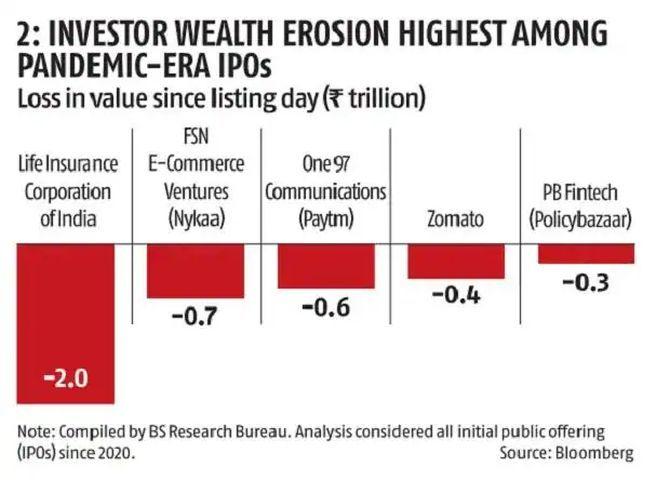 This tepid listing has left the market gasping for breath and has cast a dark shadow over the market capitalization of India's largest insurer. It's a tale of triumph turned tragedy, where the mighty have fallen, leaving everyone wondering if LIC can ever reclaim its former glory and rise from the ashes of this tumultuous journey.
Now let's understand all possible reasons behind this decline in the share price of LIC and its market valuation in the last 12 months.
LIC Share Plummet: Unveiling the Causes Behind the Dramatic Drop
The decline in the share price of LIC and its market valuation over the past 12 months can be attributed to several factors:
Millennials' Risk Appetite
One of the notable factors reshaping the market dynamics for LIC is the shifting perception among millennials. This generation, known for its inclination towards faster financial returns, no longer adheres to the traditional notion of 'slow and steady' growth. With their increased risk appetite, buoyed by rising salaries and diversified income sources, millennials seek new avenues to secure their financial future.
The priorities of millennials have undergone a transformation, as they now seek investments that do not require locking their funds for extended periods right from the early days of their career. In today's market, there is a plethora of alternative investment opportunities available, including the stock market, real estate, and various startup investments, which promise higher returns in shorter timeframes compared to LIC. Consequently, millennials are now more inclined to invest a significant amount only after evaluating deals that offer the potential for superior returns within a shorter duration, albeit with considerable risk. This shifting preference has resulted in a slowdown in the number of new policies being booked each month.
New Taxation Regulations
The dramatic fall in LIC's stock value could be attributed to the announcement of the implementation of new taxation regulations by the Indian government on large-ticket tax savings related to life insurance companies. Effective 1 April 2023, the government eliminated the tax exemption on life insurance policies (other than ULIP) with an aggregate premium exceeding ₹500,000 (₹5 lakhs) per year. The misuse of the exemption by high-net-worth individuals prompted this decision. The removal of this tax benefit has significantly impacted high-value insurance policies, particularly market-linked ones, as it diminishes their appeal from a tax-saving standpoint. Consequently, on the same day, February 1, 2023, the shares of LIC tanked 8.4% to ₹598 apiece on the NSE.
Market Volatility
Investment companies like LIC and HDFC have been directly affected by the overall market volatility, which can be attributed to various factors such as economic uncertainties arising from an impending recession, increased inflation, massive layoffs in the tech sector, fluctuating interest rates, and shifting investor sentiment. Consumers are sceptical about the returns on long-term investments.
Stiff competition from private players
For a long, LIC enjoyed negligible competition from private players as people never considered them an alternative to LIC. However, millennials carry a different mindset.
LIC has been a dominant player in the Indian insurance market for over 60 years, enjoying nearly 64% market share. However, the openness and approach of millennials towards private sector players such as HDFC Life, ICICI Prudential, Max Life, etc., into the insurance sector in India have introduced competition and potentially affected LIC's market position. LIC market share declined from nearly 68% in September 2022 to 64% in February 2023. In contrast, the share of private insurers increased from nearly 32% to 36% during the same period.
The private insurers have been leveraging online business tools, aggressive marketing strategies and adopting innovative strategies to attract customers. This shift towards digital platforms and modern business practices has allowed private insurers to cater to evolving customer preferences and enhance their market position. On the other hand, LIC has relied on traditional business methods and may have been slower in adopting online business tools than its peers.
This year, between January 2 and May 29, 2023, LIC stock price dropped 14.7%, from ₹709.5 to ₹604.9.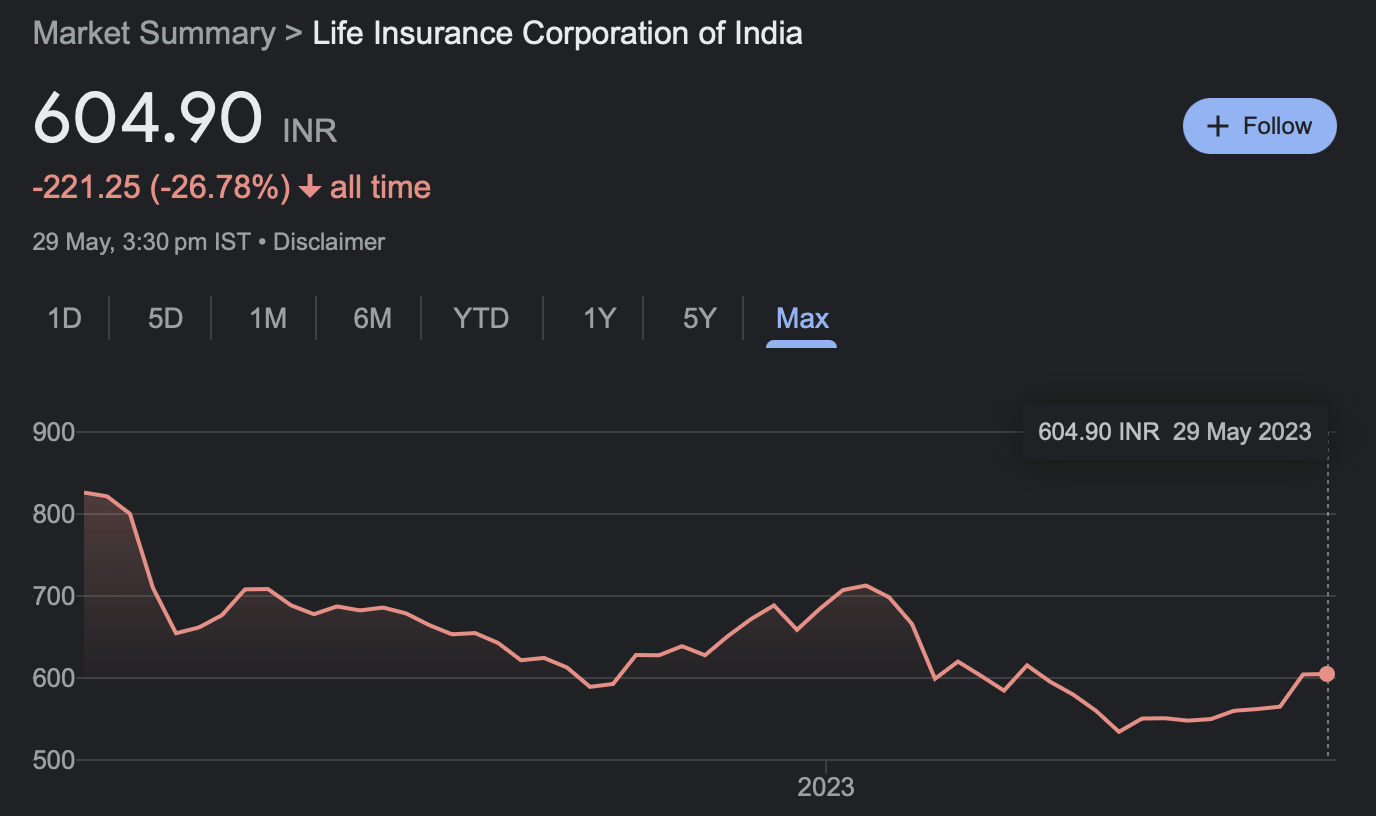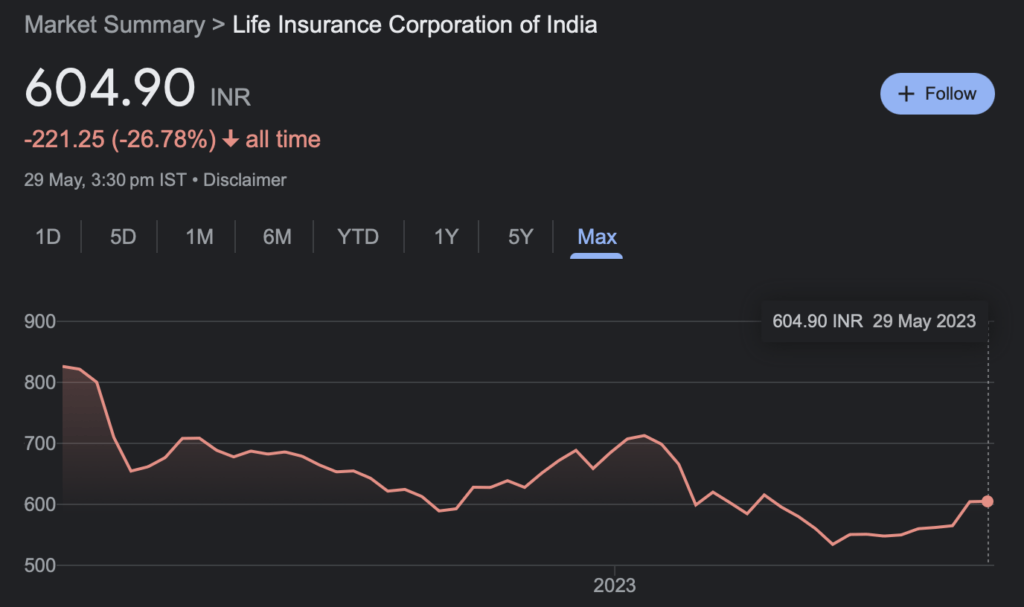 Analysts Bullish on LIC
Domestic brokerage powerhouses JM Financial and Motilal Oswal Securities are leaving no doubts about their bullish stance on LIC, following the release of its March quarter results.
With conviction, JM Financial has issued resounding "Buy" ratings and set an ambitious price target of ₹940, which shows an upside potential of 55% from the current market price of ₹607.
Similarly, Motilal Oswal has echoed the sentiment by reiterating its "Buy" rating and setting a target price of ₹830, offering a tantalizing 37% potential upside. This caused a frenzy of excitement among traders and investors eagerly eyeing their next big win.
Axis Capital, another renowned domestic brokerage firm, also seems optimistic about the investment in LIC. They have maintained a "Buy" rating with a target price of ₹720, suggesting a potential upside of 19% from the current market price.
Emkay, however, adopts a more cautious approach, reiterating its "Hold" rating on LIC. They have set a target price of ₹660, reflecting a more modest upside of 9% from the current market price.
As the market buzzes with anticipation, LIC's potential also captivates the international stage. The foreign brokerage heavyweight Macquarie has set its sights on an enticing price target of ₹850. Not to be outdone, Goldman Sachs throws their hat into the ring with a conservative target of ₹690 for LIC's stock, adding fuel to the fire of this extraordinary investment opportunity.
LIC recently released its financial results for the fiscal year 2023, providing an intriguing snapshot of its performance. In the fourth quarter of FY23, the insurance giant witnessed an 8.3% YoY decline in net premium income, totalling ₹1.32 lakh crore. However, on an annual basis, LIC's net premium income increased 10.8% YoY, reaching ₹4.76 lakh crore. The most astonishing revelation came in the form of LIC's net profit after tax and extraordinary items, which skyrocketed by an astounding 447.5% year-on-year. In Q4 FY23, the net profit surged to ₹13,190.79 crore from a mere ₹2,409.39 crore in Q4 FY22. This translates to a nearly 5.5x increase in consolidated profit within a single year, leaving observers in awe of the remarkable financial performance achieved by LIC.
Brace yourself for an exhilarating ride as LIC strives to reshape the insurance landscape and deliver astonishing returns to those who dare to seize the opportunity.