Twitter, under the ownership of Elon Musk, has been stirring up quite a bit of buzz lately. With the introduction of new subscription-based services, Twitter has found itself in the midst of controversy and criticism. CEO Musk, once again, has come up with a new subscription feature on Twitter. The company has finally ended the free access to Twitter's API (Application Programming Interface), and announced the new plans. Twitter's new API subscription plan costs as much as $2.5 million per year.
Musk's innovative approach to social media has been well documented, and his commitment to improving Twitter's functionality is a reflection of his forward-thinking mindset.
Twitter has initiated communication with its current free API service users via email, sharing information on pricing for the new subscription packages. Chris Stokel-Walker at Wired was the first to report that Enterprise API access will cost millions of dollars annually.
Twitter API Cost
Twitter representatives have sent documents to API users outlining the pricing for the new packages. The packages start at $42,000 per month, offering access to 50 million tweets, and range up to $210,000 per month for the highest plan providing access to 200 million tweets. A mid-tier package is available for $125,000, offering access to 100 million tweets.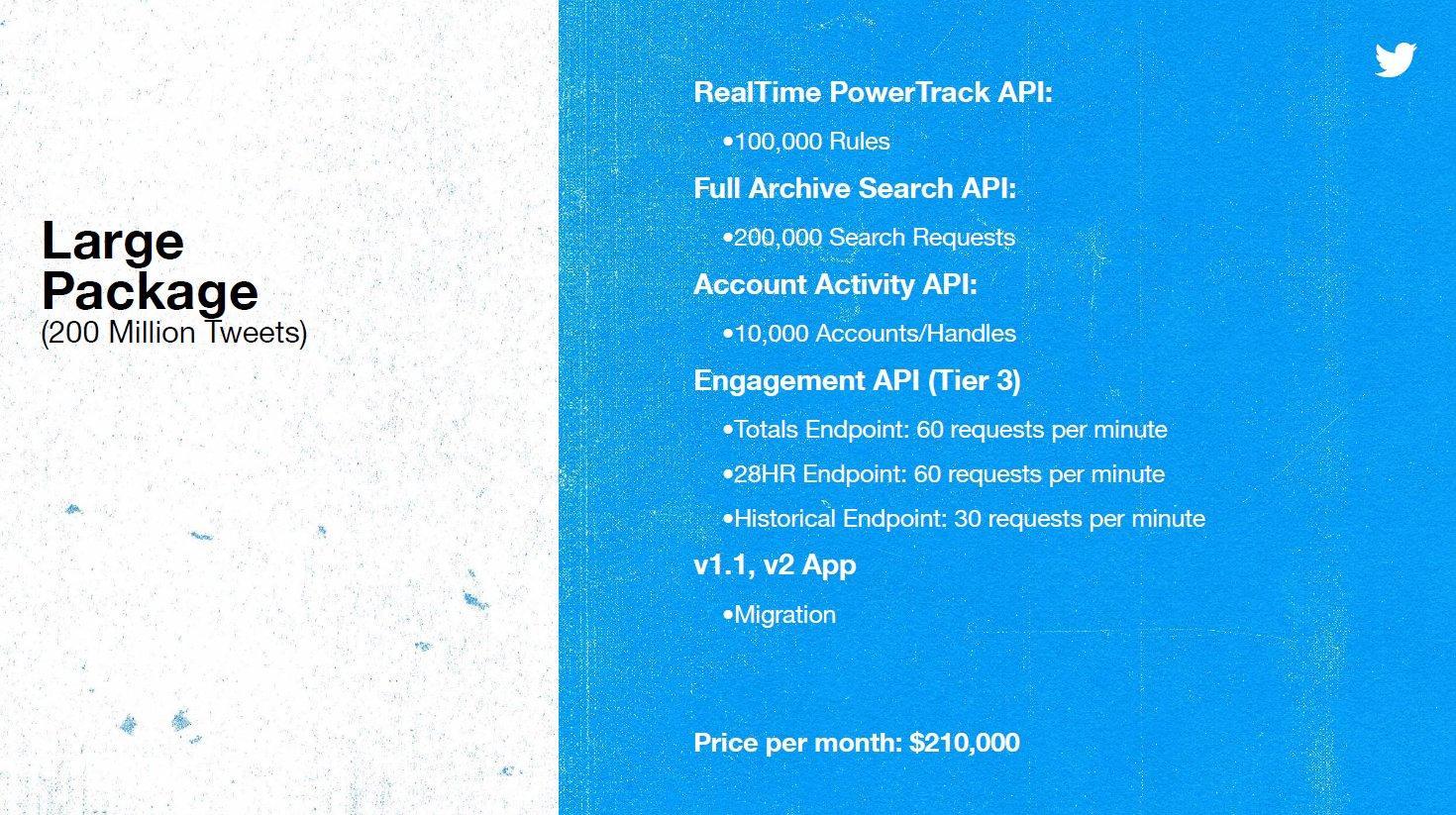 Unlike other online companies that offer higher tiers at a discounted price for customers who pay more, Twitter's pricing model charges an additional fee. For instance, for double the number of tweets at 100 million, the price should be $84,000, but Twitter is charging $125,000. This pricing model is somewhat unusual.
Twitter had a generous free tier of its API before Elon Musk entered the picture. The company offered "Premium" and "Enterprise" API plans, with the highest subscription rate being $2,899 per month for the "Premium" plan. Previously, only organizations or companies with more than 250 users were eligible for the "Enterprise" API tier, and Twitter determined the cost of this tier on a case-by-case basis.
In addition to the steep pricing, the lowest plan under the new rules only grants access to 0.3% of tweets. API users report that the soon-to-be phased out free plan provides access to 1% of tweets.
Twitter's API user base includes a significant number of researchers. Several academics have noted that this pricing makes it financially unfeasible for them to use Twitter's API.
Musk's Plan for Twitter
Elon Musk has always criticised the company's reliance on its advertising business. Therefore, soon after taking over Twitter, he began working towards reshaping the platform by reducing its dependence on advertising revenue.
Twitter has more than 360 million active users worldwide. However, this is expected to decline by 3.9% YoY in 2023 and 5.1% YoY in 2024. As the number of users declines over the next two years, so will revenue. Therefore, Musk aims to make the company profitable by adding subscriptions to the useful features of Twitter.
On February 2, Twitter announced one of the most significant changes to its platform since Elon Musk became CEO. The free basic API access that Twitter had been providing to small indie developers, as well as academic researchers, would be discontinued. Users of all kinds would now be required to pay. However, no additional information was given at the time.
Twitter Blue subscription
This is not the first time Musk announced sudden changes in Twitter features!
Previously, Twitter expanded its blue tick verification feature to its users in the United States, Canada, Australia, New Zealand, and the United Kingdom through its subscription service Twitter Blue. The subscription service costs $8 per month on the web and $11 per month on iOS, and subscribers who sign up for Twitter Blue on one platform will have access to it on all supported platforms, including iOS, Android, and Web.
However, to receive a blue checkmark next to their usernames, Twitter Blue subscribers will have to ensure their accounts comply with all requirements, including the rules against impersonation. Any account found violating these rules may face suspension without a refund. Besides getting the blue checkmark, Twitter Blue subscribers will also enjoy access to several premium features, including Edit Tweet, Undo Tweet, 1080p video uploads, and reader mode, which can be very useful for verified Twitter users.
Furthermore, Elon Musk's Twitter is altering its policy by discontinuing the text-based 2FA feature for users who don't pay. From March 20, 2023, Twitter users who have been using SMS for two-factor authentication will have to switch to a different security method or opt for a Twitter Blue subscription to continue using the extra layer of protection. The Twitter Blue subscription service is priced at $8 per month for web users and $11 per month for iOS device users.
However, Elon Musk's plan to charge for API access has encountered some obstacles. The scheduled date for the discontinuation of free access, February 9, passed without any changes. Subsequently, Twitter announced that the new API rules would come into effect on February 13, but instead, Twitter only announced another delay on that day.
Earlier this week, Twitter encountered a significant platform issue that caused links, photos, and other services to go down for several hours. It was later revealed that the outage was caused by a developer attempting to prepare Twitter for the transition to its paid API subscription.
Elon Musk's recent announcement about Twitter's API access has garnered significant attention from users all over the world. While some have expressed concerns about the changes, others are intrigued to see how this move will impact the social media giant in the long run.
As always, Musk is no stranger to controversy, but his forward-thinking strategies have also led to remarkable innovations that have transformed the industry.
Several popular free Twitter bots and automated accounts announced their plans to shut down rather than pay. In response, Musk made some changes to his plans and stated that Twitter would provide free "read-only" access with lower API limits for free projects.
Although it has not been confirmed, Musk has suggested that small projects and startups, which are monetized by their creators, could be charged approximately $100 per month for more basic API access.
Takeaway
The recent launch of a blue subscription by Elon Musk has drawn a lot of backlashes. However, Mark Zuckerberg's decision to launch a similar blue subscription for Instagram and Facebook users proves that Musk was correct about Twitter's future, and a subscription-based revenue model is the only way to be profitable and sustainable in the long run.
Social media platforms have faced criticism and scrutiny over their advertising practices in recent years, with concerns raised over user privacy and the spread of misinformation. As a result, these platforms are seeking alternative revenue streams to diversify their income and reduce their dependence on advertising. This has led to the introduction of subscription-based services, such as the new Meta subscription service and Twitter Blue subscription.
Elon Musk had previously referred to Twitter as the "de facto town square." He also stated that he acquired the company to defend free speech. However, under his leadership, accessing the town square and its speech will come with a substantial cost.
Although Twitter's new API plans are expensive, only time will tell whether Musk's startegy will lead to success or criticism and losses.