The 19th century was regarded as men's century; women were viewed merely as housewives with no access to education. In the nineteenth century, men dominated the fields of entrepreneurship, science, and research. Interestingly, there were a few female entrepreneurs and inventors who defied this convention: Margaret Knight founded Eastern Paper Bag Company and invented the shoe manufacturing machine, Melitta Bentz invented the coffee filtration machine, Caresse Crosby invented the 'backless brassiere' (modern bra), and Katharine Burr Blodgett invented the famous "invisible glass."
Born: January 10, 1898, Schenectady, New York, USA
Died: October 12, 1979, Schenectady, New York, USA
The 'tigress' of the male-dominated world, Katharine Blodgett was the first female scientist hired by General Electric. Here are a few amazing yet lesser-known facts about her life:
Early Years: Katharine's father George Reddington Blodgett was a patent attorney at General Electric. He was shot and killed in his home by a burglar in 1897, before she was born. Shortly after Katharine's birth, her mother relocated to New York City, along with older brother George Jr.
Education: Katharine Blodgett received the best education possible at the time. She earned a BA in Physics from 'Bryn Mawr College' in 1917, demonstrating her aptitude for science and mathematics.
General Electric connection: Irving Langmuir, her father's colleague, had offered Katharine a research position at General Electric Company, but only if she first completes the higher education. Seeking his advice, she enrolled in a master's degree programme at The University of Chicago where she studied the adsorption of gases on charcoal. In 1918, she earned a master's degree in physics from the University of Chicago.
Katharine Blodgett became the first woman hired by General Electric as a research scientist. She collaborated frequently with Irving Langmuir who had pioneered a technique for creating single-molecule thin films on the surface of water.
In 1924, Katharine was enrolled in the doctoral programme at Newnham College, a women's constituent college of the University of Cambridge. In 1926, Katharine Blodgett became the first woman to receive a Ph.D. in physics from Cambridge University.
Her invention saved many lives: Her research on charcoal filtering in gas masks helped saving many soldier's lives during World War I.
Katharine Blodgett invented Invisible Glass: Blodgett and Irving Langmuir collaborated in 1935, to develop a technique for layering thin films by submerging a metal plate in water followed by an oil layer. She was able to build up layers of oil on the plate by repeatedly dipping it. The "invisible" glass was created as a result, using a technique that involved adding layers of film to a sheet of glass's both sides until the visible light reflected by the layers cancelled out the light reflected by the glass.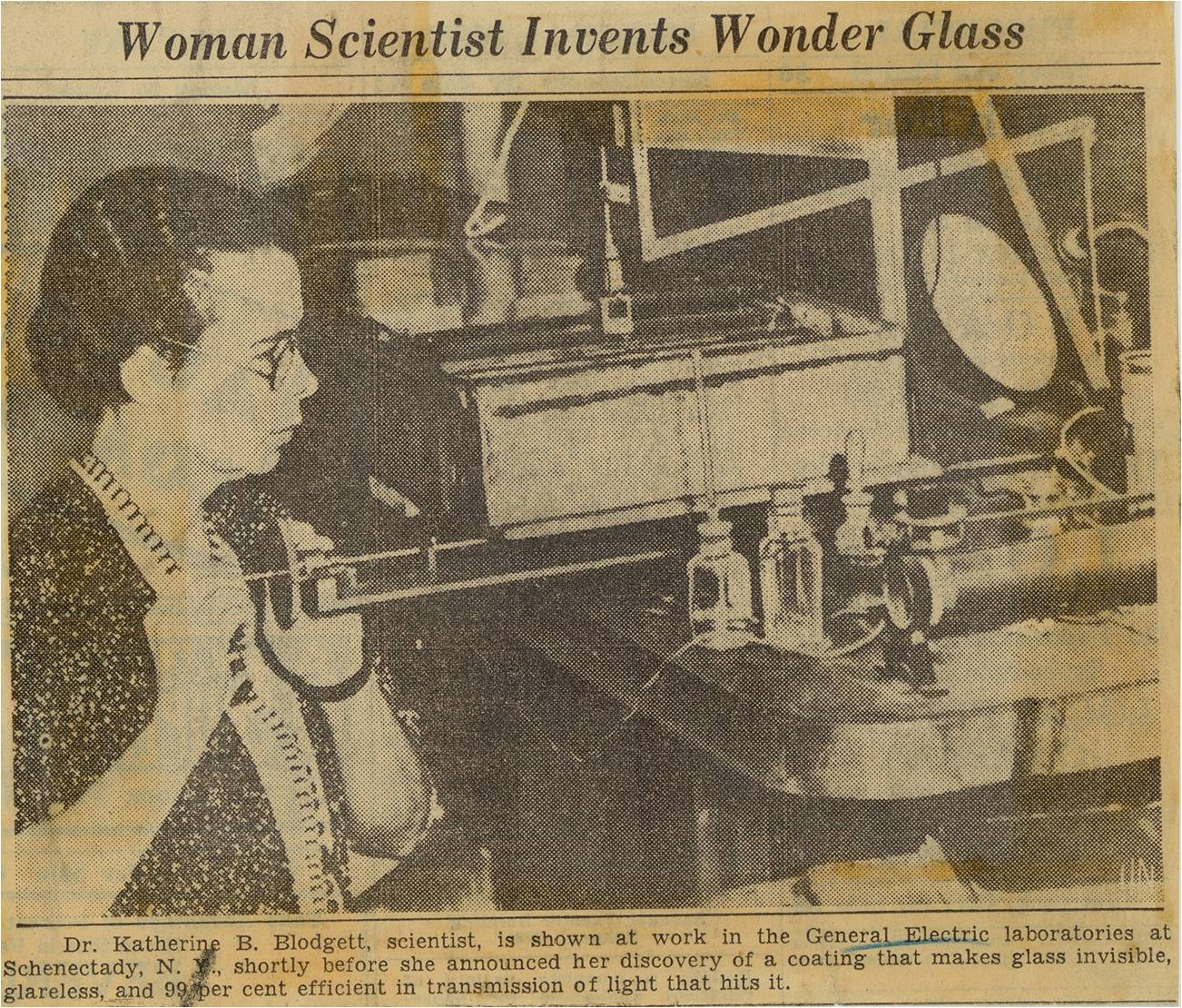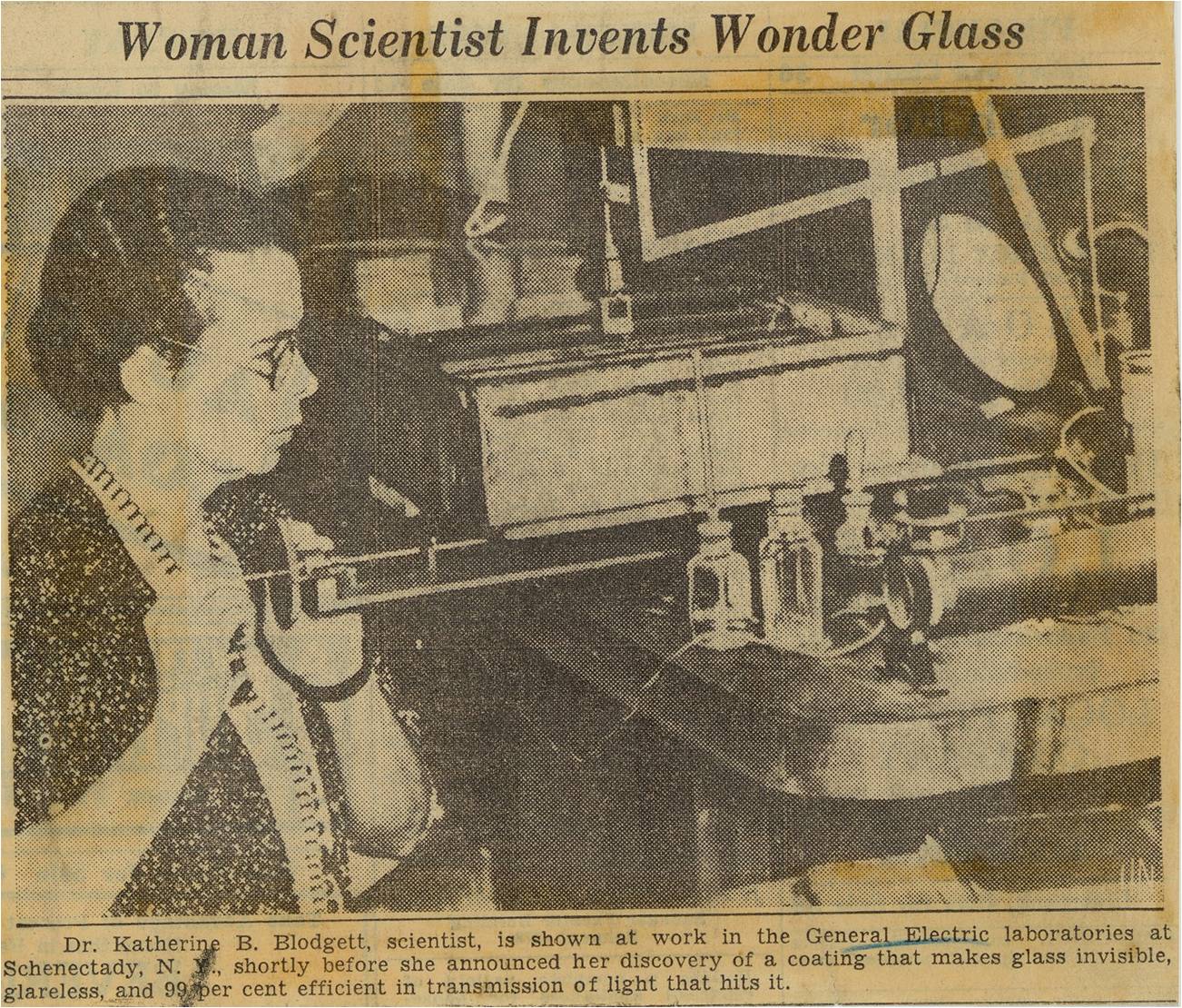 Gone with the Wind was the first big colour film to use Blodgett's lens and coating. Its crystal-clear cinematography wowed audiences when it was released in 1939.
Blodgett's invisible glass was used in both submarine periscopes and spy cameras on aeroplanes during WWII. She also invented a technique for de-icing airplane wings.
Langmuir described Katharine Blodgett as a 'gifted experimenter' with a rare combination of theoretical and practical ability.
Other activities: Katharine Blodgett, in addition to being a scientist, was an actress in her town's theatre group. She also volunteered her time to civic and charitable organisations. She was also the treasurer of the Traveler's Aid Society.
Katharine Blodgett pursued her passion of gardening by spending the summers at a camp at Lake George in upstate New York. During her spare time, she used to read and write poems, collect antiques, play bridge with friends, and a variety of other activities.
In 1963, Katharine Burr Blodgett retired from General Electric and became a role model for female physicists and scientists all over the world.
The born physicist devoted her whole life to science and never got married. Her path-breaking discoveries have led to the invention of camera lenses, telescopes, etc.
Awards and Recognition: Katharine Blodgett was received numerous awards during her lifetime. In 1943, she was ranked among the 1,000 most distinguished scientists in the United States, in the seventh edition of American Men of Science. In 1945, Katharine was received the prestigious 'Achievement Award' from the 'American Association of University Women'. In 1951 she was received the Francis Garvan Medal from the American Chemical Society for her notable work on monomolecular films. The same year, she was honoured in Boston's First Assembly of American Women in Achievement (the only scientist in the group). In 1972, she was received the Photographic Society of America's Annual Achievement Award.
The post is a part of a B'day Series where we celebrate the birthday of renowned personalities from Tech Industry, very frequently. The series includes Entrepreneurs, C-level Executives, innovators or a renewed leaders who moved the industry with their exponential skill set and vision. The intent is to highlight the person's achievements and touch base the little known, but interesting, part of his life. You can see the list of all earlier celebrated tech personalities, including Mark Zuckerberg, Marissa Mayor, Sean Parker, Andy Rubin, Julian Assange, Sir Richard Branson, Sergey Brin by following this link or subscribe to your daily newsletter.