The genius Stephen William Hawking is impressively represented in 'The Theory of Everything'– the movie made on him. A man who defied his deadly Amyotrophic Lateral Sclerosis (ALS) disease commonly known as Lou Gehrig's disease which according to the doctors gave him just two years of life expectancy. A renowned physicist and cosmologist who held the prestigious post of Lucasian Professor of Mathematics which has belonged to only 17 well-known personalities that include Charles Babbage and Sir Isaac Newton.
The renowned writer was born to a learned family; his father was a research biologist and his mother a medical research secretary. A mediocre student in his school days had a fondness for mathematics and physics and was commonly referred to as 'Einstein' by his mates. His careless attitude prevailed until he was diagnosed with ALS disease, after which he engrossed more focus on his goals.
Hawkins continually developed ways to adapt his lifestyle to his deteriorating health; e.g. he used to learn the equations in terms of geometry after he lost his ability to write. His path-breaking research and thesis on the existence of the universe, the theory of the black hole have enlightened many scholars, and his books explained his ideas to the common man.
Full Name: Stephen William Hawking
Born: January 8, 1942 (exactly 300 years after the death of Galileo Galilei)
Died: March 14, 2018
Birthplace: Oxford, England
Net Worth: $20 million+ (as of 2018)
From the above quote, the great Stephen Hawking tells the motivation behind his inspiring life. The curiosity can be cured by reading the following interesting facts about this magnum opus of God:
Inappropriate time of birth: Apart from being financially weak, the political scenario in England was tensed as World War II was at its peak and also the fear of bombs from Germany was also looming that forced the Hawking family to move to Oxford for a safe haven where this great man was born.
'Offbeat' family: Stephen's family home at St. Albans, a three-story house whose upper was never got fixed, they had an old car as their family car and housed bees in the basement and produced fireworks.
Out of the crowd: The ever-curious Stephen along with some friends built a computer from clock parts, an old telephone switchboard and other recycled components to solve fundamental mathematical equations.
A man of broad tastes: During his teens, he loved board games and climbing also devised different routes leading to his family home. During his days at Oxford, he took an interest in dancing and rowing by becoming a coxswain who earned him the tag of 'daredevil' and adventurer.
Graduation: His father wanted Stephen to take medicine as his career, but, on the contrary, the lover of physics and mathematics opted for Physics at Oxford in 1959 at the age of 17, because Oxford didn't offer a course in mathematics.
Hawking was not a nerd in college, one hour of studies per day was sufficient for him. Later in 1962, he went to Trinity Hall at Cambridge University for PhD in Cosmology.
Turning Point: His amyotrophic lateral sclerosis (ALS, or Lou Gehrig's) disease made him realise the importance of time making him more serious towards his work. He once said, "Before my condition was diagnosed, I had been very bored with life, There had not seemed to be anything worth doing". In the hospital, he shared his room with another patient who was suffering from leukaemia, which was worse than ALS; relatively Hawking's situation seemed tolerable.
A silver lining: Shortly before Stephen Hawking was diagnosed with ALS disease, he met Jane Wilde a young languages undergraduate at a New Year's Eve in 1963 and later married her in 1965. In spite of his deteriorating physical condition Jane always motivated and took care of him.
Their marriage was strained due to his deteriorating health and also because he was an atheist while Jane was a devout Christian. Hawking once said, "God is the name people give to the reason we are here. But I think that reason is the laws of physics rather than someone with whom one can have a personal relationship. An impersonal God."
Stephen Hawking was fascinated by the work of Roger Penrose about the space-time singularity and fate of stars and the creation of black holes. His thesis and the research on the birth of the universe changed the way the world thinks about the universe.
Later in 1968, his first son Robert was born, who proved to be a lucky charm for Hawking as he became the member of the Institute of Astronomy in Cambridge.
In 1973, he published his first highly technical book The Large Scale Structure of Space-Time with G. F. R. Ellis which throws light on Einstein's general theory of Relativity.
Hawking Radiation: In 1974, he demonstrated that black holes aren't black in fact, matter in the form of radiation can pass through the gravitational forces of the collapsed star. This discovery made Hawking an international celebrity, and he was rewarded with many awards and titles including the prestigious Albert Einstein Award.
Lucasian Professor: At Caltech (California Institute of Technology), Stephen Hawking served as a visiting professor and later at Gonville and Caius College in Cambridge. And then he returned to Cambridge University in 1979, where he was honoured with the prestigious Lucasian Professor of Mathematics post which is only shared by 17 people till date including the legendary Isaac Newton.
Stephen Hawking's physical condition worsened, so he asked one of his Graduate students to take care of him along with his wife, Jane. Later in 1985, he lost his voice following a tracheotomy. With his aid, a computer programmer from California developed a speech synthesising program that was directed by the head and the eye movement.
A Brief History of Time: Recipient of Commander of Order of British Empire, his publication of 'A Brief History of Time'– Short book on Cosmology, garnered him the international fame. The best-seller book has also been translated into 40 languages while its millions of copies have been sold.
Surely another Einstein: Stephen Hawking claimed that time travel is possible and he can think in 11 dimensions and also believes that humans may colonize other planets in the future. While his books 'The Universe in a Nutshell'- insights on cosmologies bigger theories and more detailed 'A Briefer History of Time' have proved to be the milestones for a common man.
While visiting the Kennedy Space Centre in Florida in 2007, he was given the opportunity to experience the zero-gravity inside a modified Boeing 727 and was freed from his wheelchair to experience weightlessness. He enthusiastically said, "The zero-G part was wonderful, and the high-G part was no problem. I could have gone on and on. Space, here I come".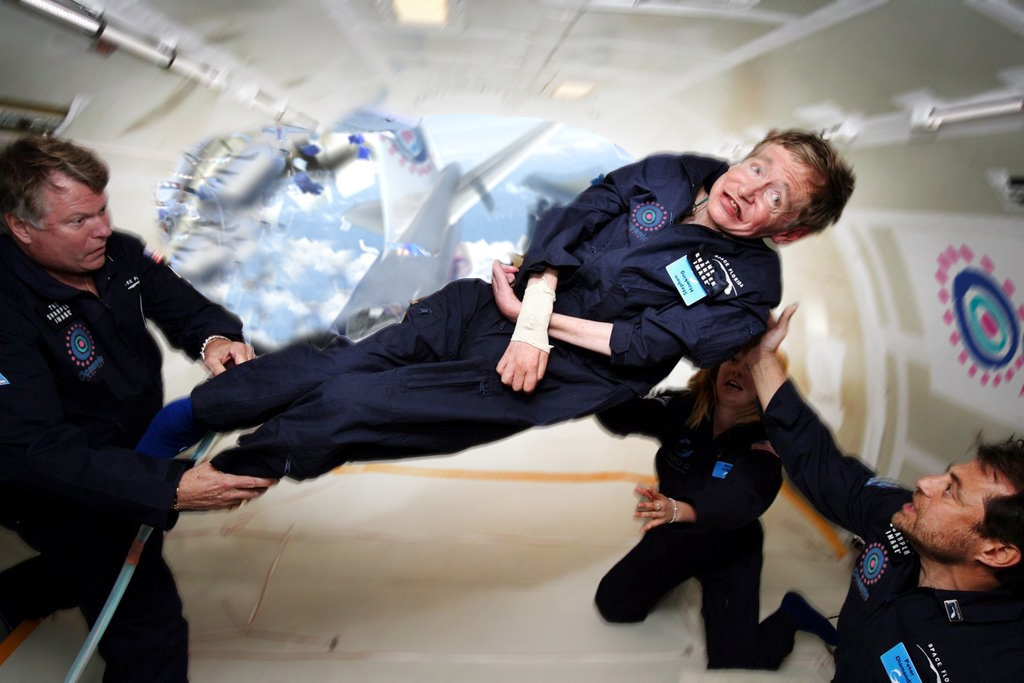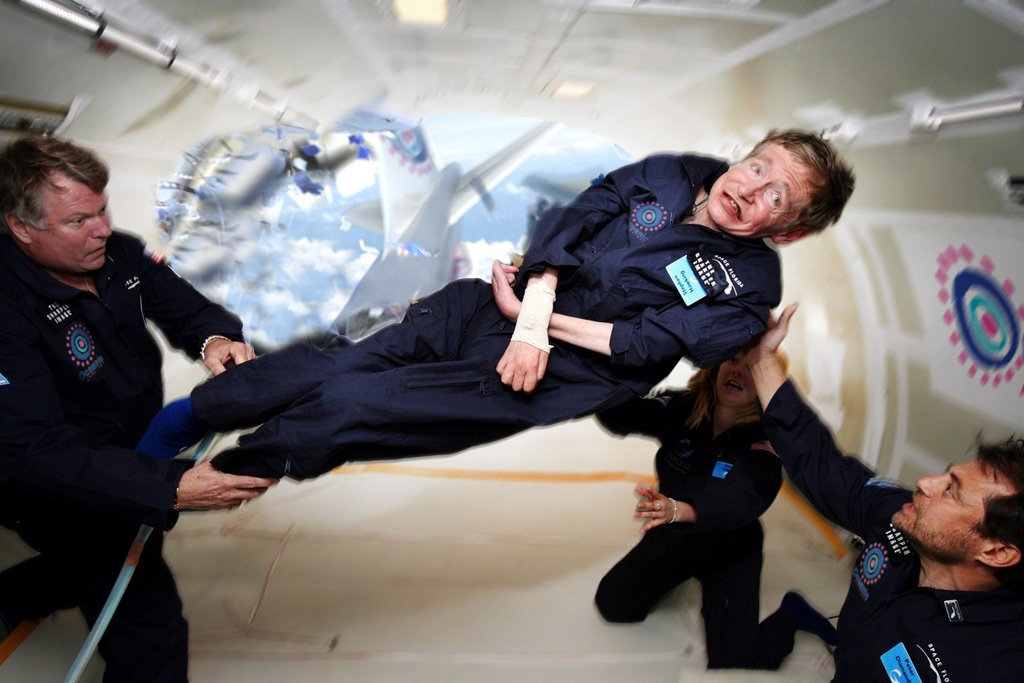 Stephen Hawking was married to one of his nurses Elaine Mason in 1995 after leaving Jane in 1990 who was seeing the graduate student who was taking care of Hawking. While in 2006 Elaine and Hawking filed for divorce following some complaints from Hawking's children and ill-treatment by Elaine towards Hawking.
In 1999 Jane published 'Music to Move the Stars'– about her relationship with Hawking which in 2007 was released and updated with the title 'Travelling to Infinity: My Life with Stephen' which was later adapted into the well-acclaimed movie 'The Theory of Everything' which was released in 2014.
Hawking was also appeared on many TV shows including the Simpsons and Late Night with Conan O'Brien and even recorded a voice for Pink Floyd's song 'Keep Talking'.
He was in support of finding a new habitable planet in space and is scheduled to fly to space as one of Sir Richard Branson's pioneer space tourists. He used to fear that one day due to some disaster or nuclear war, the planet will lose its existence and thus the human race has no future rather than exploring new horizons. And he was also against the development of AI- Artificial Intelligence.
His latest work had proved that Big Bang led to the creation of the universe and his most recent publication 'The Grand Design' challenges Sir Isaac Newton's belief, that God designed the universe.
In 2011, Stephen Hawking participated in the trial of iBrain – a device that can read the wearers' thoughts. According to the New York Times, this device can be a revolutionary aid to Hawking and others who has ALS.
About acting in a movie, Stephen Hawking said, "My ideal role would be a baddie in a James Bond film, I think the wheelchair and the computer voice would fit the part".
Update: March 14, 2018: Stephen Hawkins passed away in the early hours of Wednesday at his house in Cambridge.
The post is a part of a B'day Series where we celebrate the birthday of renowned personalities from Tech Industry, very frequently. The series includes Entrepreneurs, C-level Executives, innovators or renewed leaders who moved the industry with their exponential skill set and vision. The intent is to highlight the person's achievements and touch base the little known, but interesting, part of his life. You can see the list of all earlier celebrated tech personalities, including Mark Zuckerberg, Marissa Mayor, Sean Parker, Andy Rubin, Julian Assange, Sir Richard Branson, Sergey Brin by following this link or subscribe to your daily newsletter.