Brands, nowadays, are investing more in mobile digital advertising as compared to desktop advertising. Thanks to increasing penetration of smartphone, apps and high-speed mobile internet.
The latest report by eMarketer has revealed that all this shift in digital ad spending comes in the wake of increased mobile usage in the US. Mobile usage has been steadily rising due to an increase in the accessibility of mobile phones and mobile data.
The report estimates that brands would spend $99.21 billion on mobile advertising in 2019. In comparison, only $23 billion would be spent on desktop advertising, making mobile ad spending almost 4 times greater than desktop ad spending.
Interestingly, mobile will continue eating into the advertising revenue market of Desktops in the years to come. The report highlights that mobile ad spending in the US is expected to reach $120.37 billion by 2020, clocking 20% YoY growth. On the other hand, desktop ad spending will witness a slight drop, falling to $22 billion in 2020. A steady increase of $14 – $18 billion in the investment for mobile ad spending has been forecasted in the coming years, but desktop ad spending will remain stagnant.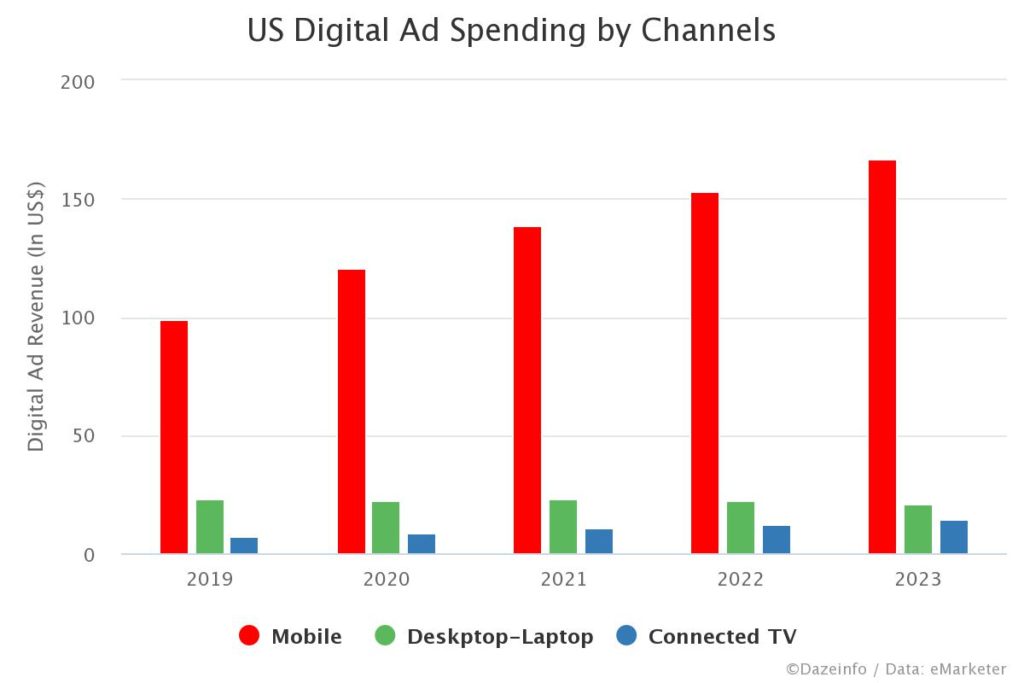 Additionally, a report by IAB brought to light that the majority of revenue generated by brands from digital marketing was accounted for by mobile ads, as compared to desktop ads.
Overwhelmingly high mobile usage
The number of smartphone users in the US in 2019 is estimated to be 265.9 million, translating into 75% of the total population. Each smartphone users in America spent around 200 minutes (more than 3 hours) on phone in 2018. 90% of a consumer's time spent on phones was recorded on mobile apps. As smartphone users in America are getting glued with mobile apps more than ever before, the number of app downloads by US consumers is expected to reach 258 billion by 2020.
These figures highlight that the utility of smartphones has increased, making it one of the primary channels consumers use to interact with the web.
Growth of individual brand spending on digital ads
Since it has been established that spending on mobile ads is now higher than desktop ads, and that usage of smartphones in the US is also at an all-time high, it is safe to assume that all successful brands would continue to bid more mobile ads in the anticipation of better ROI.
Amazon generates the highest amount of revenue through digital ads out of all companies in the US. The eCommerce behemoth is expected to spend $9.8 billion on digital ads in 2019, marking a 33% change from 2018. Its ad revenue is expected to be around $1 billion.
The next biggest player in the digital ad revenue sphere is Facebook with a 26% growth in 2019. Facebook is rapidly capitalizing on mobile advertising opportunities. Its acquisition of Instagram and WhatsApp has greatly boosted this momentum. Instagram is a widely used platform where brands advertise their products through promoted stories and posts. Facebook's digital ad revenue is expected to grow in 2020 with plans of introducing ads to WhatsApp stories.
Twitter and Google witnessed a similar growth rate in digital ad revenue in 2019, with a growth of 18% and 17% respectively. Google, however, is looking to surpass Amazon by increasing shopping ads on Youtube. But given Amazon's overwhelming dominance, Google will have a long way to go.
Mobile will continue to account for a lion's share of the total digital spending by all the above tech behemoth. As the world is moving towards greater penetration and stabilised 4G infrastructure in developed and developing markets, the penetration and use of mobile apps are bound to increase, so the digital ad spending on mobile.