Facebook Inc. (NASDAQ:FB) has now begun targeting the ever-growing and ever-popular mobile dating market with a brand new feature. This feature, known as Facebook Dating, helps users find potential 'matches' with other users on the same platform.
This is apparently done on the basis of the pages both of them like, friends of friends or the people attending the same events. But is the dating market that valuable? If it is, will people resort to using Facebook Dating rather than the other mobile dating apps out there?
Let us look at this news in a little more detail.
The Incredibly Valuable Mobile Dating Market
In the last five years, Mobile dating has come a long way. It has transformed into this hot billion dollar market. From 2014 to 2019, the market has grown by an astounding 920%! Since 2012, mobile dating apps have been downloaded 1.7 billion times across Android and iOS platforms, worldwide.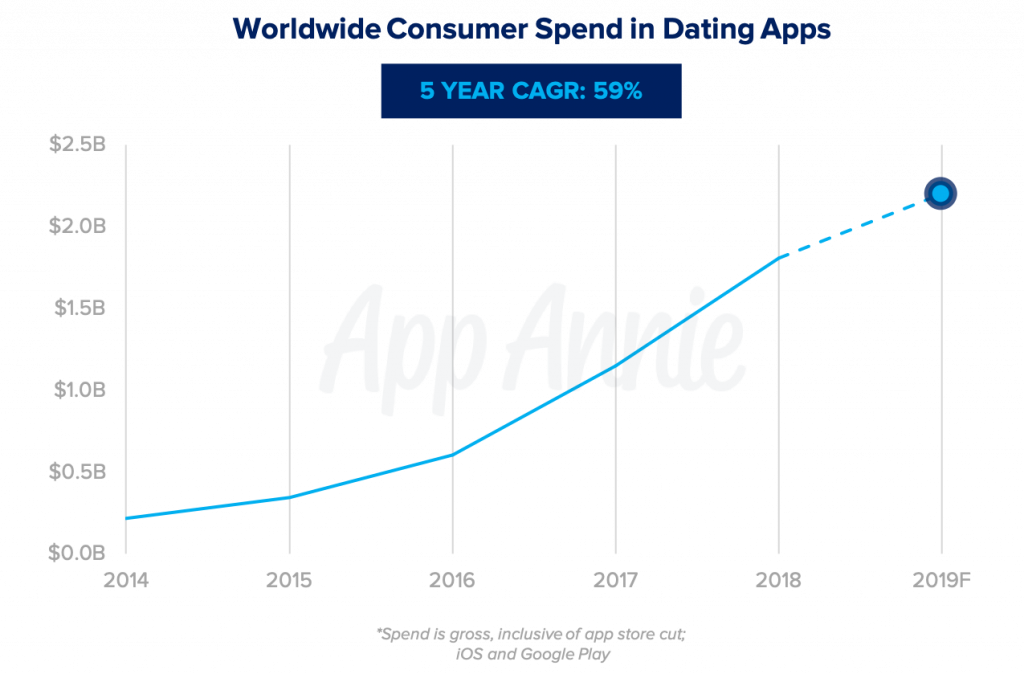 What's more interesting is that a lot of the online dating apps out there are owned by one conglomerate entity, the Match Group. The group owns almost 45 dating related companies, out of which 25 are through acquisitions. Tinder obviously stands out as the most popular as well as a successful app in its portfolio, but they own other popular dating services too. The services like those of OkCupid, Hinge, PlentyofFish and match.com rank among the most popular dating services in the US.
Facebook Dating: Banking On Data
When compared to its competitors like the Match Group, Facebook isn't too far off. To begin with, the social media behemoth has a huge existing user base of 2.4 billion internet users. Almost everyone on the internet has a Facebook account, although a lot of them are moving towards other social media apps like Instagram (which Facebook owns). But a lot of people do still use Facebook, and it allows the company to get a kickstart whenever it launches a new feature. Hence, it will be easier for Facebook to target the relevant people just by analyzing their recorded activities on the platform that outlines their interest in mobile dating.
On top of that, the company allows the integration of Instagram posts in its dating profile. They will be able to share Facebook posts and Instagram stories in between them. Along with this, there is also a feature regarding Secret Crush lists, that allows the users of the feature to add Instagram followers as well as Facebook friends. The Secret Crush lists will allow users to match people who are already on their Facebook friends list or Instagram followers list. Amid the controversies of the past, Facebook also ensures that its Dating feature is completely safe.
Amidst all these features, Facebook has the potential to provide ample competition to the other dating services out there. But the question arises, how many of the people are actually going to try it out? We'll have to wait and see.