It looks like the OnePlus 7 Pro might have just won the 5G race.
RootMetrics, an independent network testing company, has found OnePlus 7 Pro 5G to have the fastest download speed.
"OnePlus prides itself on a fast and smooth experience, and these results demonstrate we have delivered a best in class 5G product for our users," commented CEO and founder of OnePlus, Pete Lau.
According to the Rootmetrics, an independent firm that tests mobile network performance, the OnePlus 7 Pro 5G has left behind other big names like Samsung Galaxy S10 5G, Oppo Reno 5G, and LG V50 ThinQ 5G in the test. The device, recently launched in the UK, has the fastest 5G download speed in London, U.K.
The tests were carried out on an EE network, the first to offer 5G in the UK. The OnePlus 7 Pro 5G clocked nearly 700Mbps of download speed. It is much faster than the average 4G speeds of 30Mbps and 40 Mbps in the same testing area.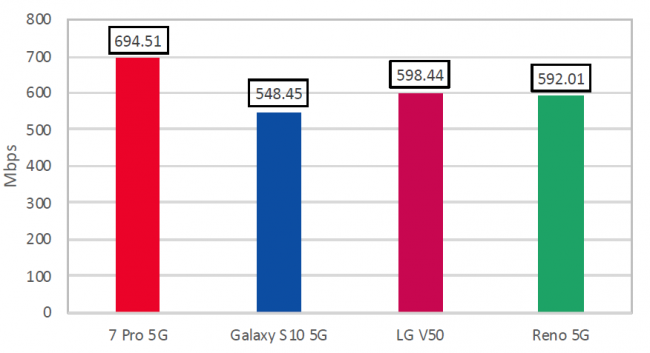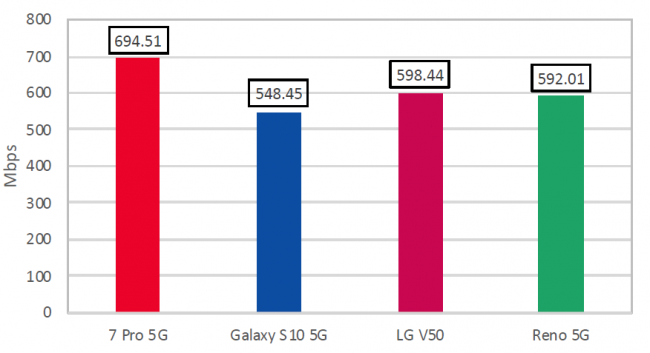 While the tests took place in the static areas of London, the speed may flicker in the heavy traffic and congested areas but it is still extremely impressive.
OnePlus is expecting same results worldwide from the 5G variant of its premium flagship phone launched recently. However, they are yet to test it in heavy traffic areas outside the UK.
OnePlus told TechRadar that the fastest 5G speed has been on their list for their high-end premium phones.
"With the OnePlus 7 Pro 5G we redesigned the 5G antenna, adopted a totally different internal design using a stacked PCB to allow for the additional 5G hardware, and added an expanded cooling system," the spokesperson of OnePlus says.
Samsung S10 5G came last in the test offering speed of about 550Mbps. While LG and Oppo managed to reach around 600Mpbs.
The testing took place in Central London, mainly in St Paul's and other areas in which 5G is available. The testing locations covered the City of London, Kensington and Chelsea, Covent Garden, Soho, South Bank, and Westminster.
The OnePlus 7 Pro 5G from OnePlus is an all-in-one premium flagship phone. Along with the fastest 5G speed, it offers you a triple-lens rear camera and pop-up selfie camera. Moreover, the fluid AMOLED display comes with a 90Hz refresh rate.
OnePlus 7 Pro 5G holds Qualcomm's Snapdragon X50 5G modem under the hood for its 5G network. The Chinese brand, however, redesigned their antenna in place of Qualcomm's standard antenna arrangement to inculcate 5G modem in the regular OnePlus 7 Pro. It could be this customized antenna that made OnePlus to won the race.
The rest of the components in the phone are the same as the standard OnePlus 7 Pro. The phone offers Snapdragon 855 chipset with 12 GB RAM along with 256GB UFS 3.0 storage. In addition to that, it comes with 4000mAh battery and 6.65-inch Quad HD+ display.