The intensified competition in India Smartphone market has forced many brands to revisit their go-to-market strategies. Known as the second-largest smartphone brand in the world, Huawei is all set to expand its customer base in India's smartphone market. It has reportedly signed a strategic partnership with Micromax once the dominating Indian player in the smartphone market in India.
With the partnership, Huawei expects to strengthen its presence in India, largely dominated by Xiomi and Samsung. The partnership will give rise to an expansion plan distributed amongst various phases. With the help of Micromax, Huawei will then be able to enter the markets of major Indian cities like Mumbai, Delhi, Pune, Kochi, Chennai, Bangalore, Hyderabad, Kolkata, Ahmedabad, Dehradun as well as Jaipur, including others. As of now, the Chinese smartphone major has been primarily selling its devices via its retail partners in India.
This would eventually mean that Micromax will be helping Huawei, a Chinese brand, to set foot into the offline market segment, which is something new for the farther one. This would also be important for the Chinese smartphone major which has, so far, concentrated mainly on online platforms, as opposed to other Chinese brands like Oppo, Vivo and Xiaomi, which have opted to penetrate the offline retail market as well.
Huawei Micromax Partnership: Strengthening Market Presence
In partnership with Micromax, Huawei will not only be able to target the bricks and mortars shops in Metros but could also attract the eyeballs of people in Tier 2 and Tier 3 cities. Huawei's sub-brand Honor, which is meant to target the entry and mid-segment smartphone users, could help the company to strengthen its market in India.
Huawei accounts for a little over 3% smartphone market in India. Despite launching many head-turning devices the company is finding difficult to accelerate its market growth in the world's fastest-growing smartphone market. To put things in context, other Chinese players, especially Xiaomi, Vivo and Oppo, have registered an impressive growth rate since their debut in India. The unprecedented growth of Xiaomi in India is no less than a case study to study for many players in emerging markets. Chinese players, together, account for 66% of quarterly smartphone shipments in India.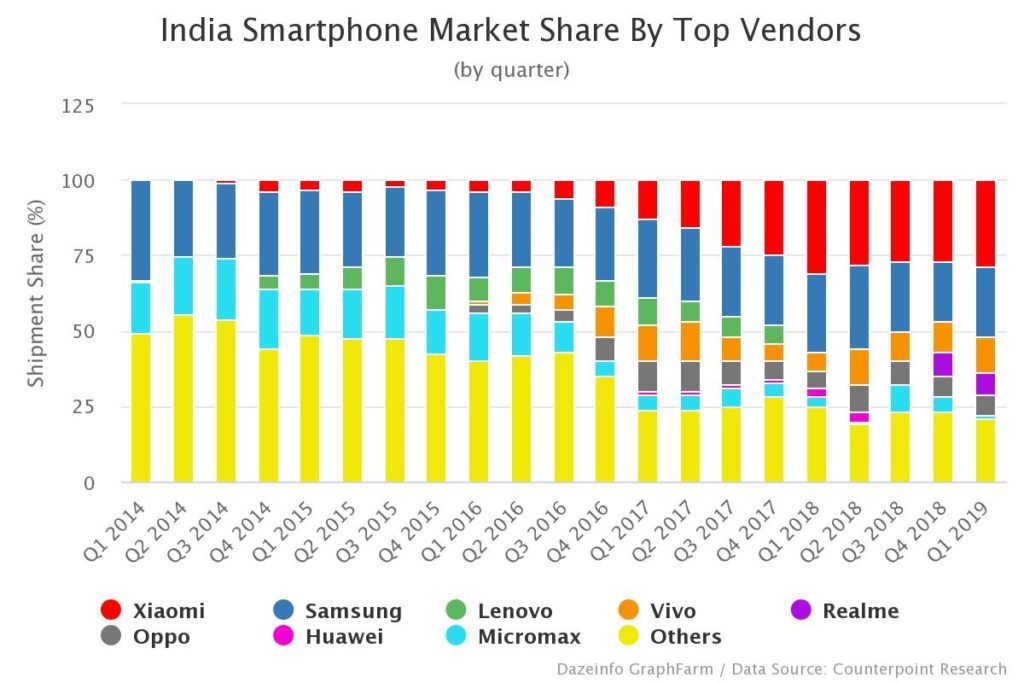 Huawei has reportedly spent more than $15 billion in R&D in 2018 alone, which will help it to focus on the necessary information required to expand into the Indian market. The collaboration of these two well-known brands will complement each other as Huawei is known for its advanced technology being used in the smartphones, while the homegrown Micromax is well aware of the local conditions, especially in non-metro cities that are essential for any brands to grow in India.
Micromax will also benefit from the deal:
The Huawei Micromax partnership is a pan-India deal that will benefit Micromax significantly. After losing ground to Chinese players in the last few years, this could be an opportunity to reclaim its lost glory in the India market to compete in the smartphone market.
With 17% share Micromax was once the second-largest smartphone OEM in India, trailing behind Samsung. In the last five years, however, the company's market share tanked to a disappointing 1% in Q1 2019.
In partnership with Huawei, Micromax will be in charge of the planning strategy to attract and reach Huawei's targeted consumers. Moreover, it will also help the brand with major marketing strategies like brand placement and digital marketing for a few selected products in the country.
This partnership is announced just before the launch of Huawei Y9 Prime smartphone in India, which is the brand's first smartphone that has a pop-up selfie camera.