The exploded adoption of internet and smartphone has completely changed the dynamics of marketing in the last few years. With the increasing penetration, brands are allocating more budget for Digital Marketing to stay ahead of the competitors. The trend, however, leads us to the question most brands have to deal with always: How much would be too much?
According to a report, the worldwide digital ad spending reached $285.35 billion in 2018, nearly 21% more than the previous year. The more interesting fact was that worldwide digital ad spending was nearly half of the total media ad spending.
The trend is expected to continue in 2019 as well. In fact, brands are expected to spend more on digital ads than traditional ways of advertising in 2019. It is estimated that over $333 billion would be spent on digital ads as against $332 billion that brands would spend on non-digital ads.
This will be the first time when Digital will leapfrog traditional media in terms of ad spending. It's quite evident that brands are finding more ROI from each dollar they are spending on digital, which is eventually leading them to spend more on digital ads in the future as well.
"As the market is becoming more competitive, brands are looking for highly optimised digital marketing strategies nowadays. Customers are selective and want to engage agencies that have out of the box strategies to offer," says Bala Kumaran, Founder & CEO of BrandStory, one of the leading digital marketing agencies in Bangalore, India.
While it's been established that the future of marketing belongs of Digital, it would be interesting to dig deep to find out primary factors that are driving brands towards digital marketing – both paid and organic!
The most important and lucrative aspect of Digital Marketing is 'Transparency'! Unlike traditional methods or marketing, gauging the ROI of digital marketing campaigns are much easier, effective and transparent for brands. Agencies are employing various tools that allow brands to monitor the flow of their digital dollars round the clock – something which is not possible in most of the traditional methods of marketing, still.
Transparency is not the only factor that lures brands towards digital marketing. Better ROI is another crucial aspect that keeps brands hooked with Digital marketing. Digital marketing is largely driven by acquisition methods, where brands can acquire their potential customers once, and then keep reaping the benefits for a longer duration. Social Pages, App Notifications, eNewsletter are the classic example of such acquisition methods that are highly popular nowadays. Brands are spending billions of dollars on digital marketing nowadays acquiring potential customers (APC) and keeping them engaged and educate them about the benefits of products/services/offerings through digital platforms until they turn into paying customers. The total cost of PAC and Engagement is called Customer Acquisition Cost (CAC). Studies have proven that CAC from Digital methods is comparatively quite cheaper than the cost of acquiring customers through non-digital methods.
As Digital marketing – both paid and organic – has got so much to offer, brands are not shying away from betting more on Digital in the years to come. In the next five years, by 2023, brands would spend over 60% of their total media spend on digital ads alone, amounting to $517.51 billion. China, the UK, Norway, Ireland, Denmark and Sweden are the countries where brands are expected to spend over 60% of their total media ad spending in 2019.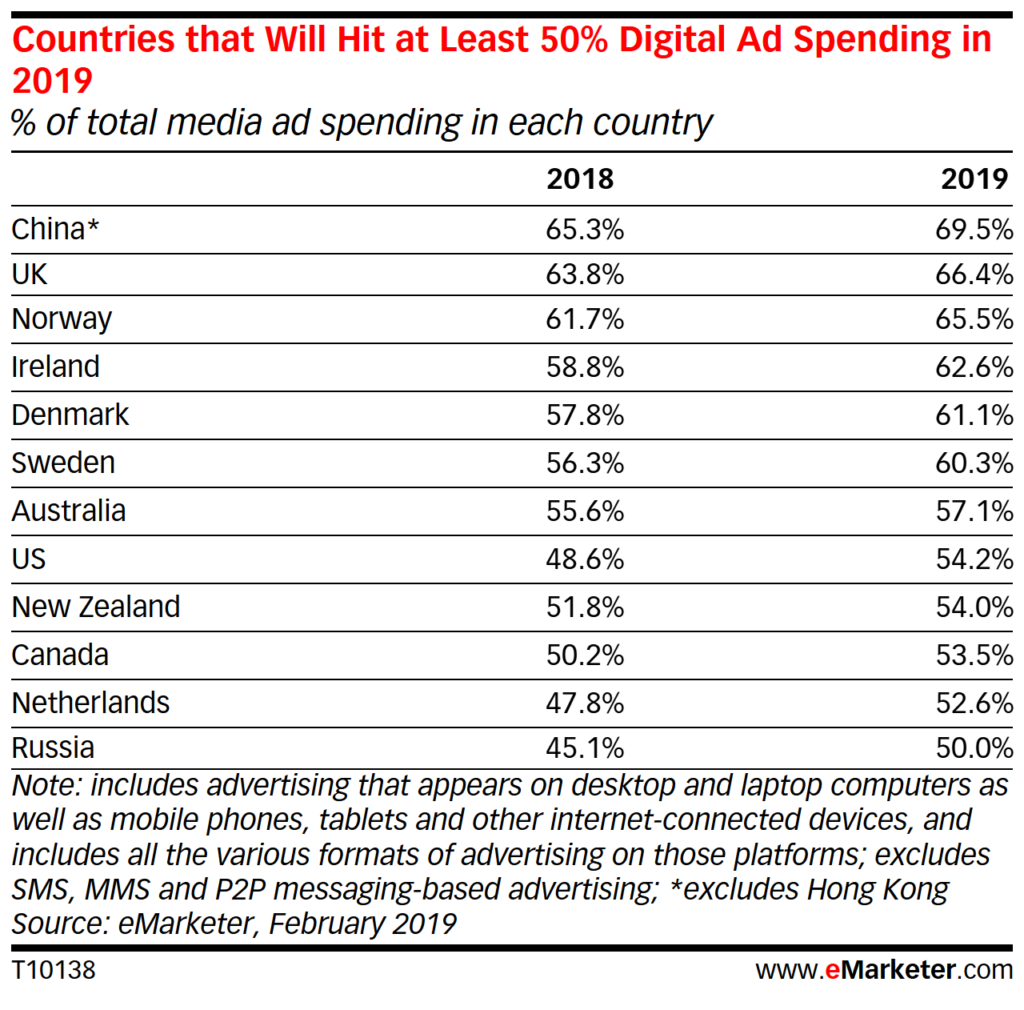 So, where exactly brands will put digital marketing dollars? Google and Facebook, together, will account for over 50% of worldwide digital as spending in 2019. These figures are convincing enough to understand which platforms are attracting the eyeballs of internet users and drive potential customers to brands' website.
Overall, the future of marketing belongs to Digital. While it is difficult to be conclusive enough with the percentage of media spend a brand should spend on digital, the trends are self-explanatory. The race has begun and as people are spending more time on the internet, digital marketing – paid and organic – would be decisive in the success story of brands.