India aims to enable taxi aggregators, such as Uber and Ola to turn 40% of their vehicle inventory into electric cars by April 2026, according to a study and government conference papers addressing new safety travel laws. On the basis of individuals and records analysed by Reuters, Uber and Ola, both backed by the Softbank Group, would have to start altering their vehicles as quickly as next year to achieve 2.5% electrification of their fleet of cars by 2021, 5% by 2022, 10% by 2023 and 40% percent by 2026.
China is currently the world's biggest auto market and is leading the world in electrification by setting aggressive targets for vehicle manufacturers. The country is also offering benefits for taxi operators to have more clean fuel vehicles in their fleet. While the sales of EVs (Electric Vehicles) in India tripled in FY'19, it still accounts for only 0.1% of all diesel and gasoline cars bought. In contrast, sales of EVs in China rose by 62% to 1.3 million in 2018.
In India, companies like Ola, which had previously tried to add electric vehicles in their inventory, have seen little success so far due to the lack of infrastructure and high maintenance required by electric vehicles. New Delhi seeks to promote the new strategy to accelerate the sales of EVs to fulfil the pledge of reducing oil exports and pollution that it took during the Paris Climate Change Treaty in 2015.
Electric Vehicles In India: Tough Road Ahead
The challenge for India is tough as only a minuscule percentage of all cars sold qualify as electric vehicles. In the fiscal year 2019 ended March 31, only 3,600 electric cars were sold in the country, compared to 3.3 million diesel and gasoline cars.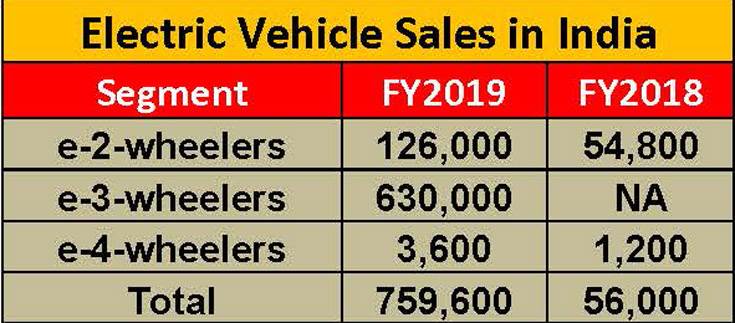 Last year, India's Prime Minister Narendra Modi urged industrialists and officials of companies around the world to work with the government. To develop a 'new travel climate' in 'true equilibrium', he said that his approach for India's mobile future is centred on 7Cs: prevailing, interconnected, safe, congestion-free, charged, clean and cutting-edge.
Niti Aayog officials and the Ministries of Road Transport, Electricity, Renewable Energy and Steel, as well as the Ministries of Heavy Industry and Trade, were among those in the "natural equilibrium". They also proposed that all new cars sold for a commercial purpose must be an electric vehicle from April 2026, a norm that would also apply on Uber and Ola, said the person familiar with the situation on the condition of anonymity.
Only a few manufacturers presently produce complete electric cars in India. India's largest car manufacturer Maruti Suzuki and Hyundai are also expected to introduce new electric-powered cars soon. Uber, who recently attempted and succeeded in marketing his food delivery business Uber Eats that competes with local players Swiggy and Zomato, has started cutting back on its Indian operations since its the launch of its IPO. The company currently does not have any electric vehicle programs in India, other than a limited pilot project announced last month with the supplier of electric scooters Yulu.
On the other hand, Ola is leaving no stone unturned to stay ahead in the race. The company initially raised $58 million in initial equity from third-party shareholders to evolve its electric car business, named Ola Electric Mobility. Recently, Ola raised more funds, nearly $300 million, from Hyundai KIA to operate together to build bikes and electric vehicles.
The move to upgrade to EVs has just begun. All the commercial vehicles, especially those cars operated by Ola and Uber in India, must be EVs. The push by the government will turn a large section of cars in into electric vehicles. As millennials are getting more comfortable with the shared commute, offered by app-based providers, with each passing month and shying away from buying new cars, the globe seems to be on a road where shared mobility is the norm. Therefore, pushing Ola and Uber for EVs can have a significant impact on how we will navigate in the future if done in a well-paced manner.