Smartphone shipment in India is still growing quarter over quarter at a steady pace. The latest data from the Counterpoint Research indicate that the growth is largely driven by the Chinese players like Xiaomi, Vivo, Oppo, who continue to penetrate the India smartphone market aggressively.
India Smartphone shipments in Q1 2019 recorded 4% YoY growth, primarily led by Xiaomi and Samsung. As usual, both the companies accounted for over 50% of the total smartphones shipments in India during Q1 2019. However, it was the growth in the shipments share of Vivo that has surprised many.
While Xiaomi continues to dominate the market followed by Samsung, none of these OEMs could strengthen their shipment share as compared to the year-ago quarter. Down from From 31% to 29% and 26% to 23%, Xiaomi and Samsung, respectively, failed to attract the eyeballs of Indian smartphone consumers as they did in Q1 2018.
In contrast, another Chinese player Vivo surprised everyone with its spectacular performance in Q1 2019. The smartphone shipment share of Vivo doubled from just 6% to 12% within a year, beating its closest rival Oppo with a distant margin.
The report also highlights that Vivo shipped 119% more smartphones in Q1 2019 as compared to the year-ago quarter. The strategy to expand its portfolio for the entry segment, that ranges smartphones between $100 and $180 price, helped the company to strengthen its market presence. Besides, the aggressive IPL campaigns around its V series smartphones turned out to be cheery on the ice as it attracted a number of eyeballs of mid-segment smartphone buyers.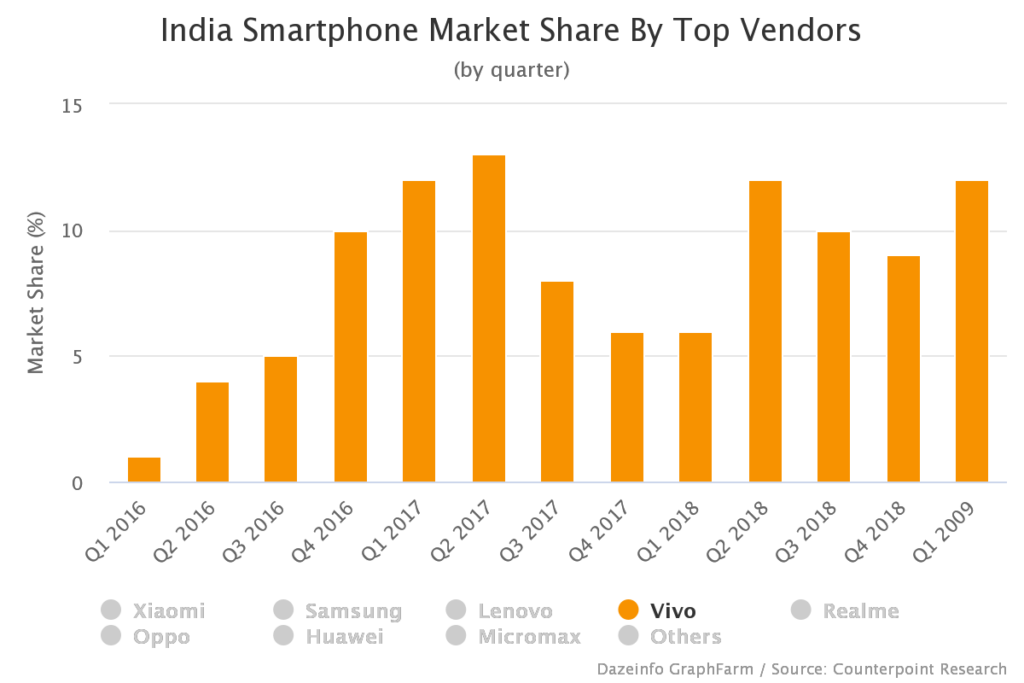 "Data consumption is on the rise and users are upgrading their phones faster as compared to other regions. This has led to users spending more on their purchase which is driving up the overall average selling price (ASP) in the market. As a result of this, the premium specs are now diffusing faster into the mid-tier price brands. We estimate this trend to continue leading to a competitive mid-tier segment in coming quarters." says Tarun Pathak.
Overall, the growth in India smartphone shipment during Q1 2019 turned out to be a disappointment as analysts expected better performance from the OEMs in a market where the smartphone penetration is less than 50%. On the positive side, despite just 4% YoY growth in smartphone shipments, India is still the most lucrative market for almost every smartphone OEMs considering US and China market have either saturated or started showing signs of saturation.
The report also highlights another important trend – online to offline focus of OEMs. To keep their market share intact most of the leading smartphone OEMs have strengthened their retail presence across the country. Xiaomi is on an expansion spree by adding more number of offline stores – Mi Home, Mi Preferred Partners, Mi Stores. The strategy is to target consumers in Tier 2 and Tier 3 cities which are expected to drive the overall growth of the India smartphone industry in future.
The influence and existence of Chinese smartphone players in India is all-time high nowadays. Nearly 66% of smartphones shipped in Q1 2019, were name tagged with Chinese brands. What and Why India smartphone players are failing to compete with Chinese brands despite all policies made by the Indian government to encourage local manufacturing and companies is another matter of discussion.