India is one of the rich nations to have a proactive startup environment behind the US and the UK. The country boasts its reputation on being the world's third-largest startup framework. In spite of all the promising startup scenario in the country, the fresh blood prefers brand value, remuneration and job security over investing their time and efforts to work for a new venture.
The latest survey done by Aspiring Minds reveals that less than 10% of engineering students in India want to serve startups offerings diverse learning opportunity. Working in a large company is still the first preference for a whopping 62% of students in India.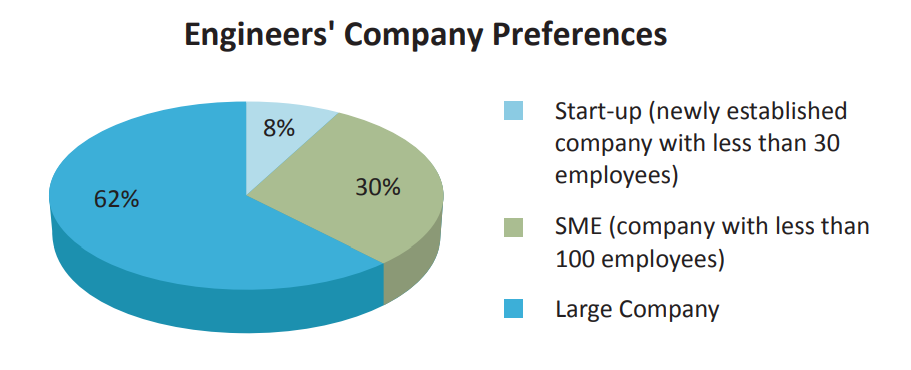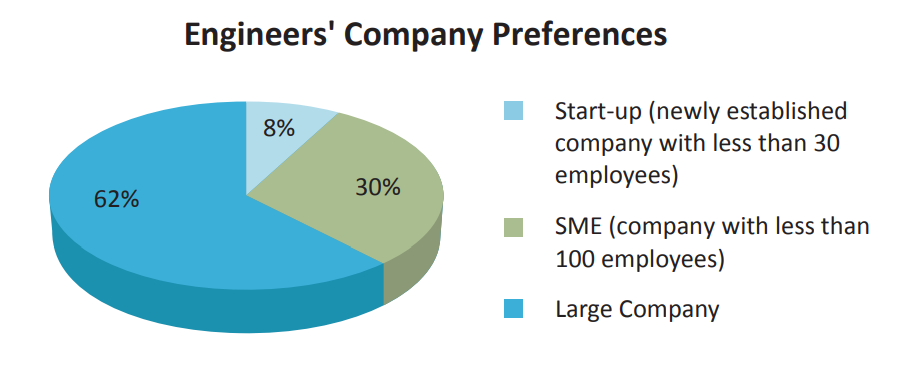 That means almost two-thirds of Indian engineering graduates want to join MNCs while a significant 30% of engineering graduates in India are exploring employment at small and medium enterprises (SME). The fondness for big corporate jobs is the same across students from all branches of engineering, across genders, and types of colleges, the survey results highlight.
Not every trend disappoints; the findings of the study also highlights the promising fast-changing preferences. The eagerness among students to work for a large company has declined by 15% as compared to the last year. Also, there is an insignificant rise in the number of students opting start-up jobs. This forms the distinct idea that the fast-growing startup industry in India will incubate more talents across the nation.
Aspiring Minds, a Mumbai based company is the assessment of knowledge and aptitude evaluation firm prior to employment. This institution initiated the survey and released a curative lengthy report on employability skills in India.
These conclusions are derived from the result of the survey that was conducted over 170,000 engineering students who graded in last 2018 from over 750 engineering
colleges across India.
"Big corporations have a pull factor due to their brand value and their portfolio of projects makes them sought-after organisations to work for," Sumit Kumar, vice-president at TeamLease Skills University in Gujarat, told Quartz.
Another important aspect that wins the hearts of pupil is that the good old traditional corporations proffer high profile jobs with the peculiar designation. However, at the well-established organisations, job roles are well-defined. The "higher job security and remuneration," are the catchy slogan reaching the minds of the students often tend to enter.
The report also says that 46% of engineering students explore core engineering jobs (like mechanical, electrical, electronics or civil engineer), eclipsing the fascination towards software development. Surprisingly, only 10% of engineering students in India prefer management related jobs. Despite the mushrooming job opportunities in managerial roles like technical sales, marketing and content development, students do not seem to prefer these jobs as yet.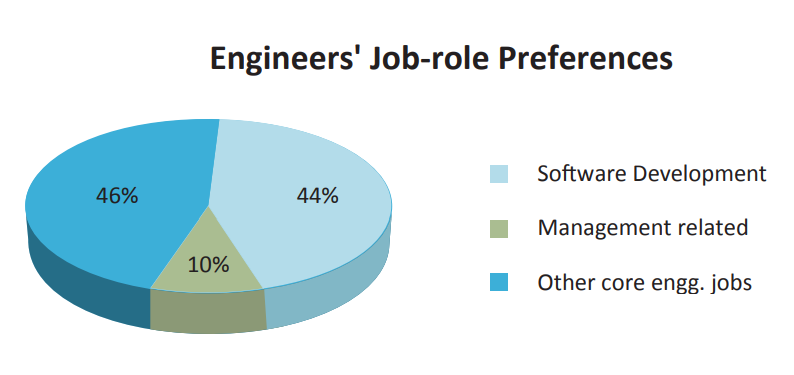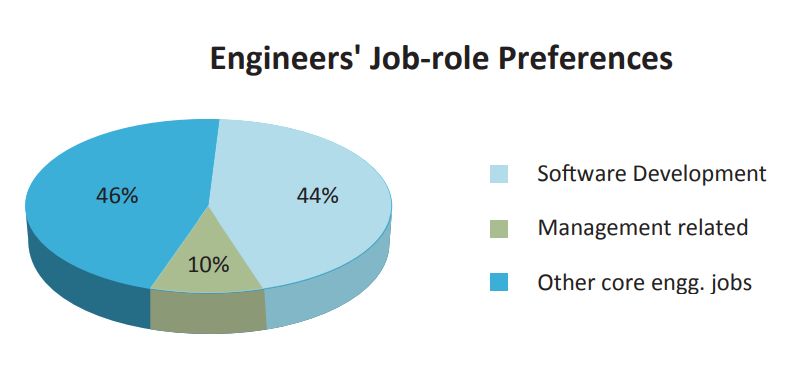 However, the fascination towards Software Development jobs among students in Tier 1 cities and Tier 1 colleges is still quite high as compared to core engineering jobs. It is important to note that male students prefer software development over other core engineering jobs, while females are more inclined towards core engineering jobs.
It is said that most of the engineering students in India don't have hands-on experience at the time of graduation as only 40% of engineering students in India do an internship. Amidst the demand, the staff are cut out for the startup life where skills become outdated fast and most employees have to opt on multitasking position.
"It's usually the bold, the confident, and (the ones with) ability to learn on the job or with strong coding skills that enter the startup world," said Vidhya Shankar, executive director at advisory firm Grant Thornton. "…there's no time for spoon-feeding or intimate training."
Furthermore, startups in India are caught in an enormous flaring issue. One of the primary reasons behind students preferring big corporate over startups is the rising number of failed startups. According to"Entrepreneurial India," a new IBM Institute for Business Value (IBV) report nine in 10 startups in India bite the dust within five years of founding.
On one side students in India want to have job security over developing skill sets, on the other hand, there are reports that expose the disappointing scenario of employability of engineers in India. Another report from Aspiring Mind state that 95% of Indian engineers can't code. The scenario hasn't changed much in the last few years as another report, released 2 years ago, from McKinsey highlighted that only a quarter of engineers in India are employable.
It's is evident that the gap between expectation and capability is widening. It's time when engineering students in India need to reassess themselves to become more competent, have the right kind of expectations and set themselves in the right direction.