The number of digital ad frauds in India is rising at an alarming pace.
With time the amount of money being spent on advertising is growing, as so are the attempts to misrepresent advertisers through ad fraud. Reports have shown that as much as $6 billion is stolen from advertisers every year through ad frauds, and India is no exception here.
A recent report from the analytical firm TechArc claimed that the digital ad frauds in India amounted to $1.63 billion in 2018, which accounted for 8.7% of global digital ad fraud.
The largest fostering site for ad fraud in India is digital commerce which contributed around 51% of the total ad fraud in the country. Leisure and travel sites/platforms contributed 26% of the total ad fraud in India, according to the report.
An increase of 23% is expected to be seen in India's digital ad fraud market in 2019.
Companies, however, have now started to do their bit. Many brands are trying to blacklist websites, or even whitelist them – allowing ads to be seen only on pre-listed companies on their prescribed list.
The fraudsters, however, have found a way to work around this system as well, they themselves are getting enlisted with the app that you use as 'resellers' of a particular product- thus starting a never-ending cycle of hoax and humbug. The Wall Street Journal published a detailed article on how these frauds are being put into practice.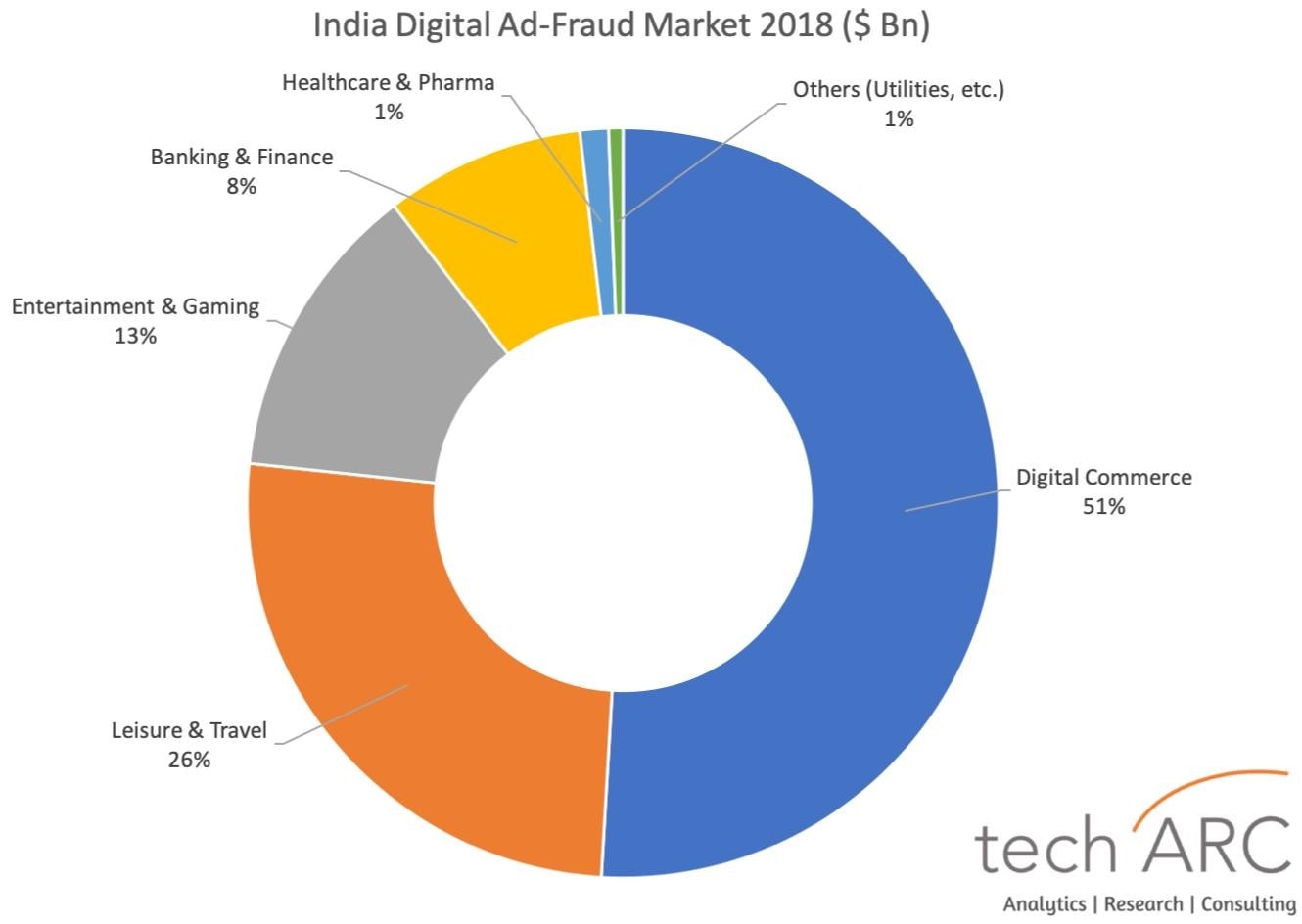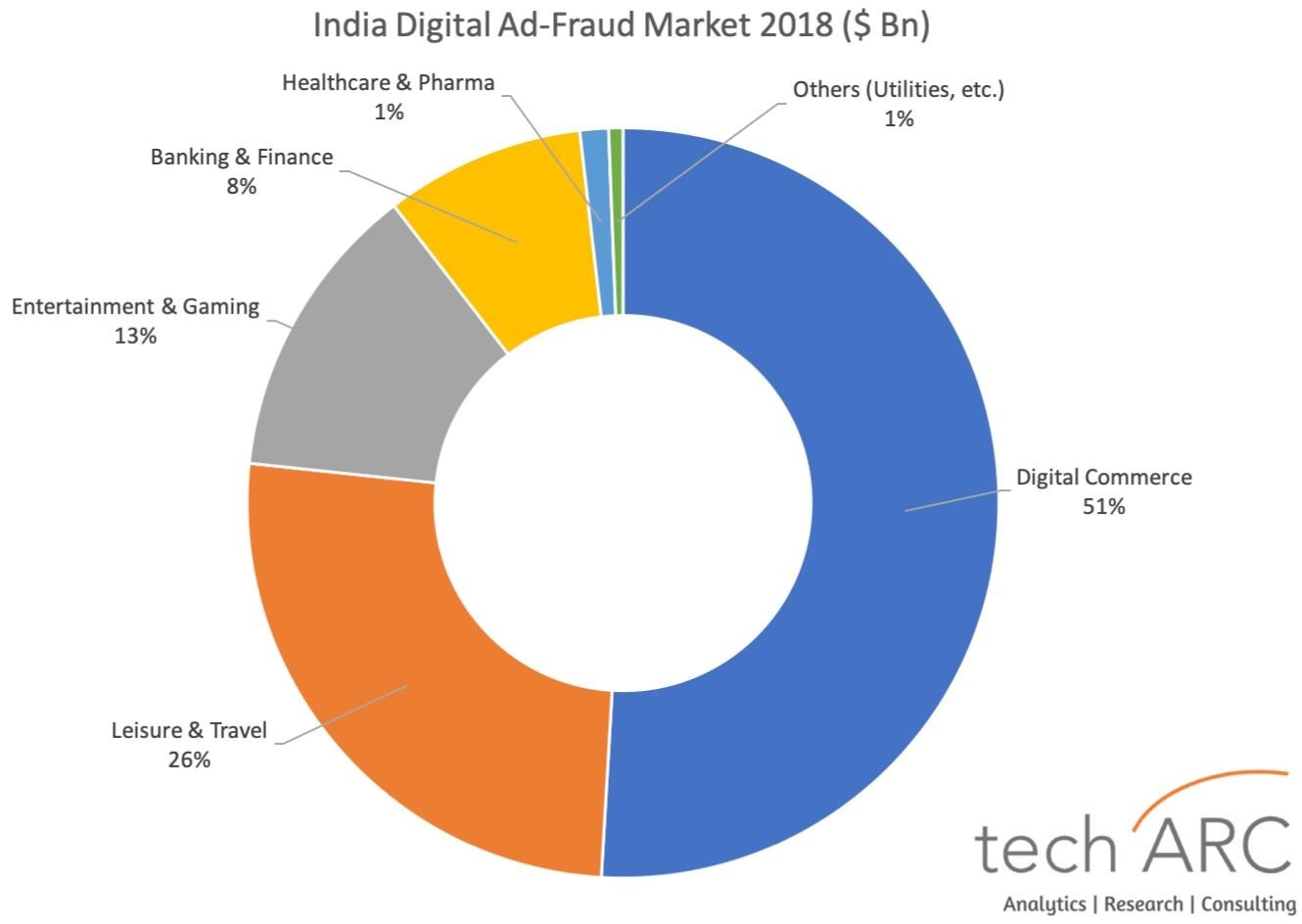 "Digital ad-fraud is getting increased attention from the C-level leadership of evolved organisations, where it is no longer an agenda of a Chief Digital Officer or Chief Marketing Officer. Ad-fraud includes faking a user, faking a behaviour or faking a device," said Faisal Kawoosa, founder & chief analyst, techARC.
It is true that App Fraud stands for over 85% of the total digital ad fraud in India, even web platforms are vulnerable as the teams responsible for digital security often shift all their focus on the apps, as a consequence of which the web space remains unguarded.
In addition there arise a number of brand safety issues that arise particularly from web space- for instance, fake leads and keyword abuse- as was mentioned in the report as well.
Banking, Fintech, entertainment as well as gaming Industry – specifically video based – are estimated to see the rise in the number of ad frauds. Healthcare and pharma are also going to be subject to more ad frauds since their prime focus is on snagging new customers. Customer transaction and retention frauds will mainly be witnessed by digital commerce.
Since app frauds accounted for 85% of total digital ad fraud, in October 2018, Google took a major step by cracking down an entire ad fraud network that used botnets to spoof advertisers. The fraudsters responsible for the network had acquired 125 legitimate apps available on Google Play Store and then gone on to use botnets to put up the façade of a thriving app with a growing user base.
In mid-2018, IndiGo airlines ran counter-campaigns on social media when fake ads promoted job vacancies and free tickets.
"The impact of digital ad-fraud now goes beyond diminishing the returns on marketing spends and can jeopardise the entire digital transformation journey of organisations, hampering their brand equity, relevance and positioning, among other ramifications," said Kawoosa.
As businesses continue to debase their single-channel positioning to channel brands, the report advised that digital brands, as well as traditional business mode marketers, need to integrate a comprehensive online to offline ad fraud plan.
The exploded adoption of the internet, social media and increasing consumption of digital content have helped ad fraudsters to target a number of users. Gone are the days when such fraudsters used to employ basic techniques to trick internet users. With the use of AI, ML and botnet, the number of ad frauds in India is rising with each passing year. It's high time for companies to have an ad-fraud solution in place that would eventually help them to have effective customer engagement, resulting in more revenue.