How much time do digital consumers devote to social media each day? Is the behavioural pattern of users towards specific platforms changing with time? With such questions surfacing, one needs a comprehensive view of the key trends in Social media engagement, globally!
This much-needed comprehension has been substantially put forth, to a quite relative extent, in the report recently released by GlobalWebIndex.
The Social Media Demographics
With the recent era of digital evolution at peak, being an internet user somewhere obliquely means being a social media user. This can be substantiated in the essence of stats from Japan wherein the Internet user base, with an average age of 41 years, drops only to an insignificant 90% of the social media user base. Considering the younger user base, from 16 to 24 years old, a dramatic 100 per cent internet user claim to be on social media and spending on an average 3 hours and 1 minute on social media and messaging platforms.
With over half of the world's population online, this may even come as a surprise that a quarter of newer user base marked their debut online just the previous year. That's how rapid the evolution has been!
What's Fuelling Internet Growth?
200 million people got their very first handset device in the previous year, and nearly two-thirds of the world population has a smartphone now!
Much of this year's internet growth has been accelerated by affordable smart-phones and fetching tariff plans.
More than half of the regular, conventional handsets are "smart" and hence, drive people towards enjoying a rich internet usage which relatively pumps up social media consumption.
Has Social Media Consumption Hit Saturation?
According to a previous report, the average internet user used to spend 6 hours each day, using internet devices and services. This somehow refers to one-third of their waking span! If this stat is subsumed for 4 billion of the global internet user-base, that will account a window of 1 billion years online!
However, GlobalWebIndex reports that digital consumers are spending an average of 2 hours and 22 minutes per day now, on social media and messaging. But this trend hints at an approaching saturation level in social media consumption.
In Q3 2018, there were several instances where the social media consumption remained plateaued. There were as many as 11 out of 31 places where the online-stat either remained stagnant or slumped down further.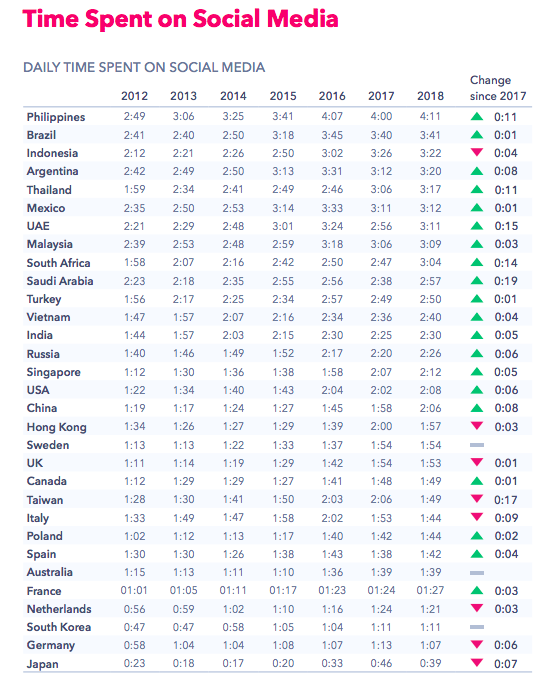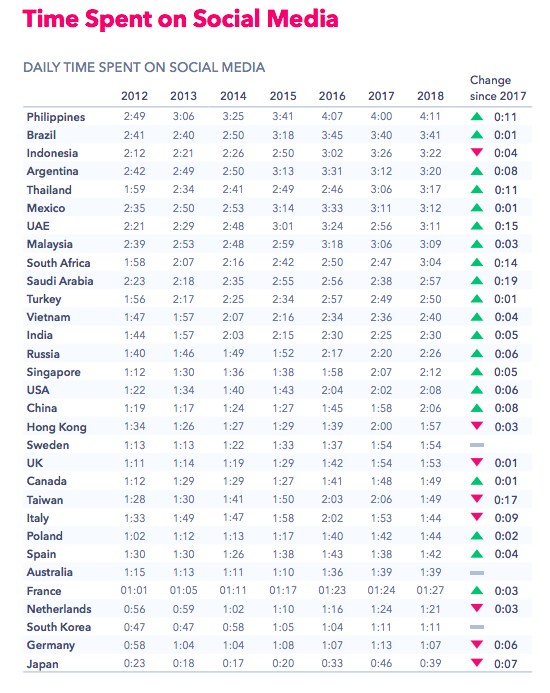 This may be due to the rise in awareness of time being consumed by users online. But that somehow doesn't sum all the possible reasons, with the big question-mark of "why" looming around!
The Big-Fat Why!
Just as time spent on social media looks as if it has hit the peak, online consumers have stopped venturing into newer platforms since with they are already a part of, given maxed reach. Back in 2017, there was no appreciable or even, noticeable growth in the average number of social media accounts and that has relatively slipped in for a new season, in 2018.
There are many possible factors that have somehow fueled this plateauing. These include the growth of internet usage among a user base, who's less functional and at the same time, less enthusiastic about multi-networks, contributing towards certain social media platforms being plateaued.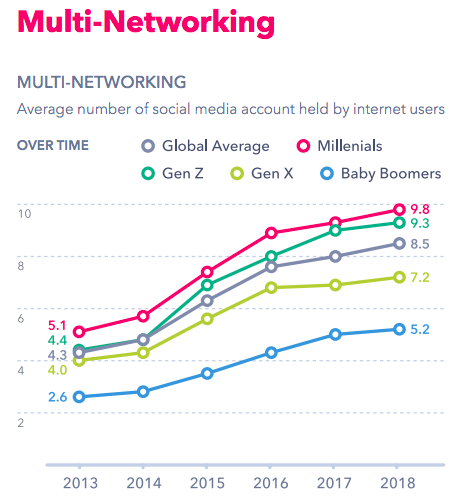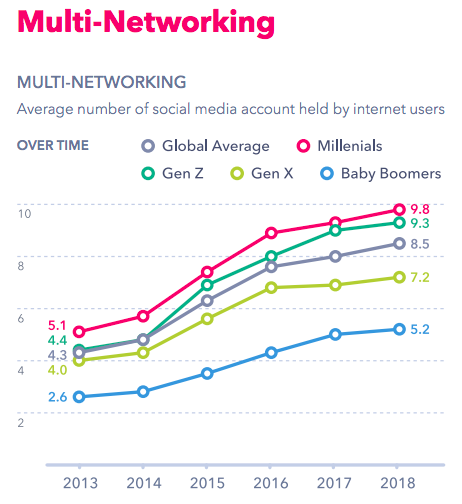 Apart from this, the rise of a mobile-only internet user who focuses on a specific platform, such as Instagram or Snapchat, also underlines the influence of device preference and decline of certain social- platform consumption!
Again, coining up more reasons of the "social-media consumption being plateaued" bank, one cannot completely overlook the possibility of the generation going through a digital detox!