The exploded adoption of internet and smartphone has made business and individuals to rush to secure their online identity. Consequently, the number of domain name registrations worldwide has reached 342.4 million by the end of Q3 2018, clocking 3.5% YoY growth, reveals Verisign.
According to the latest data released by Verisign, a global leader in domain names and internet security, an increase of 11.7 million in domain names registration is recorded globally in the last one year as compared to the number of domain registrations by the end of Q3 2017. What's more interesting is that despite the struggle businesses/individuals have been facing in securing a short and easy-to-remember domain name with .com TLD, the popularity of .com TLD has only increased. A combined total of 9.5 million new .com and .net domain name registrations were recorded in Q3 2018, taking the combined total tally of .net and.com domain names to 151.7 million.
Here are the main highlights of the report:
Between Q2 2018 and Q3 2018, the total number of domain registrations, across all the TLDs, increased by 2.6 million.
Between Q3 2017 and Q3 2018, the combined number of .com and .net domain registrations increased by 5.9 million
By the end of Q3 2018, the total number of domains registered with .com TLD reached 137.6 million.
.cn TLD emerges as the second most popular TLD having 22.7 million domain names registered with it.
Despite having the second largest internet user base, India failed to secure a position in the list of top 10 ccTLD. It depicts that Indian business owners and individuals are yet to get much fascinated about domain names with .in or .co.in, unlike .cn, .tk and .de – the top three most popular ccTLDs (Country Code Domains) in the world.
The popularity of .net TLD is decreasing. As compared to 15 million domain names registered with .net TLD in Q3 2017, the count has been declined to 14 million in Q3 2018.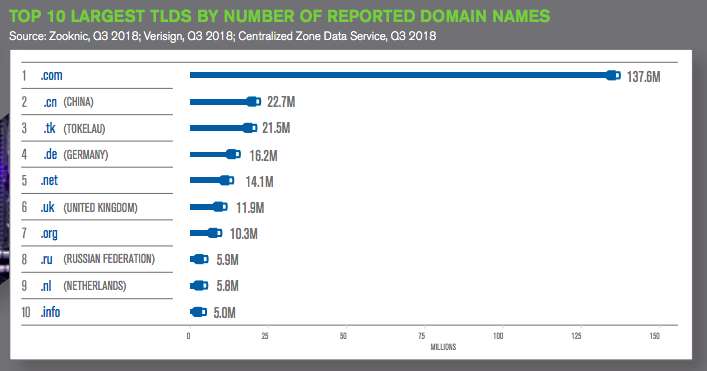 The struggle with .com and .net is making businesses and individuals turn towards domain names with geographical TLDs (gTLDs), i.e .shop, win, .online, .game etc. Consequently, the number of domain registration with gTLDs increased by 7.5% QoQ in Q3 2018 as compared to just 0.8% growth in overall domain registrations (TLDs) during the same period. By the end of Q3 2018, total ngTLD, aka gTLD, domain name registrations were approximately 23.4 million.
With a 14.4% share, .Top emerges as the most in-demand gTLD among all the geographical TLDs in Q3 2018. This was followed by .loan and .xyz gTLD.
The worldwide demand of domain names – both TLDs and gTLDs – is fueled by the unprecedented rise in the number of internet users and online shoppers. The much fascinating success stories of online marketplaces, such as Amazon, Alibaba and Flipkart, have convinced business owners and individuals to launch their own eStores, eventually creating more demand for short and simple domain names.