Samsung Electronics Co Ltd (KRX:005930) is looking for a new path to follow in its bid to be a step ahead of its competition. The company has finally unveiled its much-anticipated foldable phone on Wednesday, at Samsung Developer Conference at San Francisco, CA. However, the company is yet to give a name to the device.
Samsung Foldable Phone will come in March 2019, along with the 5G network-powered Galaxy S10, according to the industry sources.
Why has Samsung employed an aggressive strategy with a foldable phone?
Will Samsung foldable phone change the smartphone market dynamics?
Can foldable phone turn the table in favour of Samsung once again?
Why has Samsung revealed its cards to competitors much before the launch?
Let's take a deep dive to understand what's Samsung up to.
Samsung Foldable Phone: Redefining the Mobile Experience
On the first day of Samsung Developer Conference, Justin Denison – SVP of Samsung Mobile Product Marketing – showed a prototype of the foldable device which uses a new display technology called – Infinity Flex Display. When the device is closed, it is just like another phone. The cover display of the device is a fully functioning touch stream that allows you to use the apps without opening the device. And if you want a bigger screen, you simply unfold it to reveal the full 7.3-inch display.
Justin says it is an intuitive continuous experience between the cover display and the main display.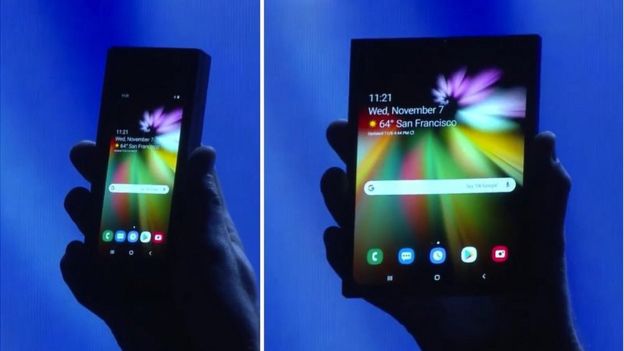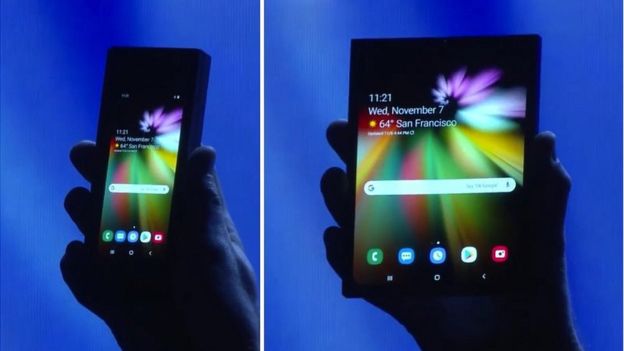 Infinity flex is more than a new kind of display and together with one UI it lays the foundation for a new platform an entirely new mobile experience, said Justin Denison – SVP of Samsung Mobile Product Marketing.
Adding further, the foldable phone also gives users the ability to run three apps simultaneously, with no swapping between apps, no closing one app to get another just multitasking as it was meant to be. The company calls it a Multi-Active Window.
Samsung's Mobile Sales & Profit Declined
The introduction of the foldable phone by Samsung, earlier known as the Galaxy X, is being seen as an effort by the Korean giant to cement its dominant position in the global smartphone market by widening the gap with its closest competitors.
The recent talk in the tech world has mostly been about smartphones. While Apple, Huawei and Xiaomi take the spotlight, Samsung seems to be going under the radar. This is because the smartphone market is no longer the same as it was before. A number of new companies have come in and are staking bold claims to have a sizable share of the global smartphone market. In Q3 2018, Samsung shipped 72.2 million units of smartphones, globally. It is a notable 13.4% YoY decline. It is important to note that Q3 was the fourth consecutive quarter when Samsung has witnessed a YoY decline in its smartphone shipments.
It is a well-known fact that Samsung's mobile division is also facing a decline in profits, mainly due to declining sales of the mid-to-low-end products. Samsung's IT & Mobile Communications Division posted KRW 24.91 trillion ($22 billion) in consolidated revenue and KRW 2.22 trillion ($1.9 billion) in operating profit for the quarter.
Maybe the foldable phone is indeed the answer to solve the problem.
However, Samsung Electronics as a whole isn't doing too badly. Samsung Electronics seems to have smashed the record for its highest profit in a single quarter in Q3 2018. The company made a record operating profit of $15.5 billion, an increase of nearly 21% YoY. The growth is primarily driven by the strong performance of the company's semiconductor operations.
Change in Policy?
In a bid to generate even more interest in its much talked about the foldable phone, Samsung is looking towards releasing information about a few of its specifications beforehand. This digresses away from the company's policy of keeping specifications of its upcoming products top secret prior to launch. Part of the reason for pre-releasing its specifications beforehand also stems from the fact that the foldable phone is a completely new proposition for us consumers. We don't really know what we'll be getting. All we know as of now is that the phone will be equipped with a foldable screen, with provisions to switch to the tablet mode as required. Hence, this is a move to familiarise the consumers with the upcoming product a little before showing them the finished version of it. It is also rumoured that the foldable phones will be accompanied with relatively high price tags.
Conclusion
It is vital for Samsung to show that the foldable phone is a commercially viable entity. Regardless of the high pricing, if there is any sort of demand for the product, it will definitely thrive. With its competitors killing it in practically every segment, it is vital for Samsung to have this gamble pay off. Hence, let's see how the dice rolls.