Google (NASDAQ:GOOG) is turning into the ever-spying watchdog with rimmed spectacles, keeping a close watch on each and every movement of yours! No, this statement is not heightened to any superficial level and is in fact, absolutely true.
An Associated Press investigation stated that many services provided by Google tracks your location, and store it as well, even when you've enforced privacy setting to prevent Google from accessing the same. Such a practice of tracking location even when you explicitly tell it not to has been further confirmed by Computer Science Researchers at Princeton.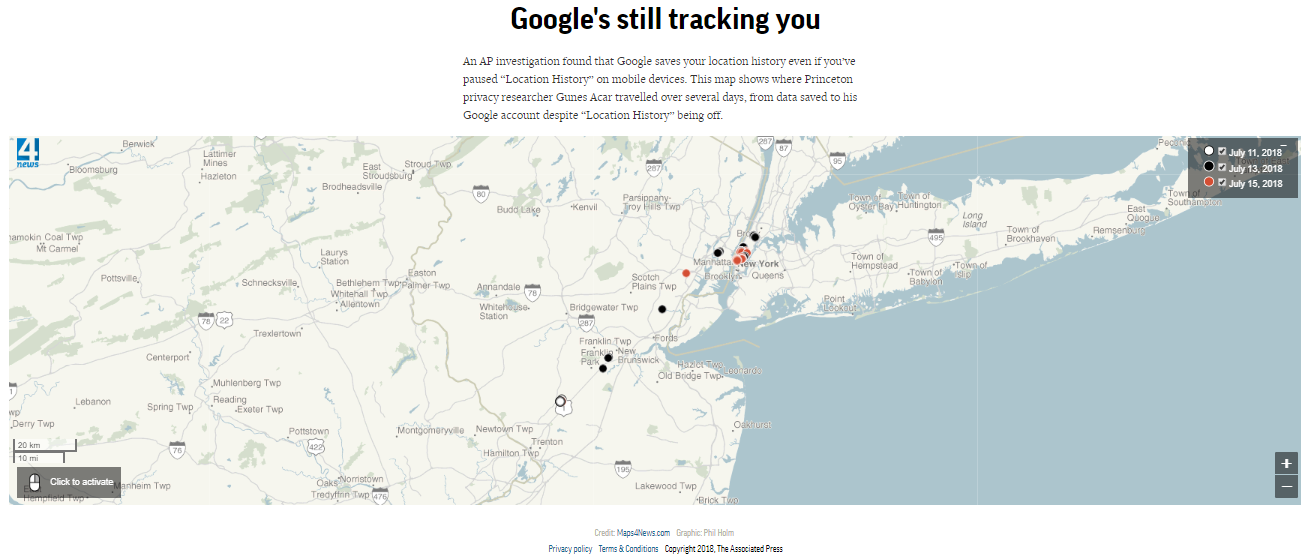 This issue came into the picture when K. Shankari, a graduate researcher from the University of California, Berkley, turned her Location History off, on her Android device. However, even when inactive, the Android device popped up with notifications asking for certain ratings regarding K. Shankari's shopping trip to Kohl's.
Insidious Ballgame
Despite denying permission for accessing location, Google badly wants to know your location!
"There are a number of different ways that Google may use location to improve people's experience, including: Location History, Web and App Activity, and through device-level Location Services. We provide clear descriptions of these tools, and robust controls so people can turn them on or off, and delete their histories at any time." – Google
Although there have been many questions being raised upon such an act of tracking location by Google, the motives are vaguely clear. One can say that it is, obliquely, used to keep a track on user activities. Now to what degree this hideous practice is been taken forth, that remains unclear. However, one thing that comes salted away is the fact that such a breach of data poses an enormous threat towards international security as well as, at an individual level.
Google claims that it stops remembering where you've been when asked to stop. Google's support page also goes ahead to claim that "You can turn off Location History at any time. With Location History off, the places you go are no longer stored."
However what may hit users like ton of bricks is the fact that the above statement doesn't hold true. In spite of pausing Location History, Google apps can still store time-stamped location data – That too without seeking permission.
Google Tracks Location: A Privacy Breach
Should Google know where we live? Or where we go for a shopping spree or a happy brunch? And if so, to what extent it lands us in a safe frame?
In a technological space that keeps advancing when one blinks an eye, it won't come as a surprise if anonymous location data can help to outline a detailed portrait of a user, or even spill their entire identity details.
This appears as a privacy concern here. It comes as obvious as one deem, people might not like their movement being tracked by a Tech Giant like Google. It also comes quite backbreaking when Google uses non-permitted location history to provide advertising opportunities for companies who are hounding for a target audience in a particular area.
People are now more concern about their privacy while using mobile apps than before. A new Kaspersky report reveals that 61% of people are not comfortable sharing their location information with websites and applications. That's up from 39% in 2016. Despite that, about 83% of Android apps have access to their users' private data.
Mask of "Better User Experience" Over "Targeted Ads"!
With the cloak of "Improving User Experience" neatly tucked in, Google's got something more on its mind – Advertising Revenue!
"They build advertising information out of data […] More data for them presumably means more profit" – Peter Lenz, Senior Geospatial Analyst, Dstillery
Google is trying to fit itself even further into the internet users' daily life, and location data is critical to that. A time wherein tech giants find themselves in a soup for mishandling and misappropriation of personal data, accessing user location over some carefully hidden interface may feign a subtle warning, in place of what should be beeping alert!
On the pretext of providing better user experience, and incorporating some deftly manipulated schemes, Google has surely been nudging and pushing its limit to cater to an area specific audience, and garner in revenue as an end-product.
Paused Location History? It Won't Help!
Google claims that one can cease from saving location markers by turning off a setting that doesn't refer to location information, hidden under a name of "Web and App Activity". This setting stores information directed out of Google apps or accounts and is set up by default.
According to Google, when this setting is paused, it prevents the saving of any further activity done through your account. However, here's the catch – With "Web & App Activity" on and "Location History" off, Google doesn't add any further movements to the timeline, however it doesn't stop collecting the location markers.
One may argue that location markers can be deleted, however, this comes as a painstaking process. Selecting them individually and deleting all stored activity is obviously out and out!
Ultimately, it's still not clear whether Google will do anything about this finding. But this certainly lands the tech giant in hot water!